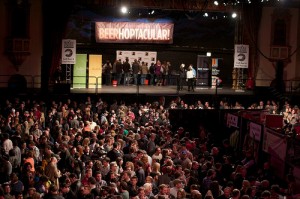 On Saturday, November 5, 2011, I attended the afternoon session of Beer Hoptacular! at the Aragon Ballroom, a concert venue in the Uptown neighborhood of Chicago. I had been looking forward to this event for many reasons, but mostly because my homebrew club, CHAOS Brew Club, entered the homebrew challenge.  Just for those out there keeping score, we won 2nd place for our Punx Rauch Rauchbier, a smoked lager. Go us! But bragging aside, I do love a good beer event and the opportunity to try new and interesting brews.  While overall I had a good time with friends, the dense crowds lessened my enjoyment of the day.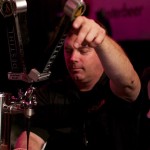 I first headed to the Destihl booth. These guys have been a favorite of mine from the various fests I have been attending this last year.  I had their bourbon barrel aged Dosvidanya Russian Imperial Stout which was creamy and had bourbon flavor and aroma.  At over 13% ABV, this is a big beer that immediately makes you a little light-headed and then warms you up.  I can imagine this being quite nice once the weather finally turns colder (hey, I am not complaining about Chicago's Indian summer!)  I really liked this beer but some of my friends who are way more experienced beer tasters thought it had a buttery quality that turned them off.  The majority of those in attendance agreed with me, though, as this beer won best in show.
I have not had many brews from Limestone Brewing Co out of Plainfield, IL but I think I may need to rectify this situation and venture out to the 'burbs.  Their Dolomite, a creamy, sessionable Oatmeal Stout, was delicious with a nice roasty, chocolaty flavor. It was dry with roasty malts on the nose.  It was light in body but immensely flavorful, and it was also served on nitro, which was a nice touch. With my Dolomite in hand, my friends and I decided to head to the second floor in an attempt to mitigate the crowds. This proved to be a flawed plan, however, as the upstairs was just as crowded. But a really cool aspect of this event, and one that sets Beer Hoptacular apart from many beer festivals, was the food that was located on the second floor. Goose Island Brewpub, Honky Tonk BBQ, and the Four Corners Tavern Group offered delectable nibbles to help soak up the ales and lagers.
After a while we decided to cut our losses and ventured back down stairs. I noticed a huge line forming at one end of the Goose Island booth and became curious as to what was going on. Goose Island always brings their A-game to events and this was no different. They had standard offerings such as Green Line Pale Ale and Mild Winter, but then had rotating taps where they released more exclusive offerings like Lolita and 2010 Bourbon County Stout, which explained the long lines. And, CBG Nik overheard that Goose Island has given Bourbon County Stout barrels to a maple syrup company and you can buy that bourbon-y deliciousness in syrup form at Green City Market!
Some friends and I decided to brave the crowds and headed over to the long line at the 5 Rabbit booth.  Beer Hoptacular! provided my first taste of 5 Rabbit's Oktoberfest offering Vida y Muerte.  It was brewed with dulce de leche and hoja santa, an herb traditionally used in Mexican cooking.  This was one of my top beers of the day and I loved the medium body and touch of sweetness in the flavor.  I haven't been too impressed with 5 Rabbit's offerings to date mostly because I typically do not care for fruit beers or light ales.  This one impressed me, though.  I hope they bottle it in the future!
I had to stop by the Wild Onion booth as it is one of my favorite Chicagoland breweries.  It was great seeing Brenden again, and I got a chance to meet and speak with Mike, the original brewer.  They were both complimentary of the Chicago Beer Geeks article that recapped our evening at Wild Onion in September, and it was great seeing this group of people again.  And their Winter Warmer, an oak-aged American strong ale, was quite tasty!
Another cool aspect of this event was the inclusion of local distillers. Just as craft beer has been exploding in Chicago, so has craft distilling. And many of the distillers in attendance made spirits out of beer. For instance, Ravenswood-based Koval had a spirit that was made from Metropolitan Krankshaft and Great Lakes Distillery used a pumpkin lager from Lakefront Brewing Company in Milwaukee.
It was great to see Arcade Brewery making its first public appearance at an event. Even though they did not have any beer available due to licensing, they appeared to be welcomed with open arms by the craft beer community.  Event goers were stopping by, taking stickers, and playing the arcade game at their booth.  I can't wait until I can go to a beer event and have Arcade providing beer!
The real winner of the night, for me, was Sam Adams.  Not so much for the beer, although I really liked the Maple Pecan Porter, but it was a space where you could have a beer, relax, and talk with friends without being shoved around.  We quickly texted all of our friends to meet us there and that is where we spent the remainder of the afternoon.  Occasionally one of us would venture out to grab a Camel Toe Egyptian Pale Ale from Piece or Blackberry Pear Cider from Crispen, but we always brought it back to our spot.
The main downfall of this event was the crowd.  The hubby and I arrived at quarter to one and were greeted by an excessively long line.  While the line did begin to move promptly at 1pm, it took about a half-hour to make it into the building, which was upsetting.  When you pay $35 ($50 with fees) and you only have three and a half hours to hit up all of the booths, losing a half-hour to waiting in line to get in was quite annoying.  We later found out that there was one line for both will-call and those who already had tickets in hand.  The crowds only got worse once inside where it was difficult to move or breathe.
The event seemed to be oversold by at least 200 people.  Typically at beer events, everyone is friendly and accepting of the fact that waiting in line for beer is just a part of the deal.  However, there were quite a few times I overheard people saying "this is ridiculous" or "this is way too crowded." This crowd also proved bothersome because it was nearly impossible to get a beer at times.  There were huge mobs of people and you didn't know who was in what line. Next year, perhaps they should have corrals so people can form more organized lines.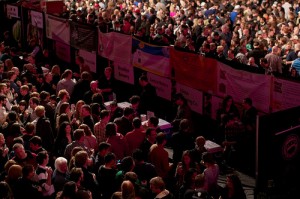 Even though it was way too crowded, Ken Hunnemeder from Hop Cast made a good point.  "This is what we want." What he meant by this is that Chicagoans are embracing craft beer and want to be involved in this movement.  This allowed me to step back and appreciate the crowds that were present.  Hopefully next year, there might be a little bit more control over the crowds, but they will be welcome.
-Jessica
Thanks to CBG Nik for providing additional insights and to Christopher Murphy for his great pictures!
For more scenes from the 2nd Annual Beer Hoptacular!  be sure to visit our facebook page (dont forget to hit the like button)