If you have never been to the Festival Of Barrel Aged Beers, it is the premier event annually in Chicago. From a rarity standpoint very few tap lists, if any match the collection you will find in the West Loop this Saturday.
Im personally looking forward to the King Henry Barleywine from Goose Island. Its a barrel aged English Style Barleywine aged in the same 23 yr old Pappy Van Winkle barrels used to make Bourbon County Stout Rare last fall. Barrel aging doesn't imply that its an event of dark heavy stouts. Belgians and Sour Ales  use barrels to add refreshing and tart characteristics to beer. The Illinois Craft Brewers Guild will host the 9th annual event, both sessions are sold out. Heres a list of winners from last year's festival.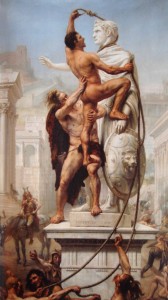 In a move that surprised no one 3 Floyds is hosting their 15th Anniversary Party  on the same day, same time as FOBAB. Voted the # 1 brewery in the world in 2011 by Rate Beer, their  party will bring together 2500 beer fans in Northwest Indiana. There will be 5 world renown chefs including Chicago's own Paul Kahan (The Publican) Justin Large ( Big Star) and Mindy Segal (Hot Chocolate) then of course…there is the beer.
The 15th Anniversary brew will be available  for purchase that day only and, honestly on paper its a very impressive blend they are creating. The beer is a collaboration of craft beer heavyweights- Surly, Mikkeller, Struise and Three Floyds. They are brewing Surly Darkness, Mikkeller's Beer Geek Brunch, De Struise's Black Albert, and their our Dark Lord Stout, then blending them to create the XV beer…. insane!
Due to both parties basically starting and ending at the same time, most craft beer lovers are force to pick one event…where will you be?