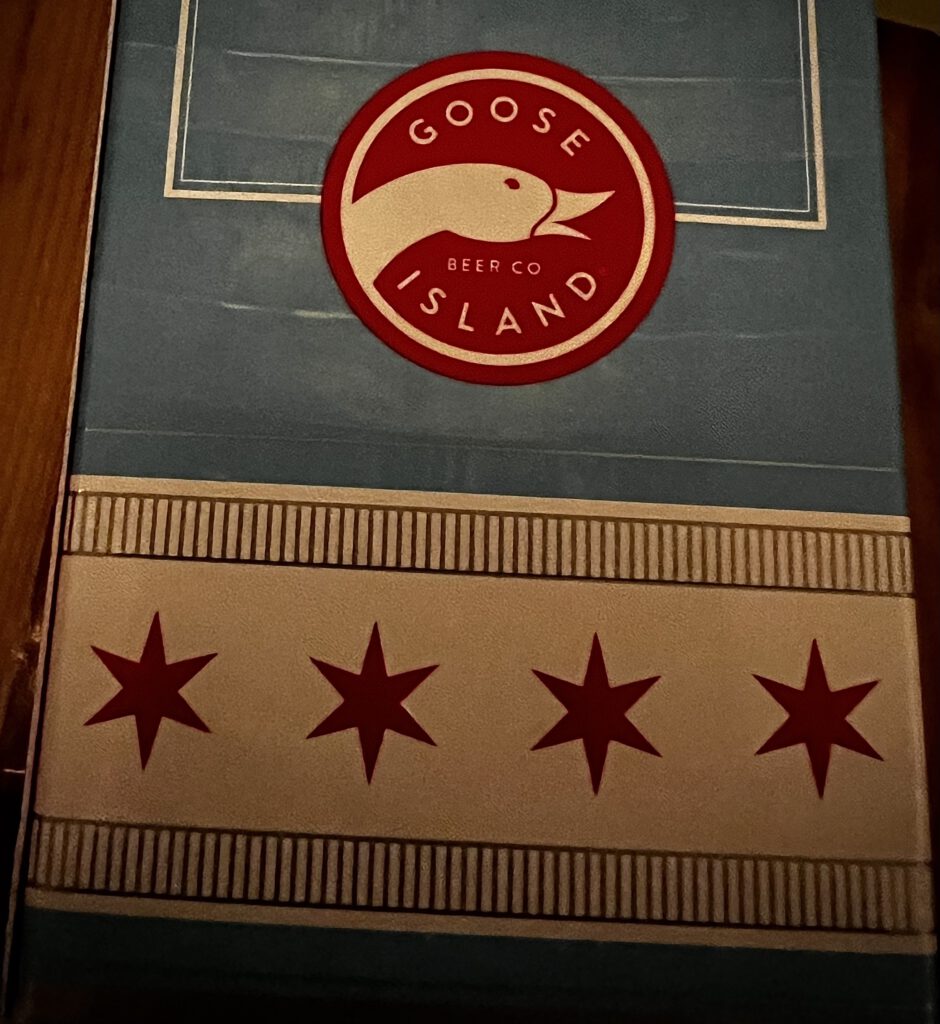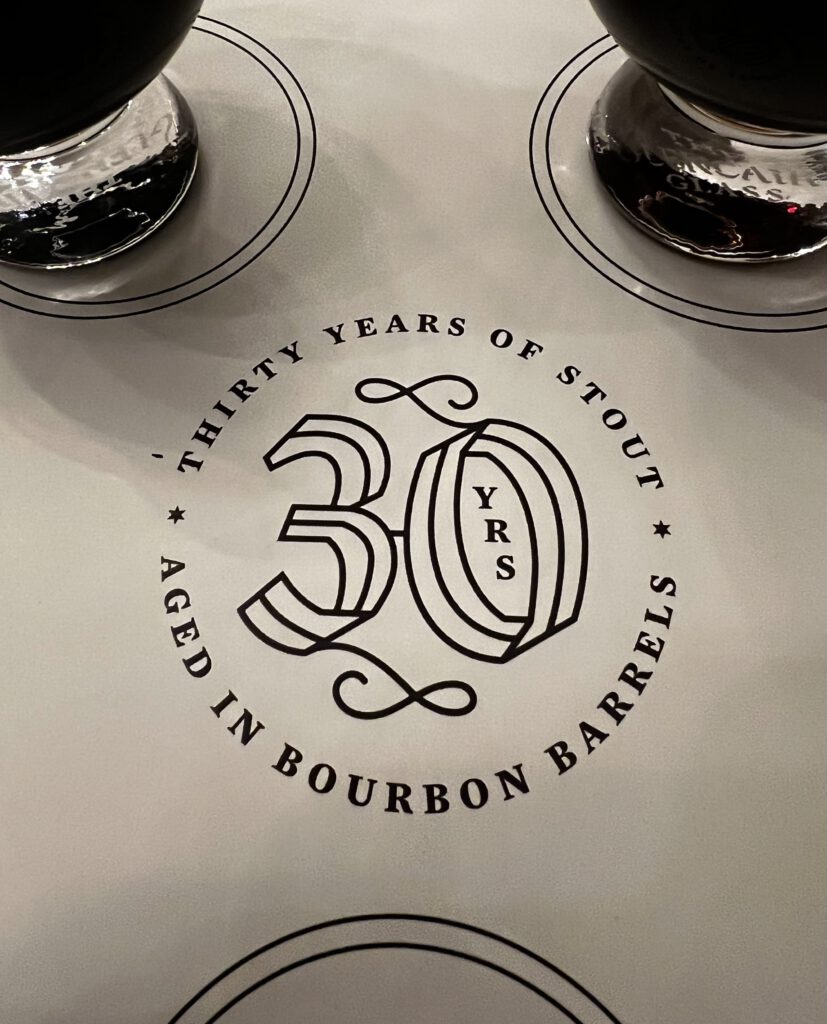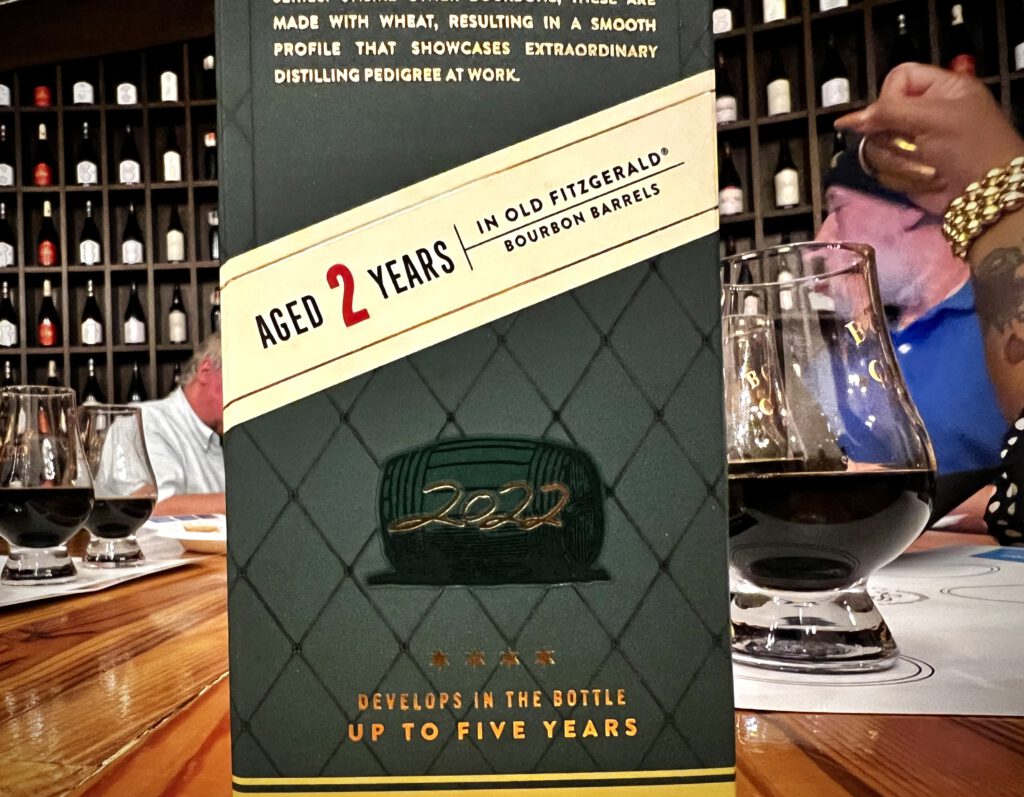 2022 Goose Island Bourbon County Stout Chicago Tasting
We've never seen Sr. Innovation Manager, Mike Siegel in a pineapple button up shirt before. He was beyond jazzed about this year's Prop (Tropical BCS). Both Goose Island's barrel program and Jim Beam's Small Batch Collection are celebrating 30 years in 2022. This year also sees a remastered return of Barleywine and BCS Coffee. Along with the most unique Proprietor's Blend we've seen maybe ever.
Honestly, we can't image Fall in Chicago without these beers. Here's a look at a lineup that is both outrageous and intriguing.
Goose Island Bourbon County Two-Year Barleywine Reserve
Hands down the best barleywine to come out of the camp since King Henry in 2010. The last appearance of any kind for barleywine was Coffee Barleywine in 2018. This is a continuation of a relationship with Heaven Hill that began in 2015 with the return of Bourbon County Rare. Variants in Rittenhouse Rye and Larceny Wheated Bourbon casks soon followed, but none of those are equal to the beast releasing this year.
Heaven Hill's Old Fitzgerald Bottled In Bond Decanter Series is the backdrop for this elegant release. 14, 15 and 16yr freshly dumped barrels were shipped immediately to Chicago.
The beer spent a year in those barrels then 60% of it was transferred to another set of Old Fitz barrels. So 40% of the beer is a one-year beer blended with a two-year. It's quite dark for a barleywine with plenty of dried fruit and fig. The more you sip and sit with it, the more complexities increase. A reimagined version of an old friend and my favorite beer of the night.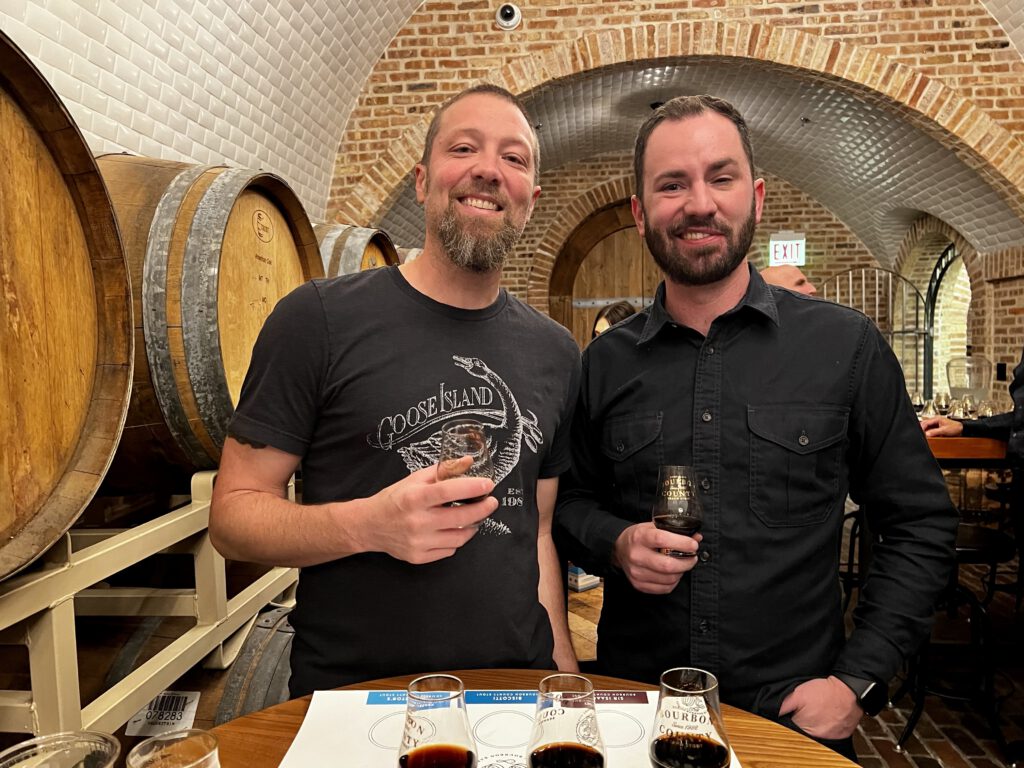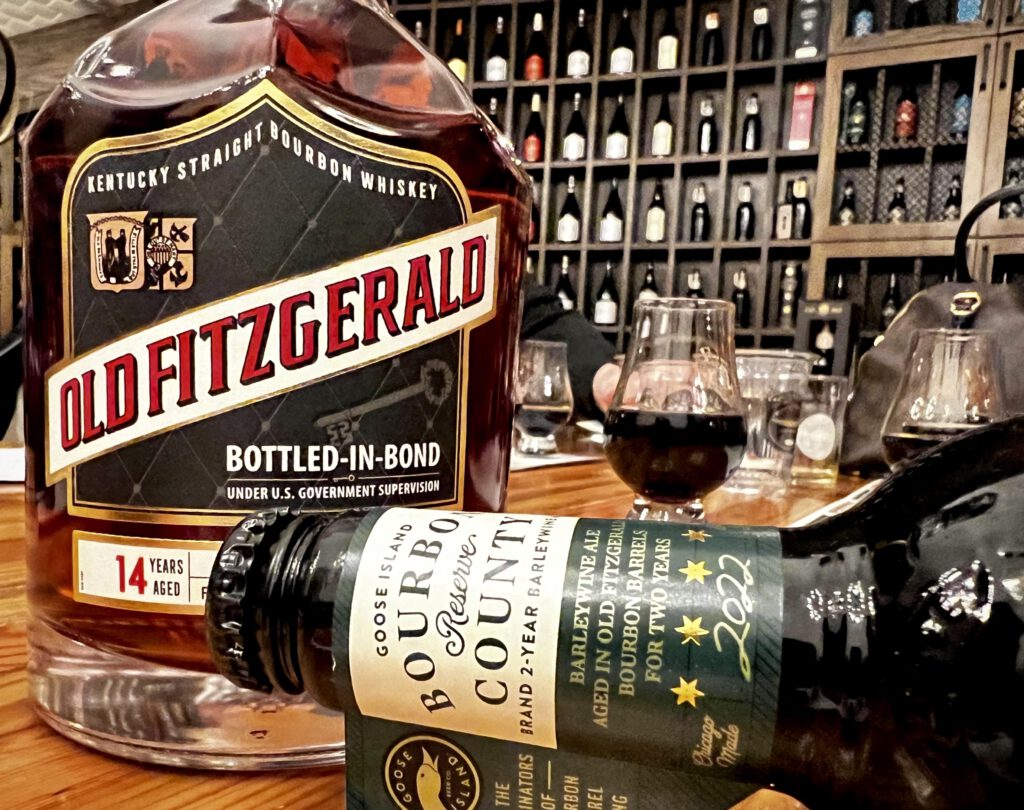 Goose events in the warehouse cellar naturally always look to the future while reflecting on the past. That theme more present this time around with this being a milestone year.
Goose Island Bourbon County Proprietor's Stout
The fellas behind last year's Cola BCS have leveled up with the sleeper hit of this year's lineup.
This beer is for everyone who spent the last few years away from beer events, discovering cocktail bars and started spirits collections at home during the pandemic. It's the perfect version of Prop to welcome us back to the in person Chicago tasting. Jason and Paul went looking for inspiration at Chicago bars asking bartenders what is their favorite cocktail.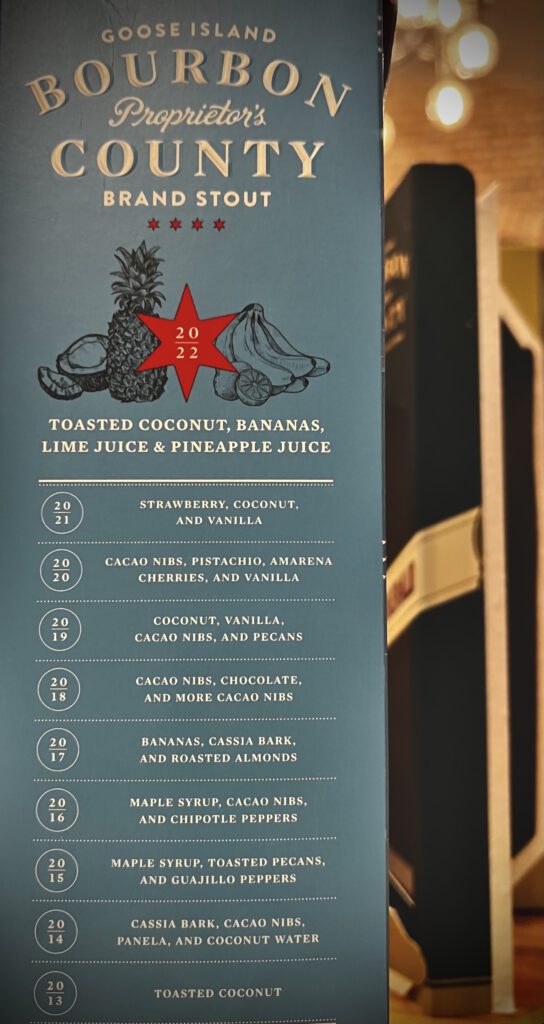 The Whistler Chicago made a concoction – The Junglebird (blackstrap rum, Campari, lime, banana, pineapple) and Tropical BCS was officially in play! The experience of this beer washes over you with waves of fresh cut piña and lime. The coconut and banana make for a complex experience where you taste every ingredient in a vibrant, memorable way.
Goose Island Bourbon County Coffee Stout
Before this year there have been 65 BCS variants…Coffee was the first ever variant. 2 sources of coffee, liquid for mouthfeel and acidity, then a weeks long circulation on whole coffee beans. The coffee in Special #4 (2020 Release) was an oatmeal stout had a blueberry note where this one is old school chocolate and caramel flavor. Goose didn't brew their own coffee they sourced cold brew from Intelligentsia.
Goose Island Bourbon County 30th Anniversary Reserve Stout
OG aged in Small Batch Collection casks from Jim Beam. Notes of dark, semi-sweet brownie fudge and chocolate. A hang tag breaks down the barrel percentages by bourbon brand. The first ever BCS was aged for 100 days in Beam barrels all those years ago. This variant is a callback to the Booker Noe, Greg Hall cigar dinner encounter that started it all.
Baker's -7yr bourbon aged on the highest floors in the distillery rickhouse.
Booker's –6-8yr bourbon from the center of the rickhouse.
Basil Hayden -High rye bourbon.
Knob Creek -Minimum 9yrs age statement bourbon.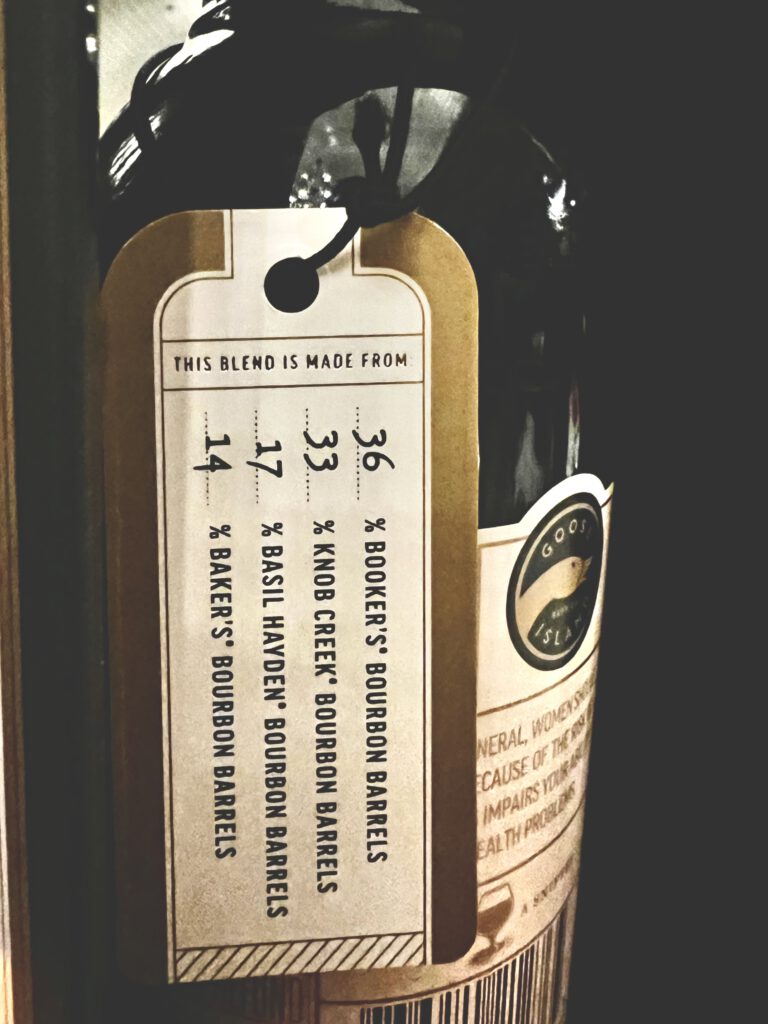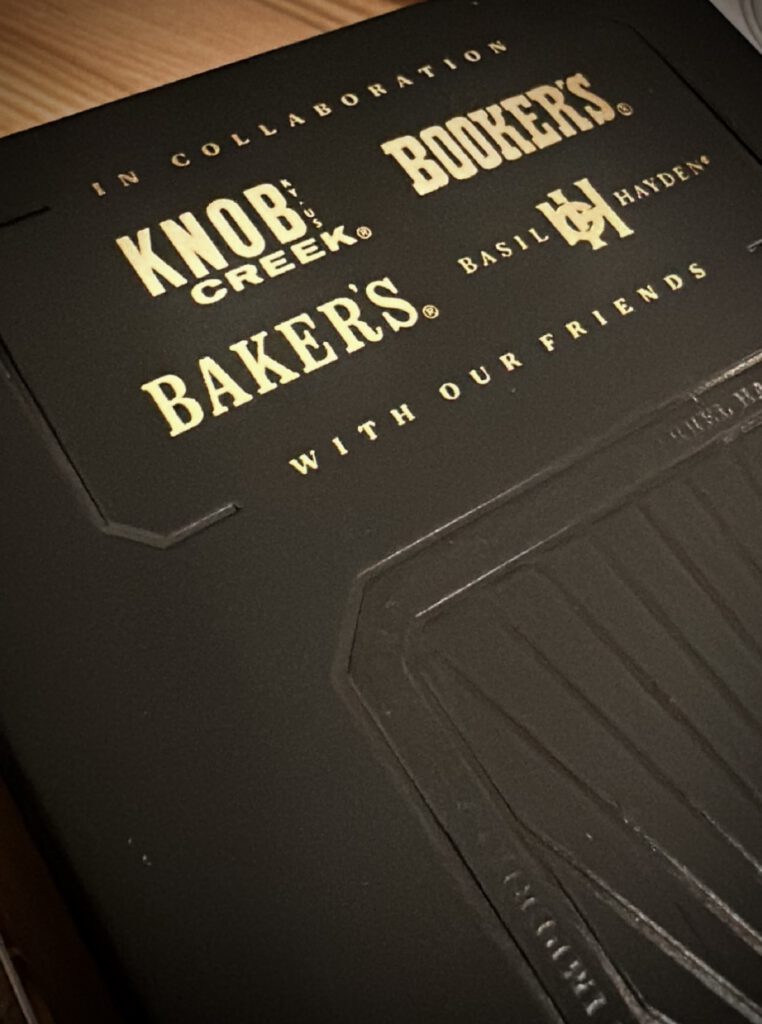 Other Notes-
-Minimum age of the barrels for OG BCS is 4yrs. Heaven Hill, Four Roses, Wild Turkey and Buffalo Trace barrels are blended for Original.
-Every Goose team member led each beer introduction with their 1st ever BCS experience.
-Bourbon County Coffee in 2009 was the 1st variant ever of BCS.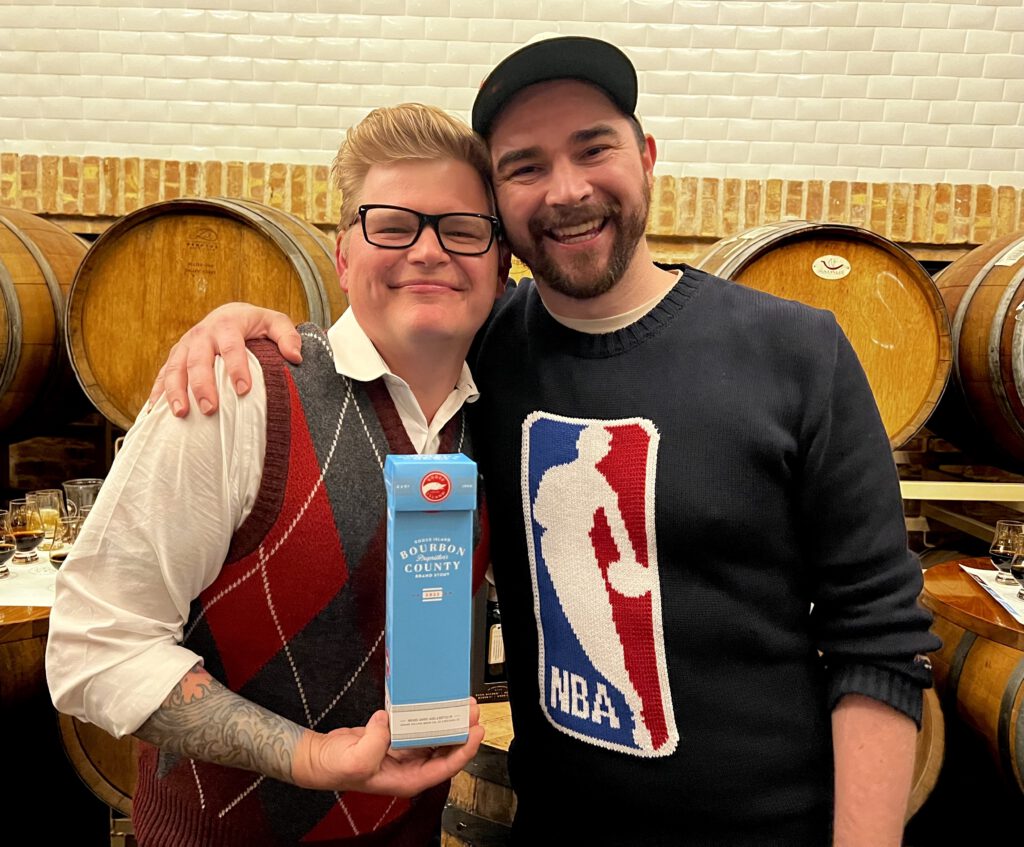 -Original BCS has significantly more almond, cherry and oak undertones that can be attributed to the addition of Four Roses barrels to the blend.
-7000 lbs of toasted almond slivers. 3100 lbs of cocoa nibs, 450 lbs of anise seeds were added to make BCS Biscotti Stout
-10,000 lbs of Black Mission Figs were added in 5lbs increments for BCS Sir Isaac Stout.
-BCS is naturally sweet so the trial run of adding fig puree wasn't selected. 10 days of circulation on whole figs then 3 weeks of steeping was required to bring the essence and aroma of fruit that was dense and hard to extract.
-Without a commitment from Goose and Intelligentsia to purchase beans in volume, the pure expression of the Turihamwe bean may not have made it to the export market.
-Evening highlights included walking through the BCS progressions from 1 month, 4, months and 8 months in the barrel.
-Intelligentsia sourced the blend from Burundi, a landlocked Eastern African country borders between Rwandan and Tanzania. The Ngozi Province is home where the beans are processed for export and the farmers are all women.
-Sampling the Turihamwe blend with the Intelligentsia Sales Director gave me an appreciation for how special this blend was. The stout almost taste identical to the expression of the coffee.
-President Todd Ahsmann acknowledged that the only folks excited about the very 1st BCS were Chicago Beer Society. Nearly everyone else had to be educated about why they should try it.
-The tax strip on 2yr Barleywine is a nod to the source bourbon's packaging that features a government tax strip on the bottleneck.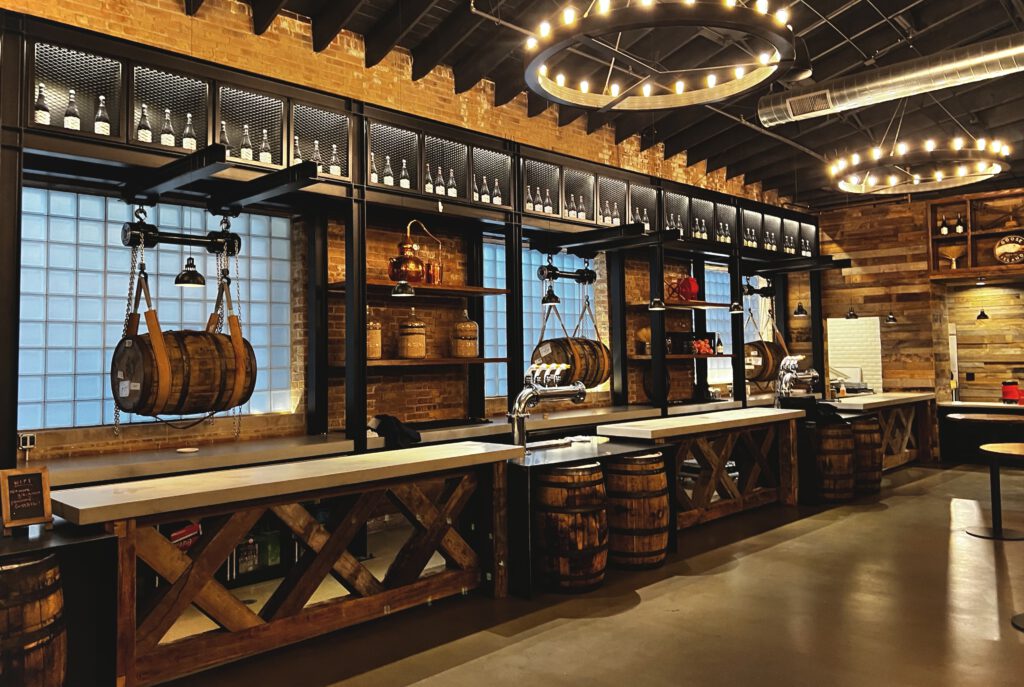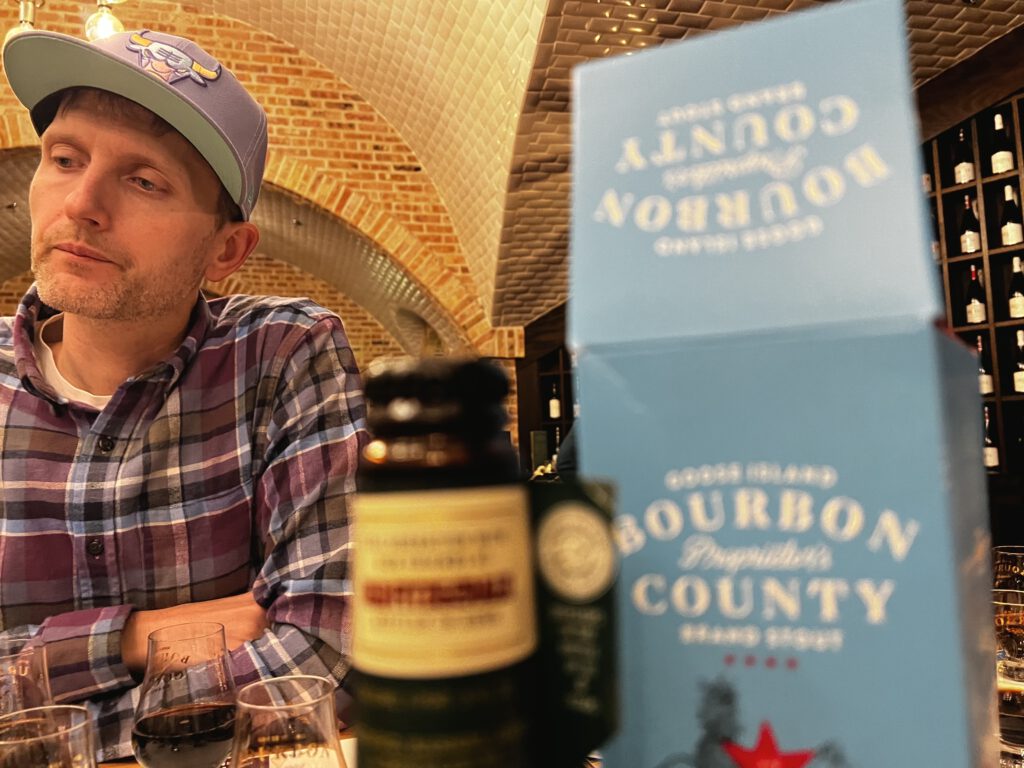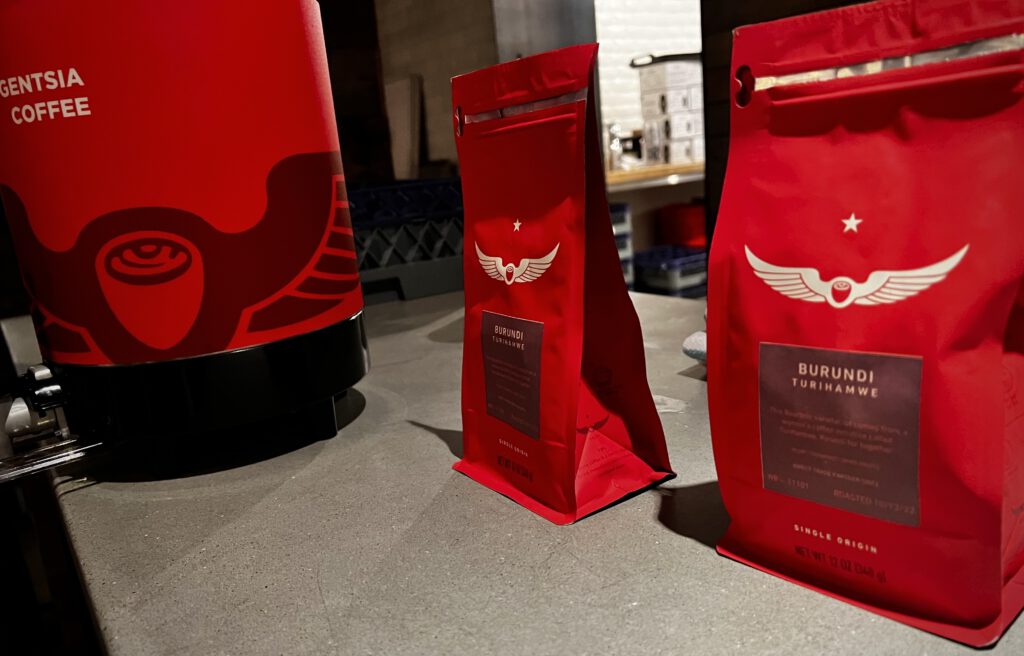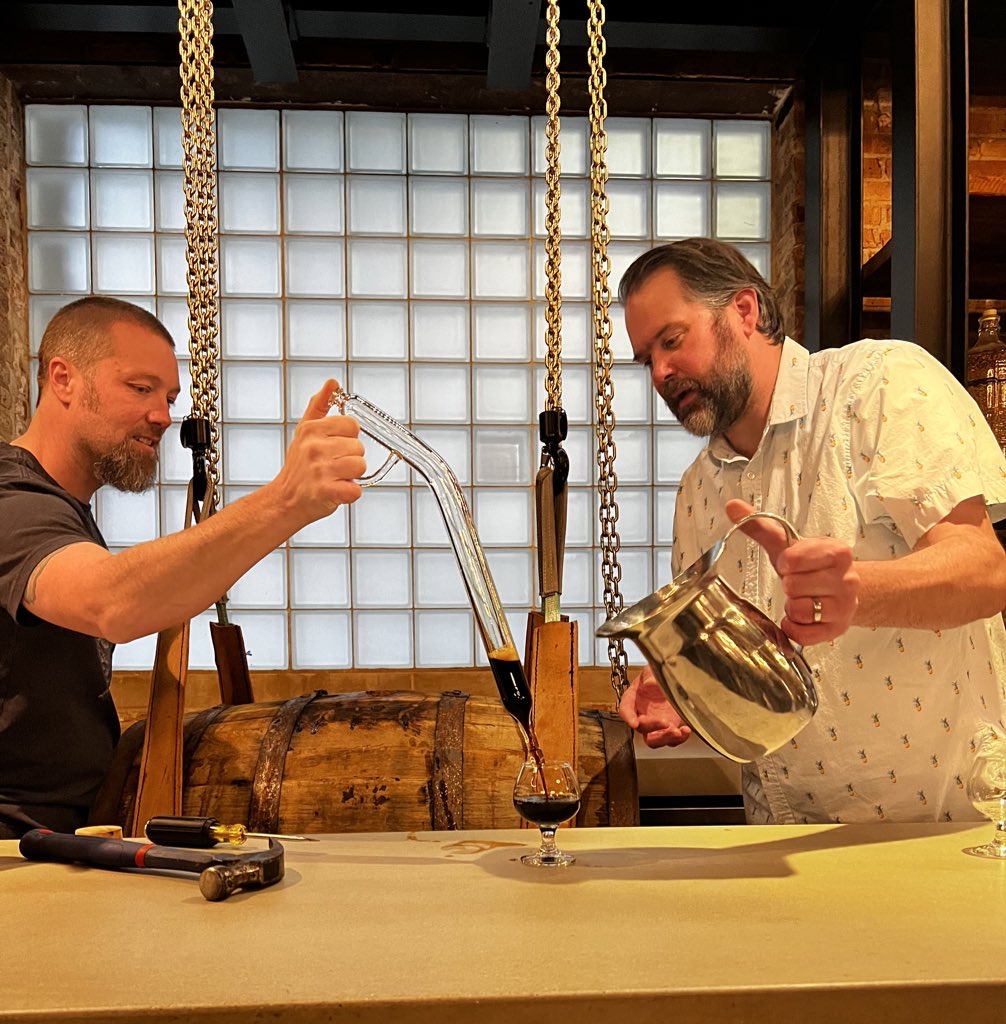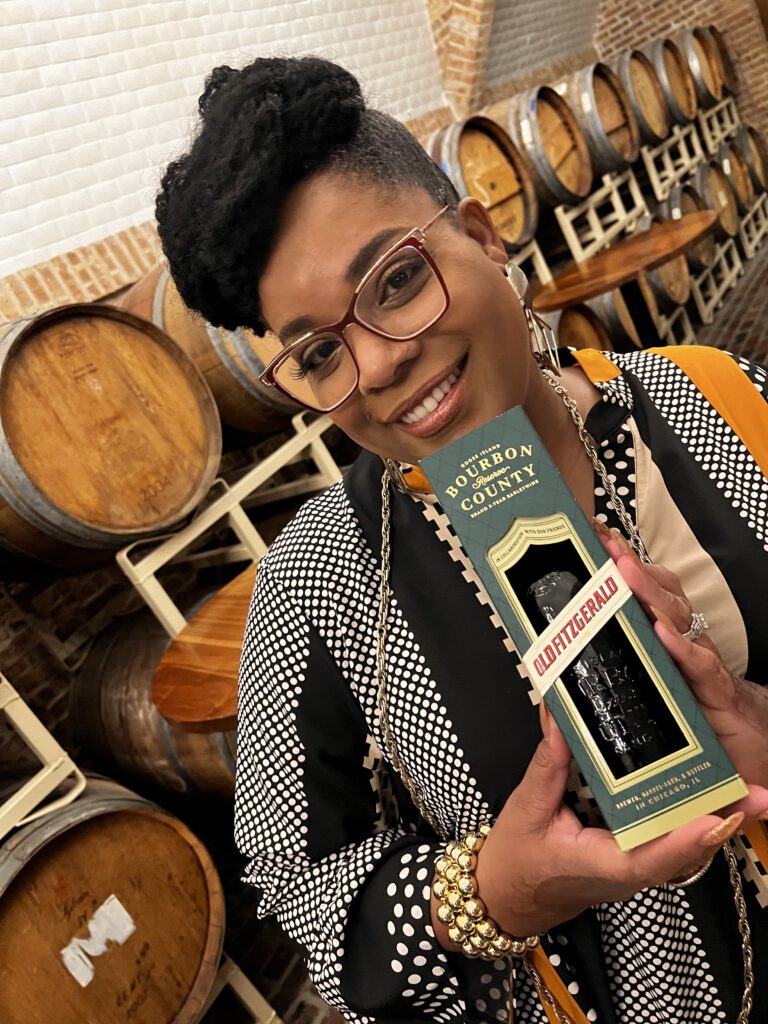 Black Friday 2022
Goose Island Bourbon County Stout
Goose Island Bourbon County Two-Year Barleywine Reserve
Goose Island Bourbon County 30th Anniversary Reserve Stout
Goose Island Bourbon County Biscotti Stout
Goose Island Bourbon County Coffee Stout
Goose Island Bourbon County Sir Isaac's Stout
Goose Island Bourbon County Proprietor's Stout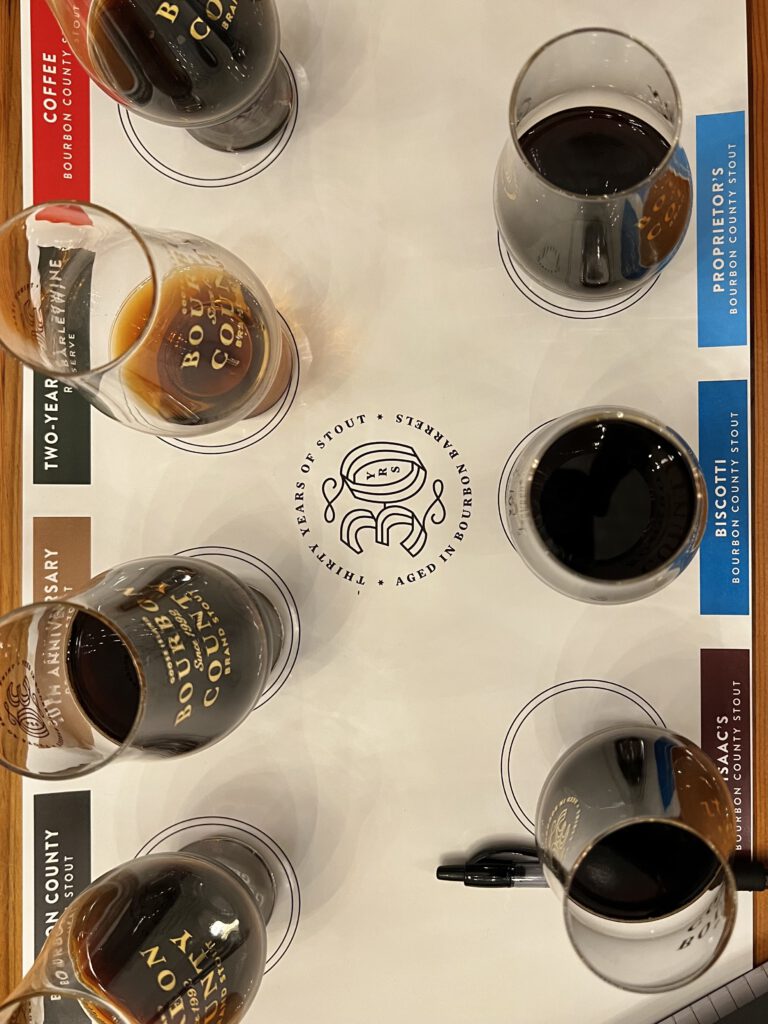 It's no exaggeration to say that Goose oversees the creation of beers that literally changed the way some of us lived our lives. Tonight was a real treat.
—Nkosi