Autumn brings with it some of the most talked about beer styles on the market. Pumpkin ales are notorious for having a love/hate relationship with consumer's palates, but have yet to be fully exploited by our local breweries. Oktoberfest Märzen's seem to be loved by most, and some amazing local ones have been popping up over the past few years. The third most popular style, which happens to be my favorite, are wet hop harvest beers. Usually used within 24 hours of the harvest, sticky hop cones oozing with oils are delivered to breweries as soon as possible and brewed immediately in an effort to preserve fresh hop flavors that can't be achieved by any other means. The beer's style is commonly one that showcases hop aromas and flavors, usually a pale ale or an IPA, but other styles have proven to taste great as well. DryHop Brewers, brewpub in Lakeview creating some amazing food and beer, hosted a Wet Hop Tap Takeover this past Wednesday, featuring eight different brewery's wet hop ales, including one of their own.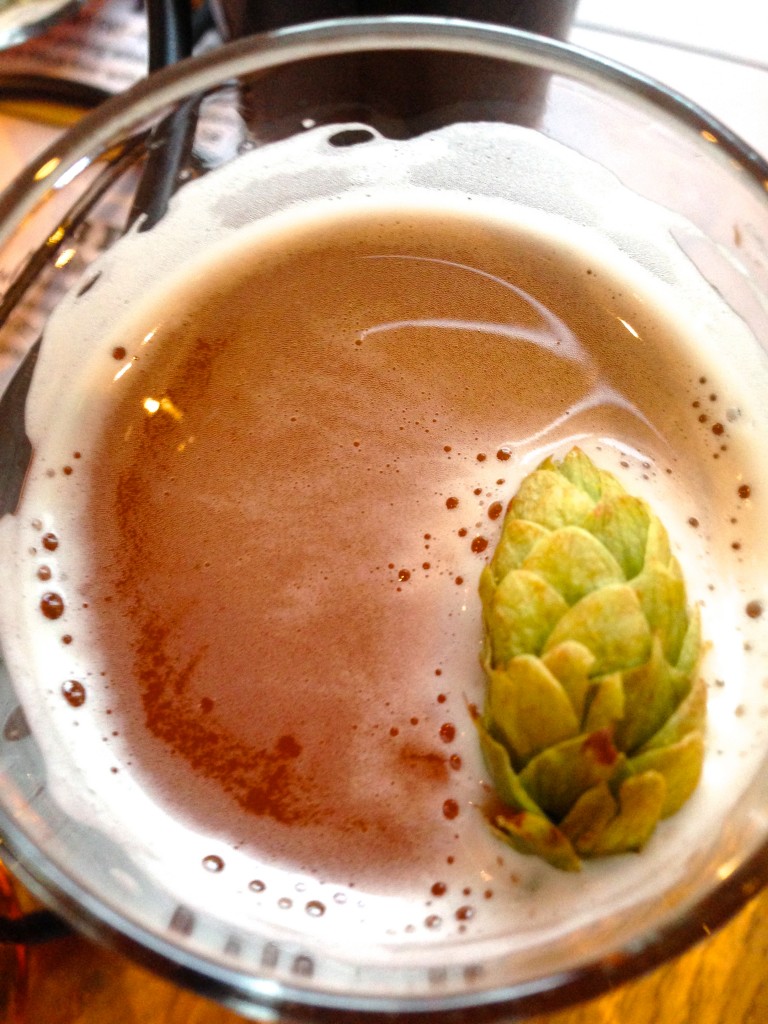 Little Fog Feet, an American wheat ale brewed with wet Michigan hops, was DryHop's offering. It is served with whole cone hop, which is a great touch. A nose of grapefruit, honeydew, lemon peel, and grass welcomed a zesty bitterness throughout the medium-bodied taste, finishing dry and citrusy.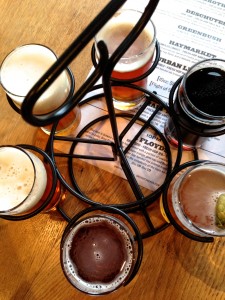 Two Brothers featured their Heavy Handed, an IPA boasting aromas of honeyed malt, ripened orange peel and freshly cut grass. It's medium body contained hints of sweet malt, but dominated by a solid floral bitterness. The finish is long and zesty, begging for another sip.
Deschutes brews their fresh hop pale ale, Hop Trip, within four hours of harvesting. The resulting beer shines with notes of grassy hops, cucumber, lime peel, juicy orange pulp, and a slight herbaceous spice, ending in a long, dry, zesty finish.
Another wet hop pale ale screaming with freshness is Greenbush's Demeter. A bouquet of honeydew, pine tree, and candied-malt teases the palate until notes of lush flowers and citrus peel coat your palate, pleasantly finishing semidry.
Grassy lilac and slight citrus zest aromas rise out of Humulus Lingus' glass, the fresh hop IPA from Haymarket. The juicy, full body finds a perfect balance between the malts and hops, finishing semidry with notes of juicy peach.
Urban Legend, a brand new brewery out of Westmont, brewed a wet-hopped brown ale named Responsibly. The nose hosts a gathering of darkly roasted coffee, bittersweet chocolate, slight anise, toffee, pine, and floral hops. The medium body has hefty citrus bitterness, with a backbone of nutty chocolate. Biscuity notes surface during the semi-dry finish.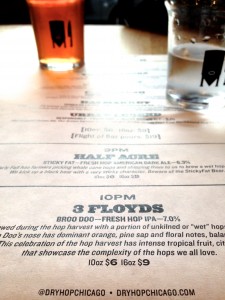 Two other wet hop beers, Half Acre's Sticky Fat and 3 Floyds' Broo Doo, were featured later in the night, but I left before they were available. Both beers, however, should be fairly easy to find around town both on draft and in 22oz. bombers. If you've yet to embrace the subtle beauty of wet hop harvest ales I urge you to indulge in the juicy fresh nectar before the month's end.