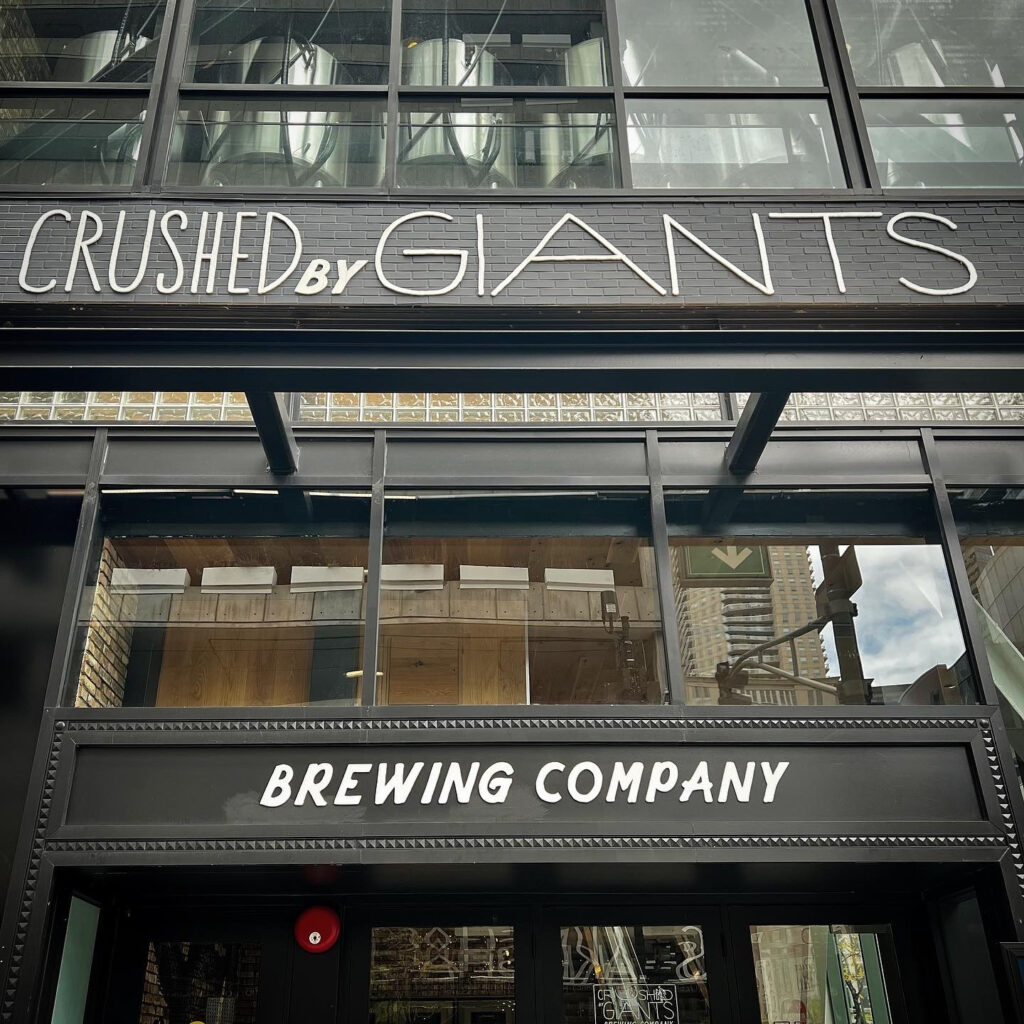 This is the former Heaven on Seven space in the AMC Theater Building. Typically Chicagoan hardly ever come this close to the Mag Mile unless you work over this way. Excluding West Loop's Haymarket and Cruz Blanca, there are literally no other breweries In Downtown Chicago. Eataly's La Bierrria, a 2nd floor brewhouse we've featured on this channel before was open just twice a week before its recent permanent closure.
Insert Crush By Giants, a name that references all the nationally recognized corporate brands surrounding them in every direction (Grand Lux, Under Armour, AMC, etc.) Niketown and world's largest Starbucks are also just a block away from here.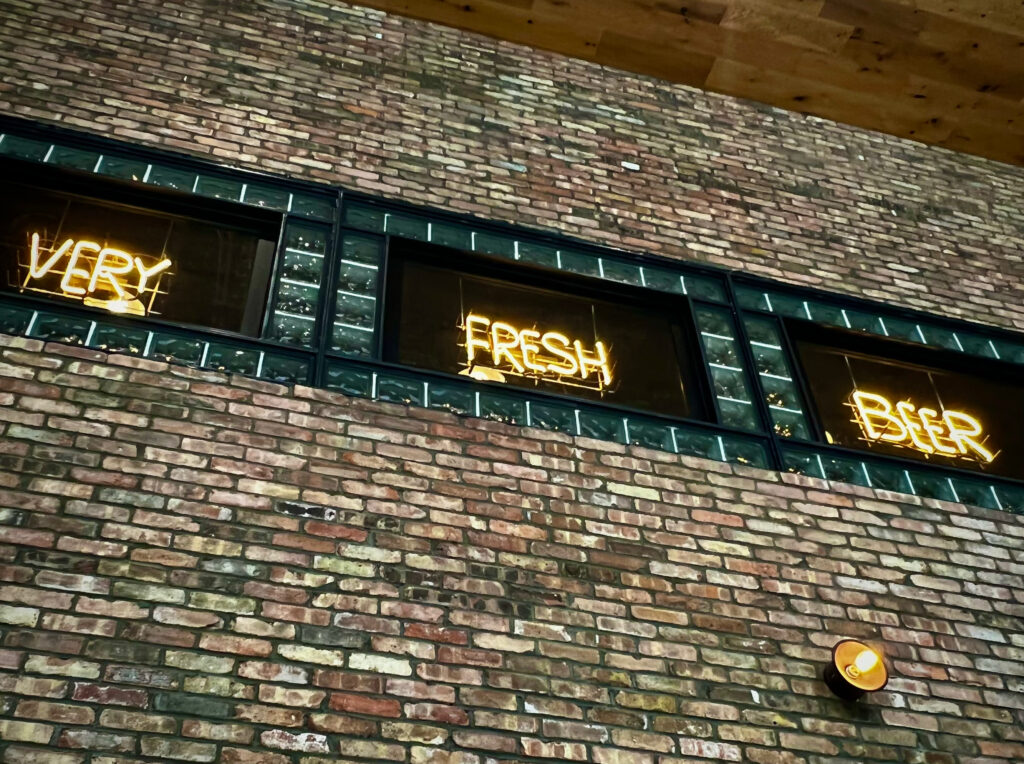 CBG is the fourth brewpub concept from the DryHop Brewers crew. The award winning, push bike themed Corridor remains the crown jewel of that collective. But Crushed By Giants with it's killer location and artwork that doesn't take itself too seriously, gives visitors to the city a gateway into our brewing scene.
This is the only second floor brewhouse in Chicago. Very Fresh Beer is the neon mantra that greets you on the escalator ride to the taproom. The draft board lists all six house beers in color coded lego block pieces. You should order all six in the $20 sampler flight. They arrive in cute mini snifter glassware and includes names like the flagship Hazy IPA, Neon Werewolf. The best beer on the list right now is Sonny and Cher, Cherry Sour.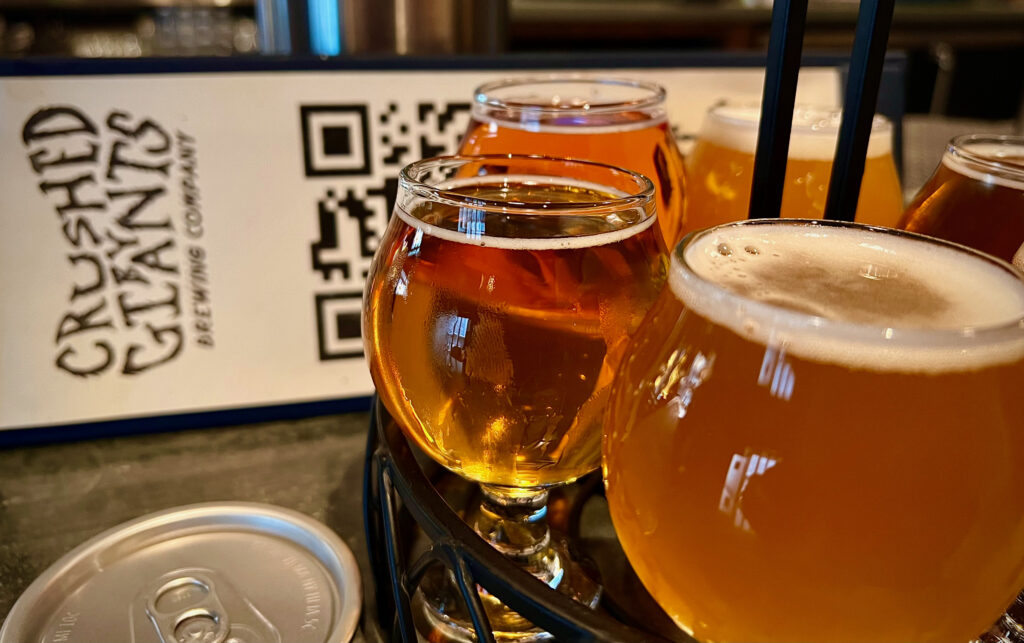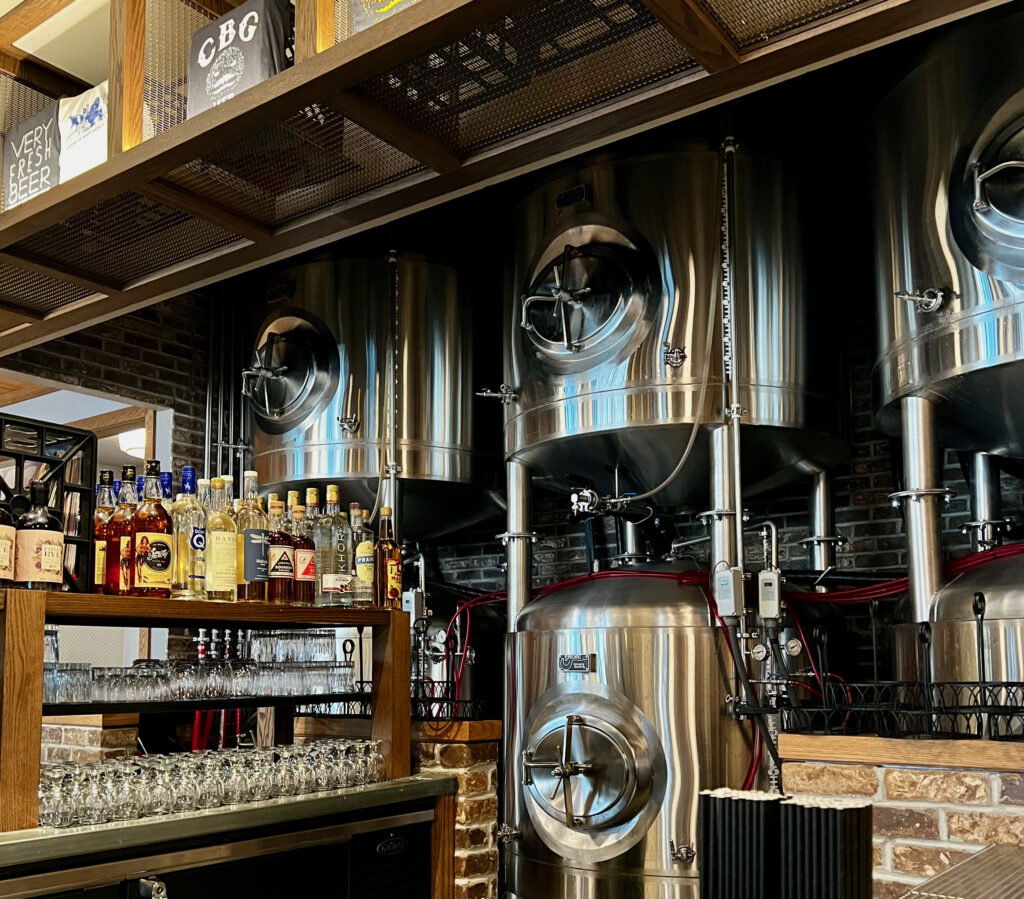 Bar seats offer a view of those adorable stacked serving tanks you'll find at Corridor and DryHop. The dining room seating reveals a scenic backdrop of a bustling intersection with massive windows and a bundle of fermentation tanks from the brewhouse.
Expect to find the Barman's Banquet here on Monday's (burger, beer + shot for $20). The original concept for CBG was a latin inspired, taco centric gastropub. That focus has quietly shifted as there are six Double Oven Pizza's featured on the menu. 
CBG deserves credit for a simple, creative, low key take on a brewpub in a section of town void of small, independent Chicago based businesses.
-Nkosi
—Other Notes
Crushed By Giants is located at 600 N. Michigan with an entrance one block west at Ohio & Rush.
-DryHop Brewers, Roebuck Chicago (Neapolitan Pizza/Brewery), Corridor Brewery & Provisions are the other locations in the DryHop Brewers Family.
-Corridor won gold in the Other Belgian-Style Ale category for Pour le Miner, a grisette beer with chamomile and lemon peel. In 2018 at GABF. They took a Silver that same year in  the Juicy or Hazy Imperial or Double India Pale Ale category for Color of Life.
-A rotation of brewers led by Director of Brewing Operations, Brant Dubovick run all four concepts.