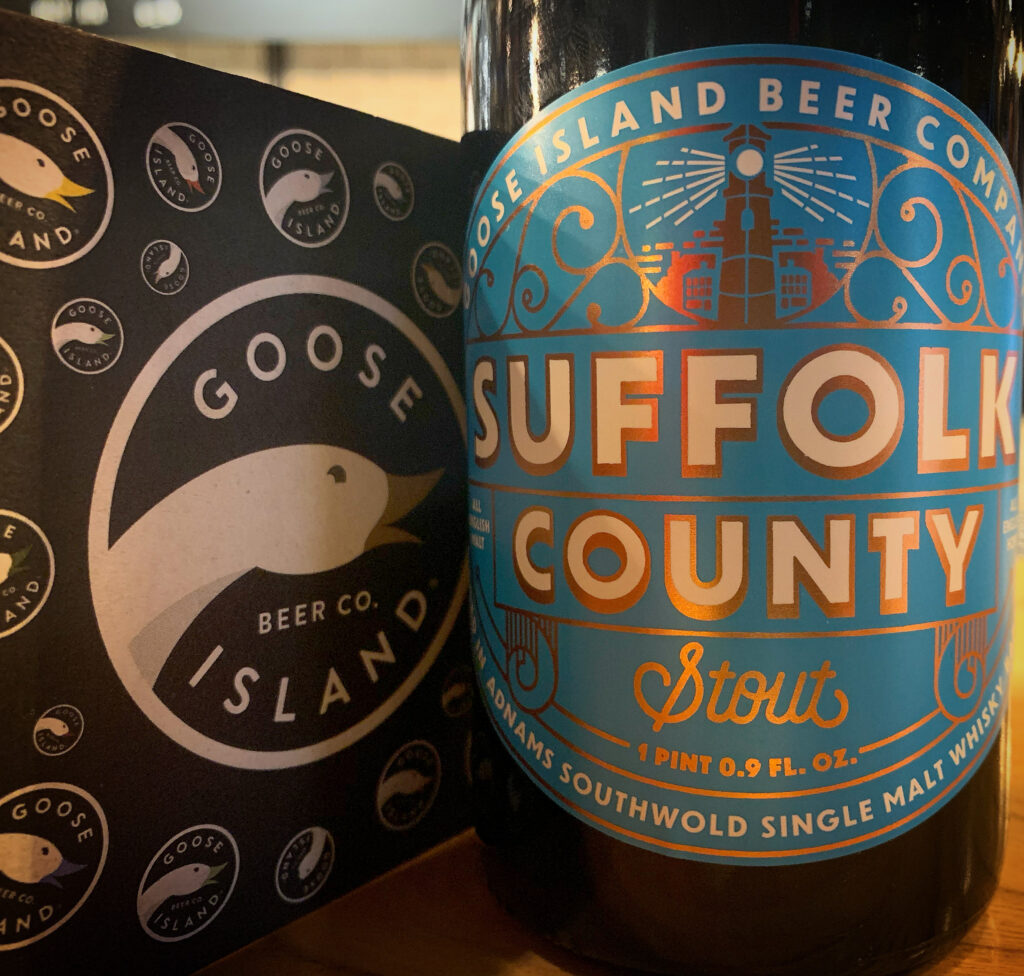 Over the last 32 years Goose Island has made every style of beer that you can possibly imagine and then some. Nowadays drinking patterns have changed and overall consumption of beer in general is trending down.
As we work back into some degree of normality, Goose is taking calculated risks based on polarization. This is probably the only brewery in the city capable of bringing together different parts of the drinking world.  Over at Chicago's oldest brewer small, local collaborations are released directly next to longterm international projects.
Sitting at the bar with longtime R & D Manager, Mike Siegel we talk about current state of affairs over a pair of new bottle releases.
Goose Island Suffolk County Stout
Lake Zurich's own Brian Largrow produced the 2018 Proprietor's BCS recipe. Brian is now Head Brewer over at Short Fuse Brewing in Schiller Park. As a member of the flock, Brian always spoke of ideas that explored the connection of Bourbon County Stout to the original Russian Imperial Stouts first produced in England.  This beer is rooted in Goose's history of Founder John Hall's love for English pubs and breweries. It was these old world styles that inspired John to launch Goose Island back in 1988.
Southwold is the coastal community in Suffolk County, home to collaborator Adnams. The eastern seaside English brewery was established in 1872 and began distilling about ten years ago.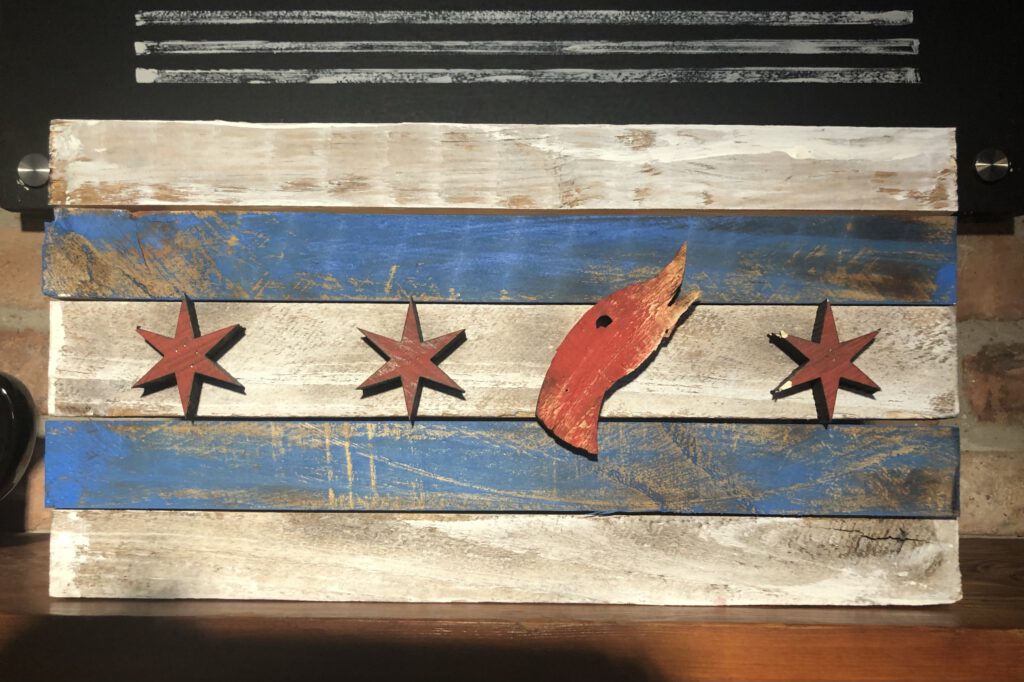 English Whisky is something you never hear about. Adnams makes a Single Malt aged in toasted wine barrels made from European oak. An important distinction is that these are not ex wine casks, rather virgin oak barrels intended for wine. The result is brighter fruit notes in Suffolk County make it feel more vibrant on the palate than the BCS we know. 
There's a bit of honey and apricot that transfer in a way that doesn't exist in OG BCS.  A big difference was coordinating shipment of barrels from outside of the U.S.from England. While Kentucky Bourbon barrels are filled with beer two weeks after dumping, these were filled after eight. 
These collaborations come down a mutual respect from both young and old producers connecting for the first time.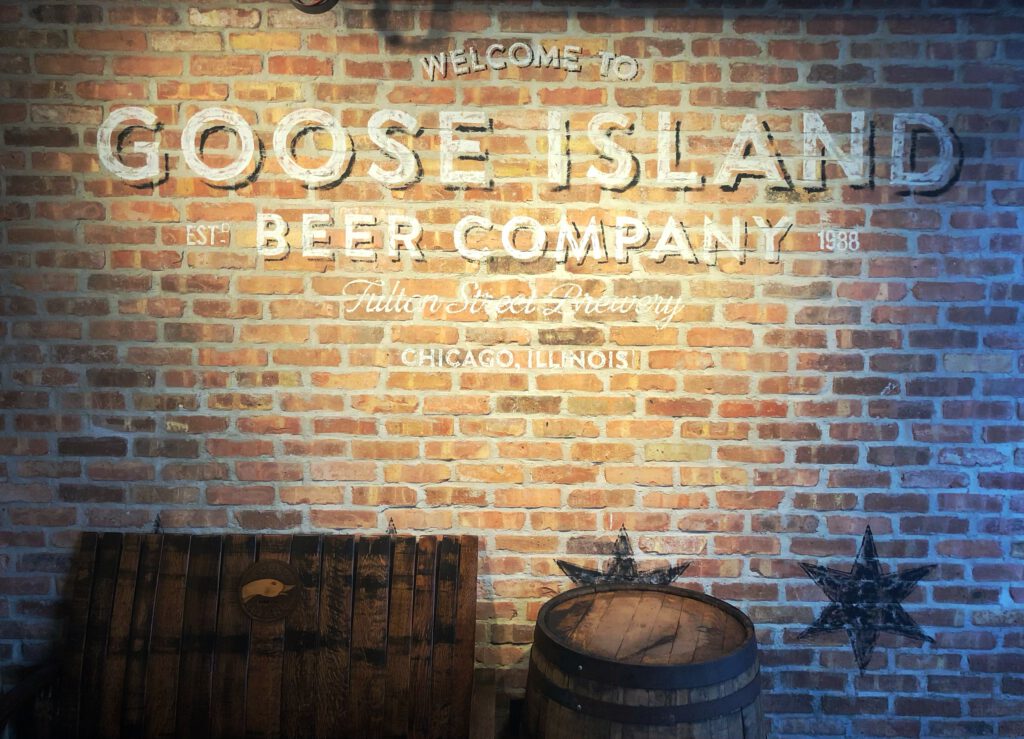 Can releases with younger brewers Old Irving and Alarmist are debuting this year. On draft at Fulton is a Smoked Lager with Liquid Love Brewing, a crew that took over the Prairie Kraft Brewing space up in Buffalo Grove last year.
Love Loaf Smoked Pilsner 5.4% was oak barrel lagered for two months and features smoked malt from Sugar Creek Malt in Indiana.
Brewers at Goose often visit other local taprooms so in just about every case these connections are organic.
The new school of Chicago breweries are neck deep in cranking out sick, fresh hazies bro, often times sweeter and more opaque than the original New England IPAs that started this madness.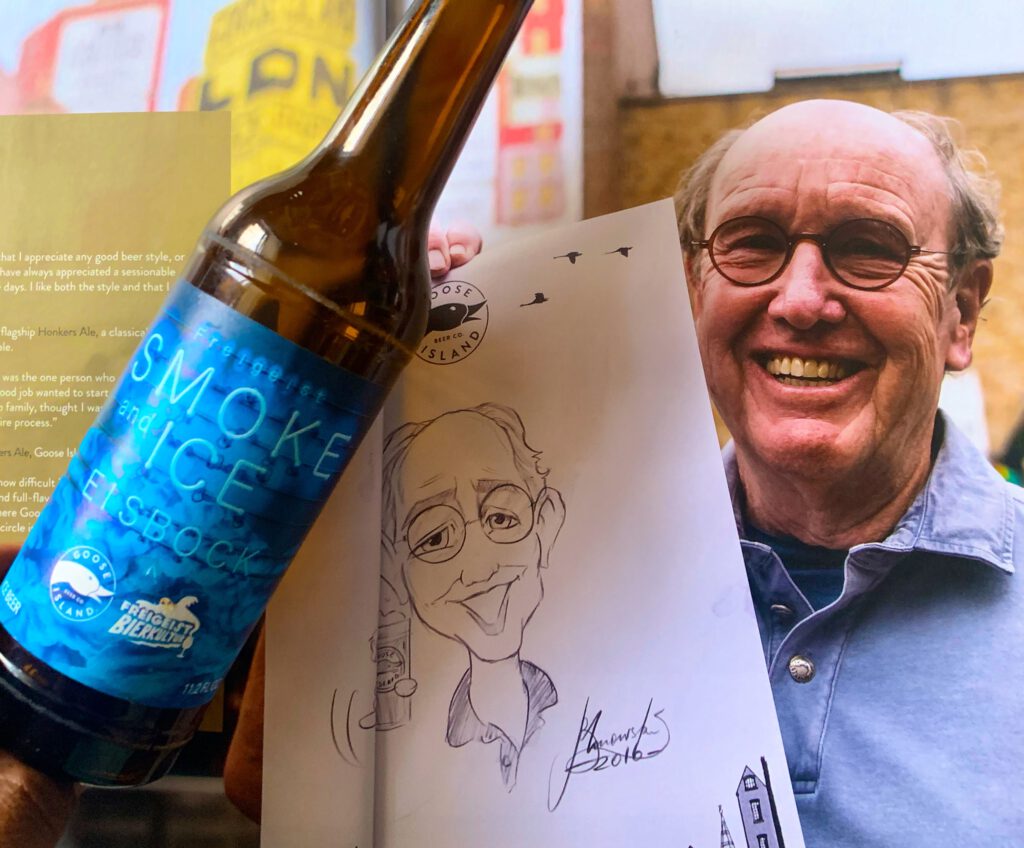 When they arrive at Tapdeck they wanna shotgun beers, drink Honkers Ale and learn about stouts. The connection is reciprocal because Goose is interested in making more of the styles that these younger brewers are executing. The calibration has changed on what people expect from IPAs. Drinkers want a soft pillowy texture with little bitterness and low head.
Their might be some overcompensation here as there are currently eight pilot batch, hazy IPAs on tap. But I mean honestly what the hell are they supposed to do? There's only a handful of us left that would drink Nut Brown Ale if is was on.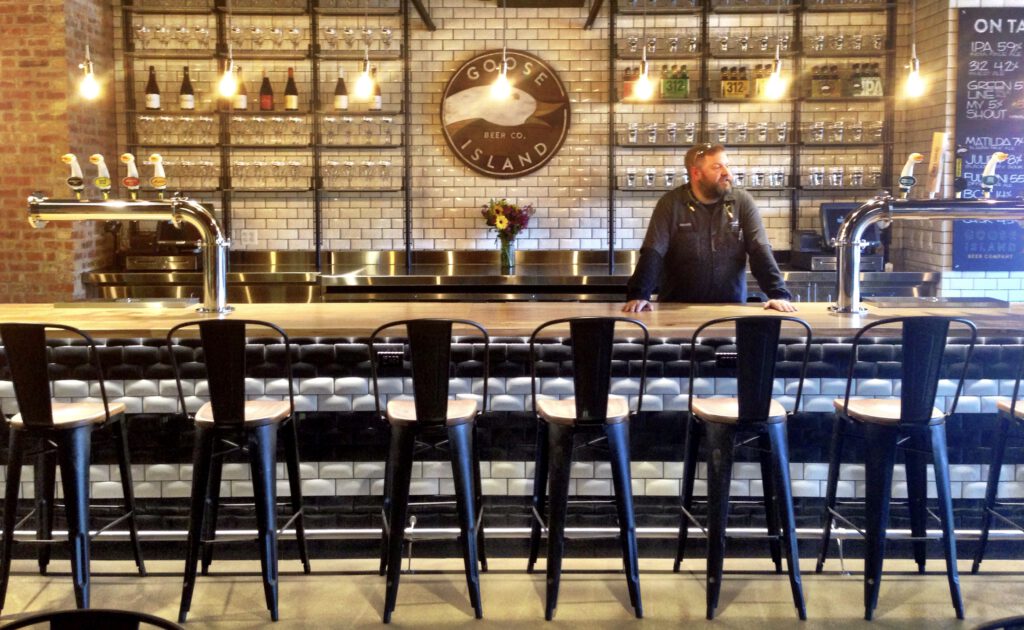 Bourbon County Season runs from Black Friday through February. It's back to normal programing in March. Don't expect to see those beers rolled out over months like say the Rev Deep Wood Series.
Goose has built an exception to sell an amount of BCS on one day nationwide equal to what some breweries produce all year…so they wont be messing with a good thing.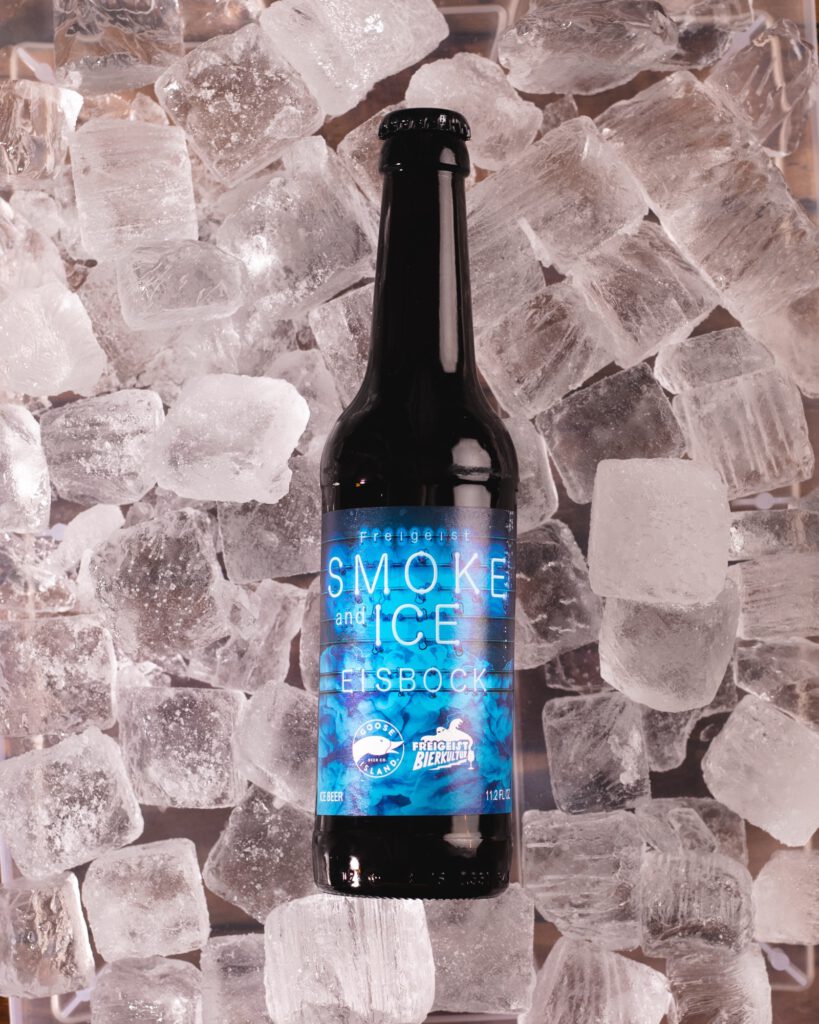 Smoke and Ice Eisebock 10.8% Gypsy brewer Sebastian Sauer (Freigeist Bierkultr) A nice residuals sweetness on this one, surprisingly fruit forward with some ripe plum notes. A blast of smoke coats your mouth mid palate. At Binny's you'll see six or so German Eisbocks for sale but they are technically illegal to make without a distillers license.
In the eyes of the TTB eisbock production is forbidden so it was brewed in Germany and shipped back. Smoke and Ice was lagered for 18 months in horizontal lagering tanks about an hour east of Cologne, Germany. Before aging in the 100 yr old tanks the beer is fermented in open squares similar to the koelship you see at Dovetail. The eisbock machine is a freezing cold jacketed fermentor, coolant runs outside of the tank. Beer is then transferred to remove the ice.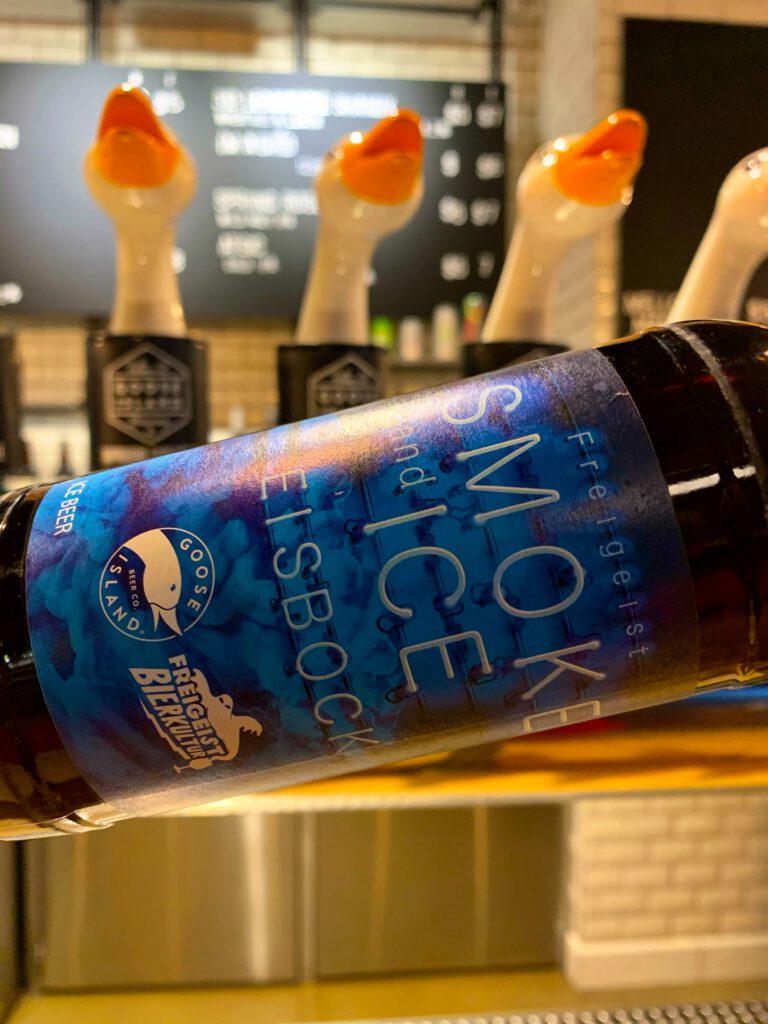 —Nkosi
Other Notes:
-Spring Rose, Hazy IPA blended with 15% Madame Rose blended with Montmorency Cherries. It's the most unique profile on the tap list.
-Tepache Sunset BA Saison 5.4% Pineapple Orange Tamarind Saison age for 3 months in tequila barrels with brettanomyces. Brett is really there to prevent oxidation in the barrel but its not a big player in the profile. Think a Sofie Mimosa.
-312 Lemon Shandy is the biggest launch in company history.