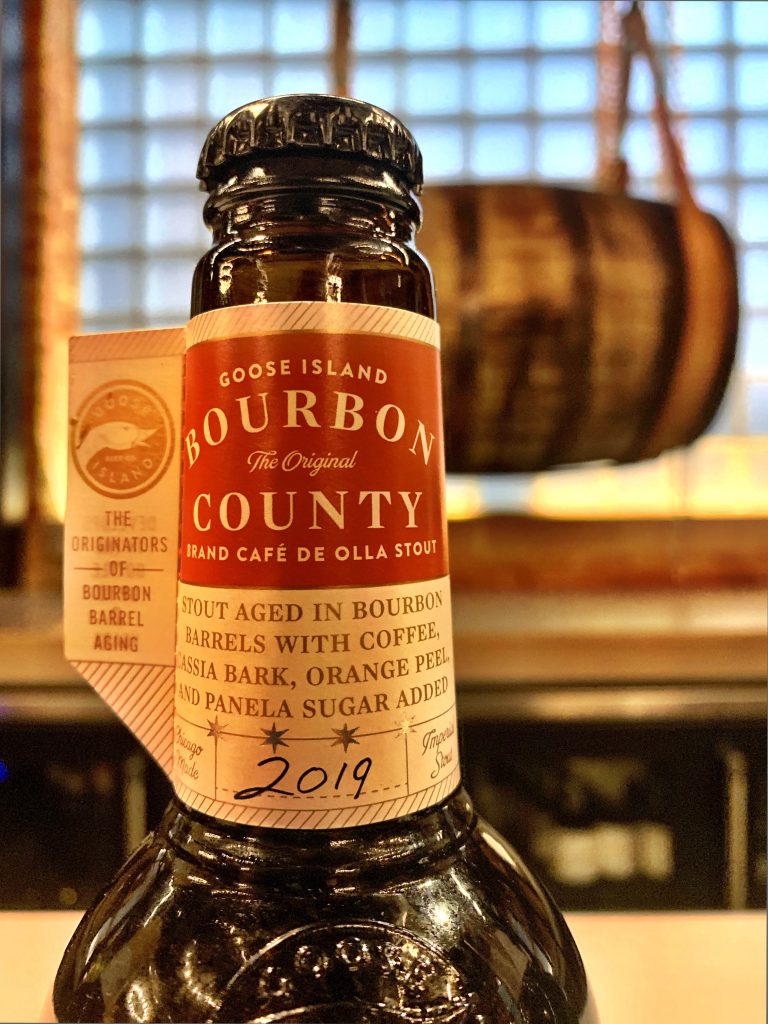 Say what you must about the Goose Island crew, but it's undeniable that their ability to command your attention during stout season is top tier. BCS 2019 sees Chicago's oldest brewery focus on single origin bourbon more than years past. Heaven Hill Distilleries is home to more bourbon barrels than any other distillery not named Jim Beam. There are over 1.6M barrels at their facility down in Bardstown, KY.
The BCS lineup for the first time maybe ever includes four variants with no adjuncts added at all. Half of the 2019 collection is a welcomed barrel showcase that allows the greatest American Stout of all time – to be stripped down from the usual rotating series of chocolates, fruits and spices. The symbiotic relationship between brewer and distillery was front and center at last week's Chicago preview event.
Enough of that rubbish…let's get to it.
Bourbon County Brand Wheatwine
This is year two for Wheatwine, your 2018 FOBAB Silver Medalist. It's a landmark beer that serves as Goose Fulton's only win in that competition since 2012. It's a sensible marriage between a wheated bourbon barrel, Heaven Hill's Larceny and a wheatwine. This beer is the same recipe as Bourbon County Stout minus the specialty malts. Two-Row Malt, Malted Wheat and Malted Barley are all present and the end result is reminiscent of bourbon in color. Rich caramel and butterscotch are the dominant flavors followed by mellow whisky notes. The softer wheat character this year is due to a new mash filter at the brewhouse. The wheat grain bill is 37% up from 30% last year.
100% Larceny barrels were selected for this year's vintage. Larceny was launched 7 years ago by Heaven Hill. In a Wheated Bourbon, the secondary grain in that style is wheat, where the secondary grain is rye in a Kentucky Straight Bourbon.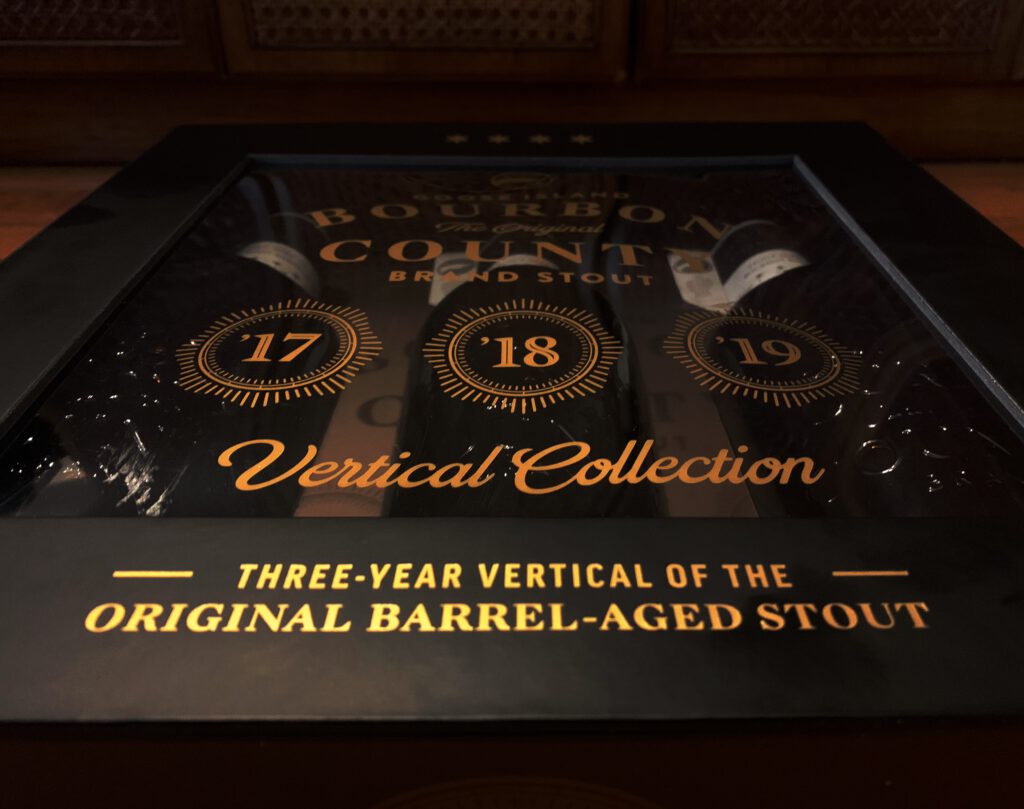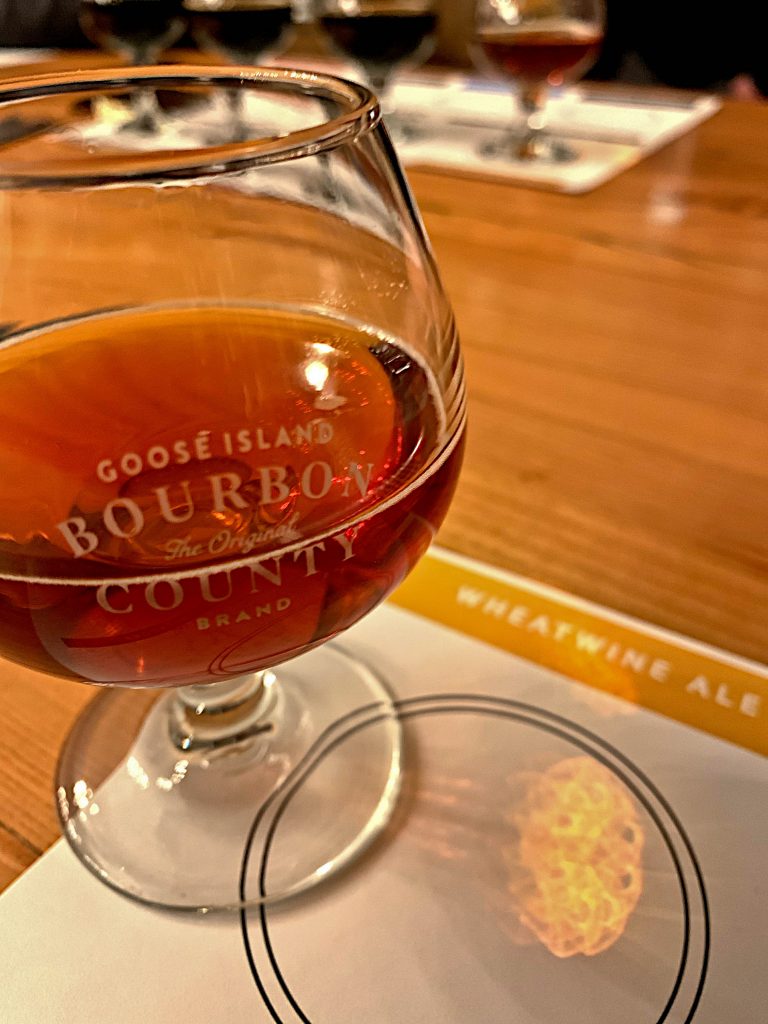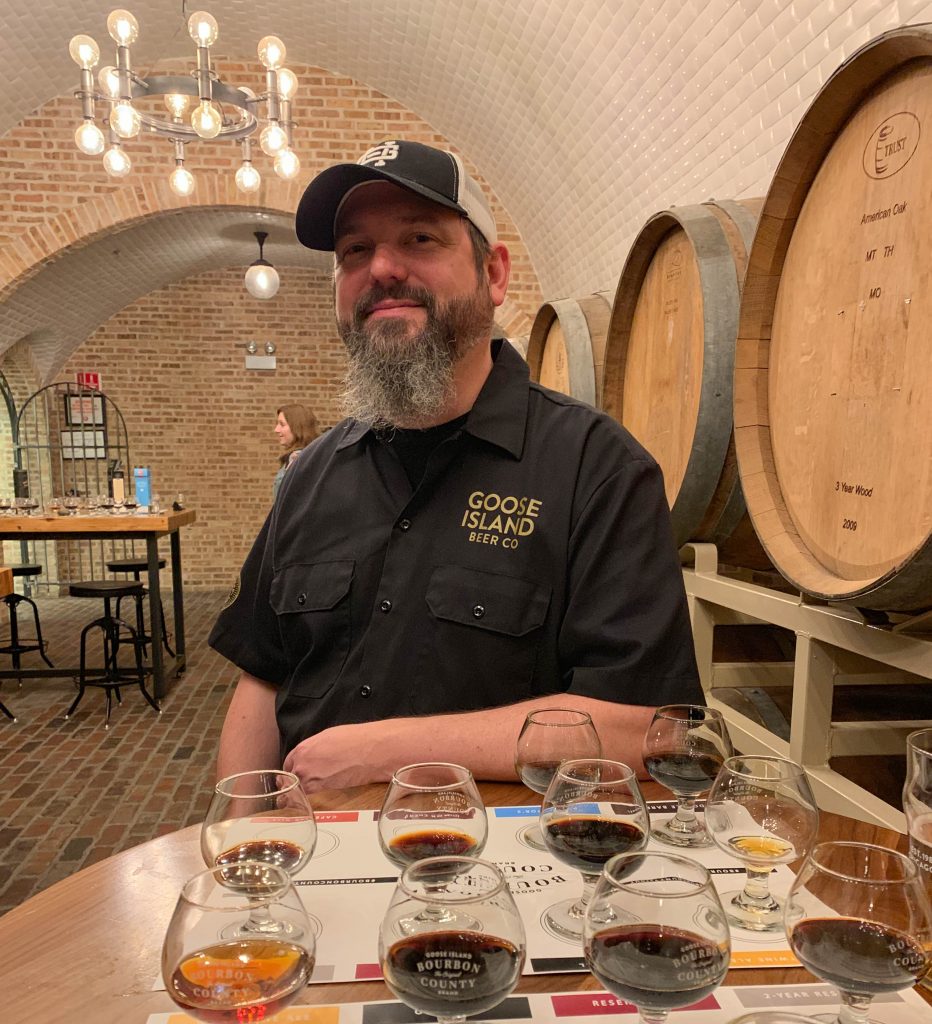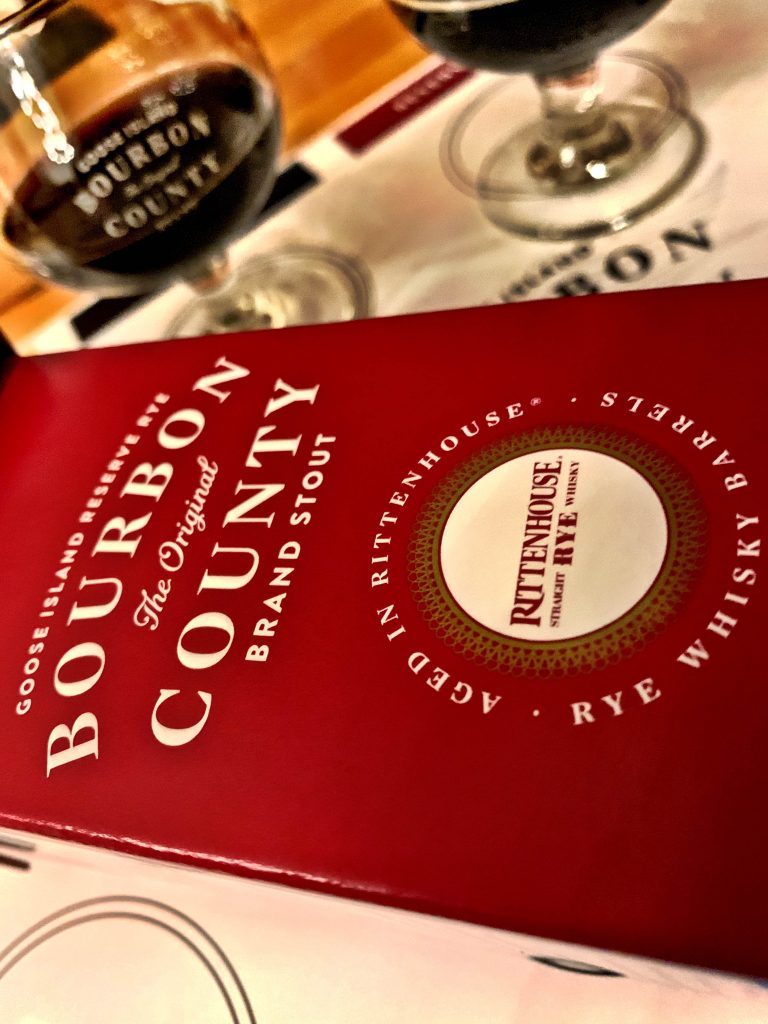 Goose Island Reserve Rye
Barrels of Heaven Hill's Rittenhouse Rye Bottled In Bond at 100 Proof are the backdrop for this 2019 debut. Rye barrels are a BCS tradition at Goose that dates back to 2012. Cherry Rye, Backyard Rye, Vanilla Rye and Bramble Rye are all past variants.
The spectrum of whisky complexity, flavor and spice all make that rye option tough to beat in this lineup. There's a higher degree of char (level 5) on these 8-year-old rye whisky barrels (level 3 on the other bourbons). Earthy tobacco and black walnut notes compliment the base beer. It reminds me of that sensory overload I experienced when sipping Bourbon County for the first time.
Double Barrel
This variant was draft only when it debuted two years ago in the taproom. The idea is simple and offers the greatest expression of bourbon in the lineup; They take BCS from one bourbon barrel to another fresh barrel instead of taking straight to bottle. Whisky Advocate's Whisky of the Year -Elijah Craig Small Batch barrels were sourced.
11 and 12-year barrels with two years total aging for the beer.
Elijah Craig is the most important brand in the Heaven Hill lineup. It's not the most expensive nor does it sell the most, but it's the company's premium offering and the number one off-premise brand. In years past, it was only expressed as 12 year bourbon. Now, it's described as Small Batch with no age statement.
Double Barrel has the highest ABV of any Bourbon County ever released in bottles at 18%.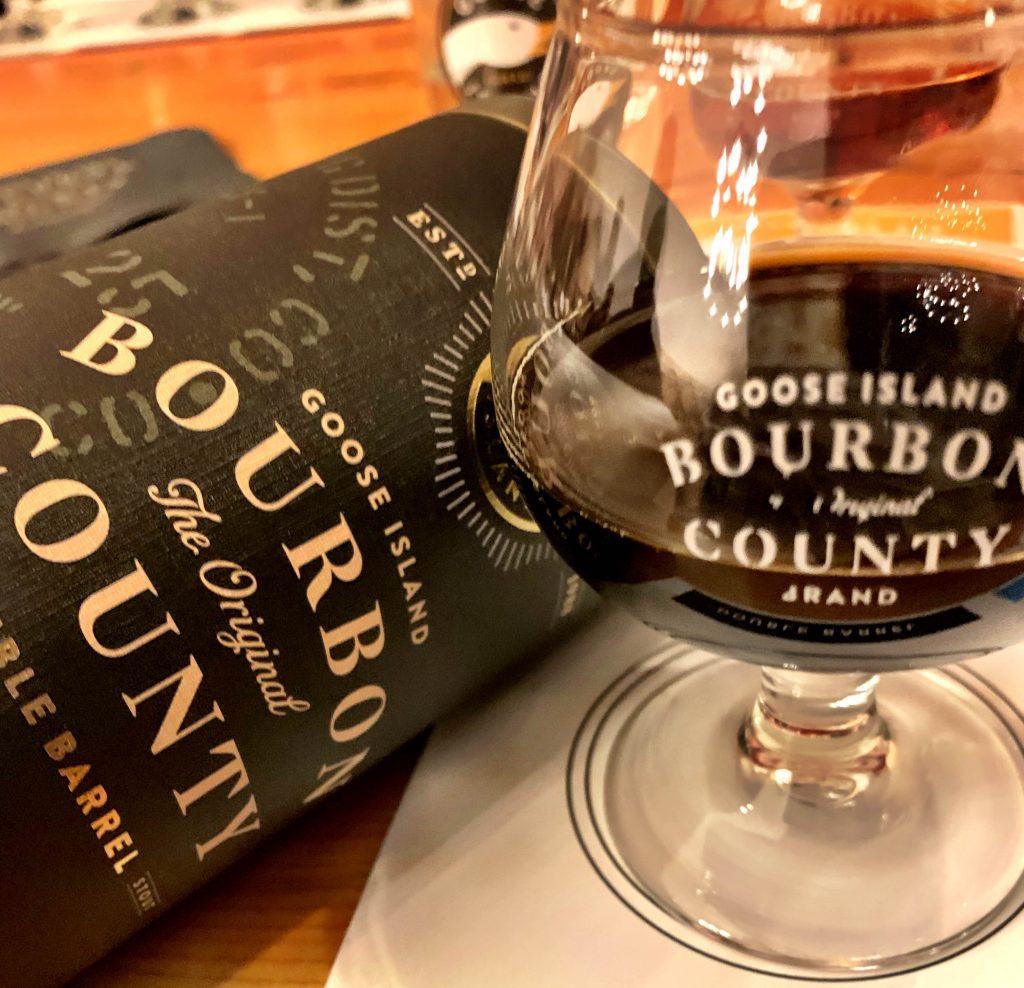 Two Year Reserve
The 25th Anniversary Knob Creek Single Barrel was used for this variant. There's a smoky, earthy, leather forward nose on this one. First released in 2017, two years in the barrel transforms the OG into something bold, woodsy and resinous with faint hints of molasses and burned toast. It's Brewmaster Keith Gabbett's second favorite in the lineup. These 11-year- old barrels are difficult to come by as they are the oldest in the Knob Creek catalog that Goose was allowed to source.
Proprietor's Blend
This year's Prop features all-star combinations of the brewery's favorite components since its inception back in 2013. Additions include coconut (toasted and raw) roasted pecans, cinnamon and vanilla. It's important to note that they always use whole bean vanilla, never extract. The fruity, creamy notes of whole bean morph into the toasted pecan flavors. It's rich, sweet and as indulgent as you can get. The flavors here will change faster than any other in this year's lineup.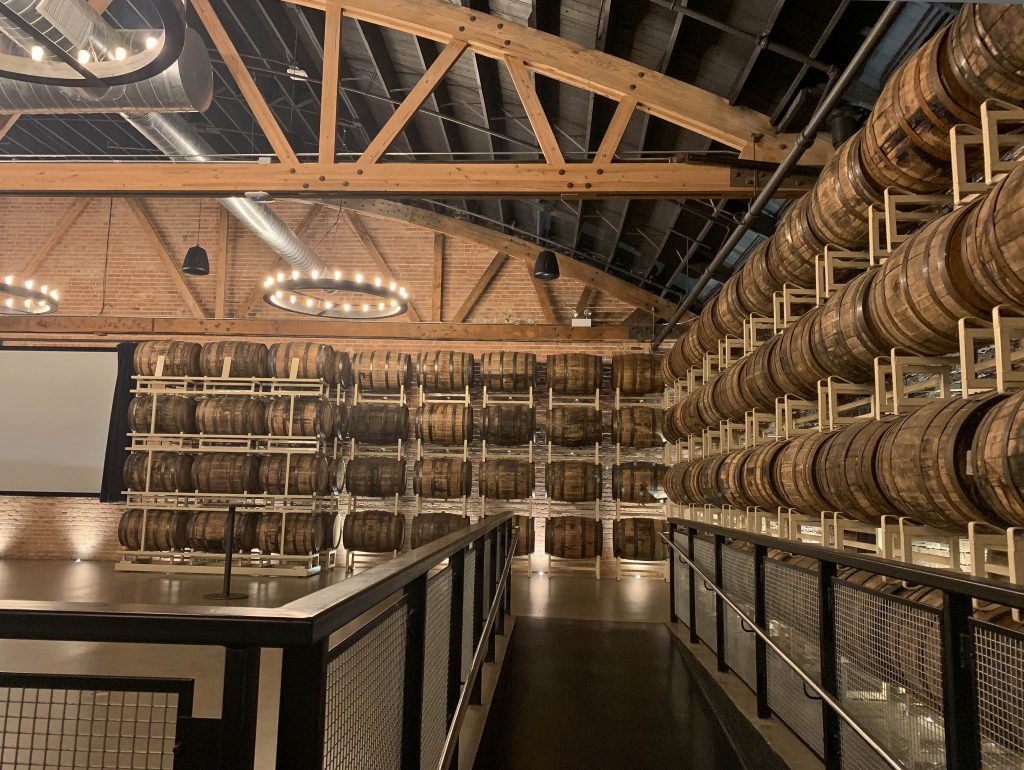 The Original Bourbon County Stout
OG debuted in 1995; It was born out of a beer dinner with Booker Noe from Jim Beam. It was also famously rejected from a stout category at GABF because it wasn't true to style. The base beer remains the same since the beginning. This year is all about notes of toffee, chocolate and a thick / rich mouthfeel. It's a double fudge chocolate brownie of a stout that still retains beer integrity.
Bourbon County Brand Café De Olla Stout
This year's coffee variant encompasses Intelligentsia's blend of Ethiopian and Peruvian coffee, Saigon cinnamon bark, panela sugar and orange peel. Obviously, the brightness of the cold coffee is best expressed when consumed fresh. The orange peel accented in this spiced Mexican coffee variant accented works a little better than last year's expression modeled after orange chocolate dessert candies.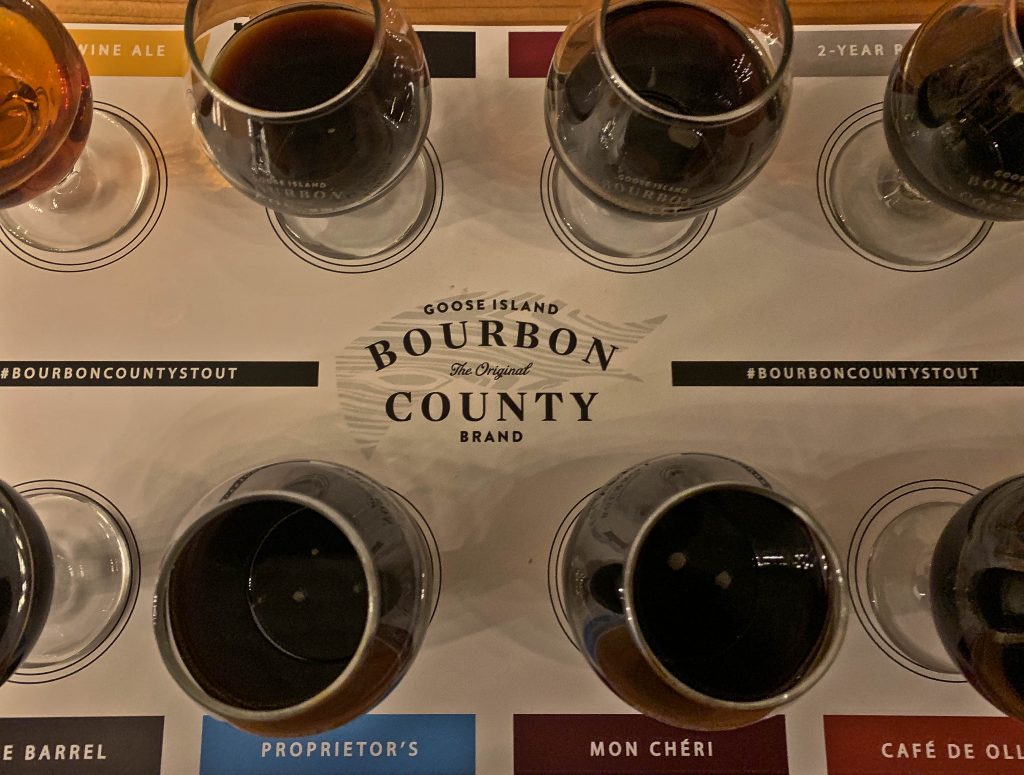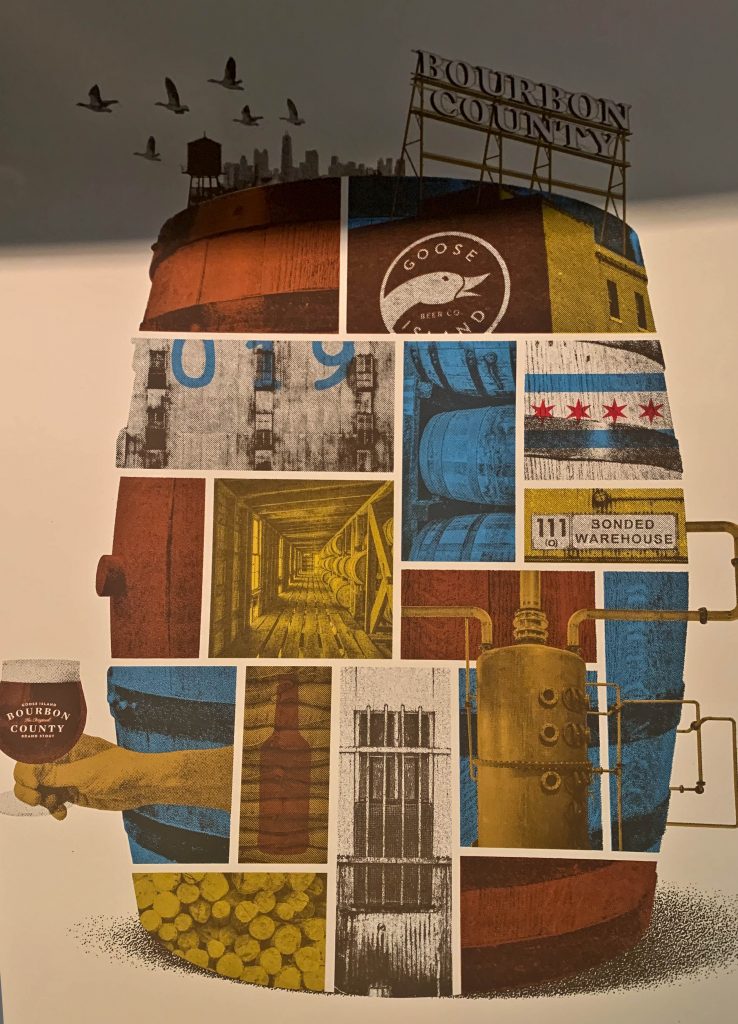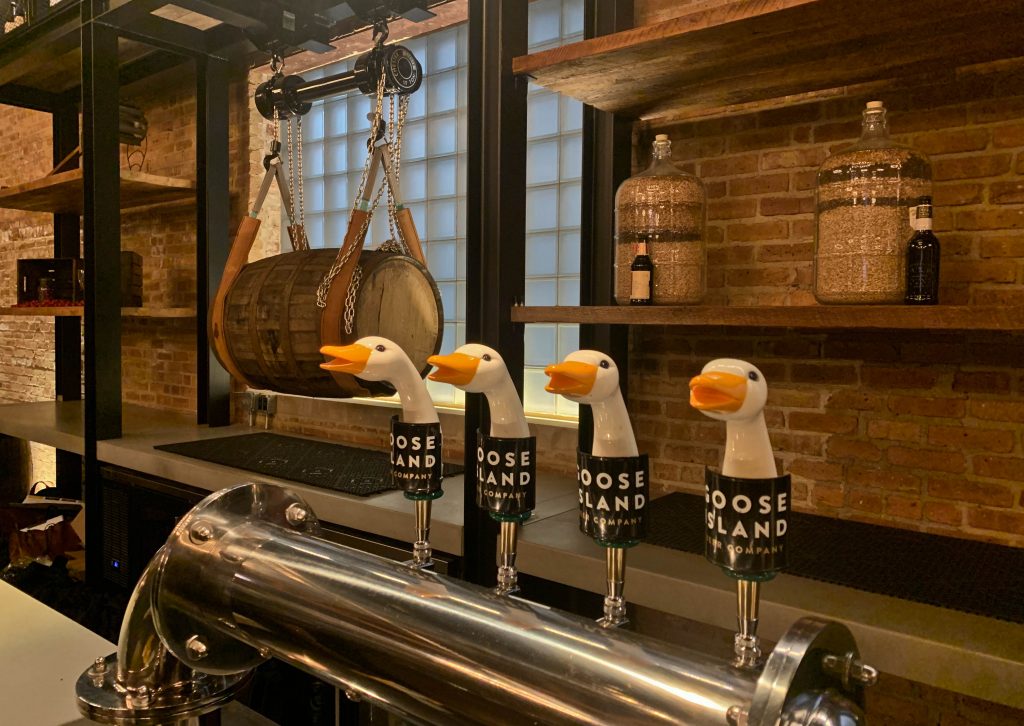 Bourbon County Brand Mon Cheri Stout
Code Name: Granola Mountain.
Brewer Quinn Feuchsl is responsible for my favorite variant in recent memory, the legendary Proprietor's 2017 (bananas, cassia bark, roasted almonds). The inspiration for Mon Cheri is Quinn's love for Cherry Cobbler and his wife's affinity toward Bourbon County Cherry Rye from 2012.
Tart cherries are the central theme for this beer. After BCS is fully aged for a year, 20,000 lbs. of Oregon and Michigan tart cherries are added and circled through the beer for a month and then followed by 7,500 lbs. of oats and granola. These are mostly Montmorency and Balaton Cherries. The result is classic BCS with robust layers of honey, maple syrup, baking spices, candied nuts and waves of fresh cherry on mid-palate like one of those bourbon chocolate cordials but with a bright fruit filling.
–Nkosi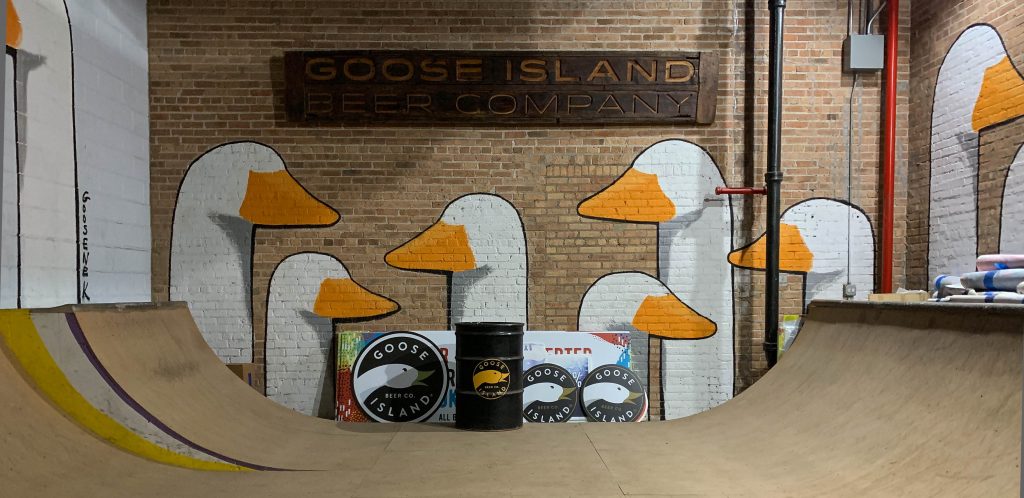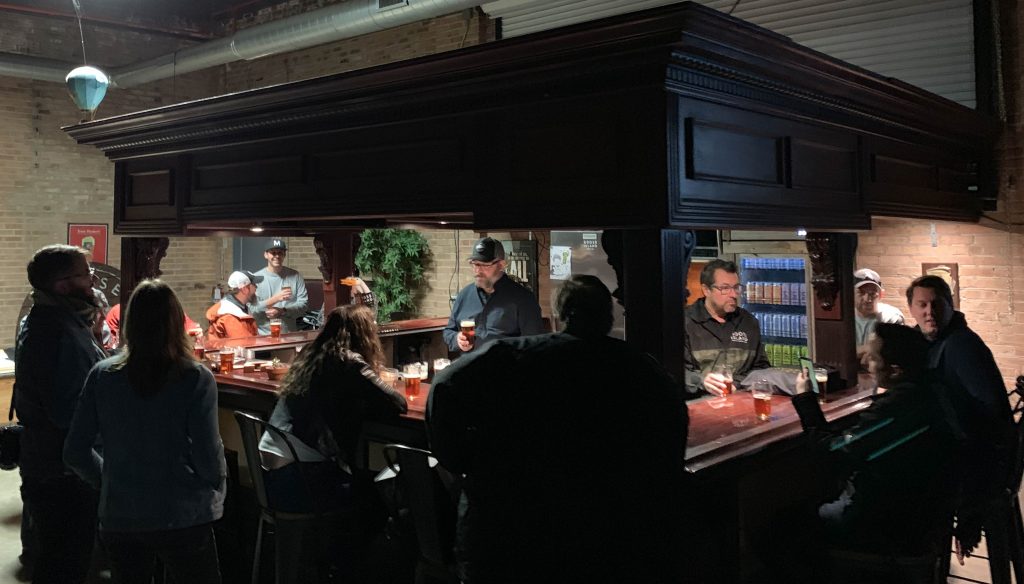 Other Notes:
-This is the first BCS tasting led by Brewmaster Keith Gabbett. The 10-year veteran brewer was promoted to the role this year when Jared Jankoski decided to head back home to Wisconsin and rock with Octopi Brewing.
-Heaven Hill Distilleries are the number two holders of bourbon in the country with 58 rickhouses across Kentucky.
– There are only 19 bottle in bond products that exist in the world; Heaven Hill owns 13 of them.
-The Barrel Warehouse was revamped into a showcase venue three years ago. Tastings are held in the library with curved walls and bottle displays including a 15-yr BCS vertical . The space is equal parts Sonoma Valley winery, Belgian brewery and Chicago subway. Glass block warehouse walls like the ones here were first built in Chicago.
-Post game activities included heading to the eastern end of the warehouse to experience the original Goose Island Clybourn bar relocated here after 'The Great Clybourn Revamp of 2017'. This bar is where the 1st BCS ever was served and honestly, its where I first learned about craft beer.