Back in 2011 the now defunct Ale Syndicate (known then as New Chicago Brewing) announced that they were moving to The Plant.. they never did. With its circular economy, commitment to material reuse and energy conservation, The Plant is one of the most interesting urban renovations happening in the city. It's a 100,000 sq ft space that 14 businesses can occupy. 17,000 of that square footage now belongs to the Whiner Beer Company.
The duo of Brian Taylor and Ria Neri spent time at Goose Island and Bangers and Lace respectively before launching their own project. Brian is already hard at work expanding distribution to Cleveland, Cincy and Columbus, Ohio soon. Theirs is a subtle approach toward both Belgian and French styles. The 30-barrel brewhouse includes 60 barrel fermenters. Go big or go home, they are not here for the fuck around. After hitting up neighboring Back of The Yards Coffee shop we had to visit The Plant. At this point I feel like the only one of my friends that hasn't been. What caught our eye on Beermenus was Pounce, an apple infused kölsch aged in bourbon barrels. We settled on the base beer, Et La Tête.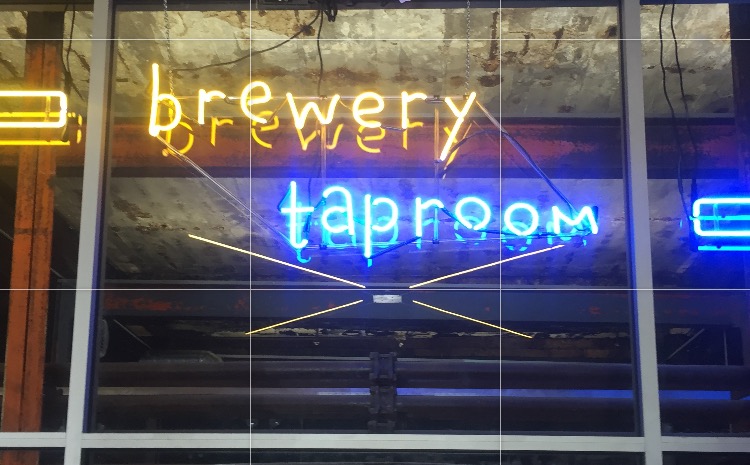 Four Letter Word Coffee Roasters are located upstairs. The coffee outfit started in Istanbul and joined forces with Whiner for one of the most talked about collaborations from this year's Uppers & Downers Coffee Beer Festival. Soup du Jour (a red wine barrel-aged kettle sour saison) and Fur Coat (a Belgian dark ale) were paired with an Ethiopia Geisha Village/Geisha 1931 and a lactic-fermented Colombia La Palma y El Tucan SL-28.
We've featured Whiner's Miaou on the Chicago Beer Pass Podcast. Rubrique-A-Brac is a fave whenever I'm at Ground Control in Logan Square. The highlight of our Whiner visit is when Capitaine, a barrel-aged Belgian wheat w/Brett Brux Trois Vrais, Dry-hopped w/Hallertau Pearl.
The space at Whiner is rustic and colorful. As part of Chicago's craft beer renaissance it is commonplace to see breweries inhabit a space that once housed a different industry. Lagunitas was a steel factory, and an ice distributor before that. Motor Row Brewing is where you would take your Ford Model-T transformed into a pickup truck at the turn of the 20th Century.   The beer sign that sits above The Plant is an an ode to Peer Foods, the meatpacking company that called the Union Stockyards home back in 1925. The 'p' in the Peer sign was flipped to a 'b'.
Chicago's legacy a beer town is rooted in the range of styles produced here, the quality of those styles…and of course the neighborhood destinations that are the result of that synergies.
I absolutely adore that there is a crew dedicated to mixed fermentation styles located near my favourite baseball team. If you want to see Chicago takes it's rightful place among the world's greatest beer city destinations, you should too.
–Nkosi