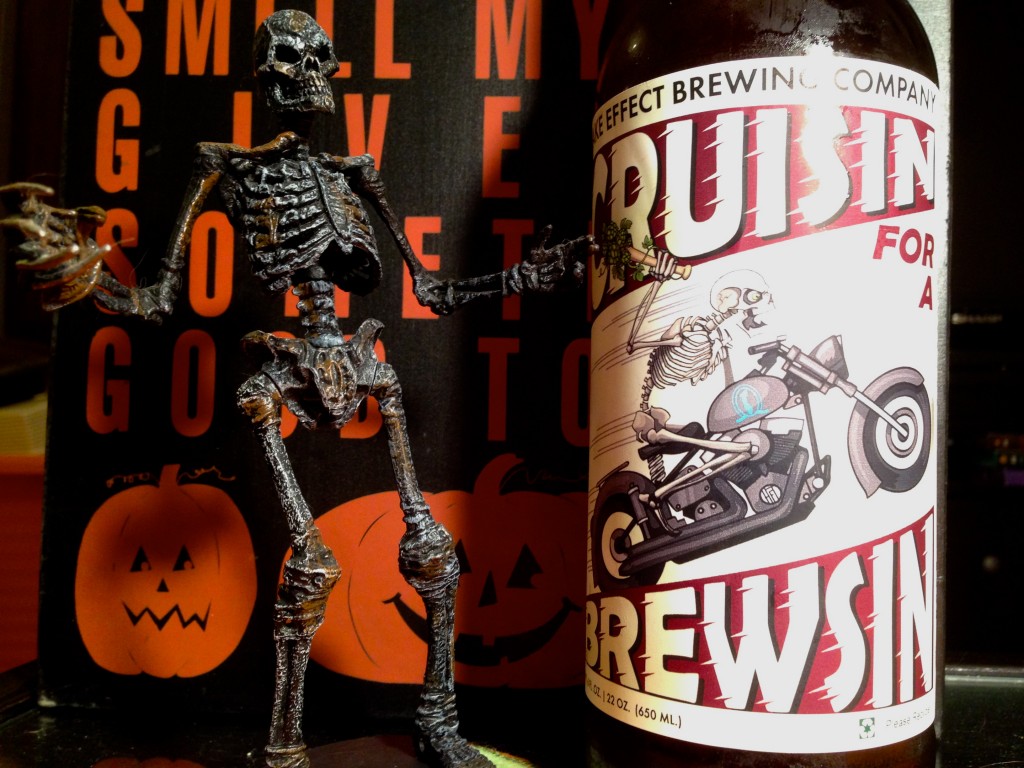 Located right in the middle of the Mayfair, Old Irving Park, Jefferson Park, and Portage Park neighborhoods at Montrose & Cicero lies Lake Effect Brewing Company, who are currently celebrating their One Year Anniversary. You may have been lucky enough to see them on draft in a NW side bar this past year, but their beer is a bit easier to find now due to the addition of bottles. Currently, bombers of Falcon Dive IPA, Bitchin' Blonde, Cruisin' For A Brewsin', and Lake Effect Snow are perched on select store shelves throughout the Chicagoland area. Due to the current horror season, I found it fitting to review a beer with a label featuring a motorcycle riding skeleton.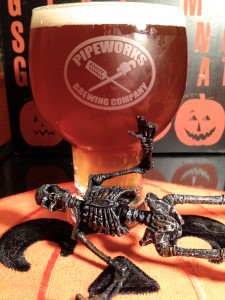 Cruisin' For A Brewsin' is a Belgian-style IPA brewed with Centennial and Cascade Hops and possesses a mash bill consisting of Wisconsin Pilsner malt and white wheat. In the glass, a roasted jack-o-lantern orange hue is ghoulishly cloudy and is shackled with a cobweb thick head with great retention. Bold aromatics scream into the nostrils notes of honey comb, freshly rolled sod, zesty orange peel, clove, pine, shredded wheat cereal, orange blossom tea, and slight caramel. Earthy, spicy Belgian yeast esters sink their fangs into your palate and refuse to let go. Despite a sweeter aroma, an aggressive hop bitterness dries the beer out like a withering mummy. High in citrus notes, the bitter mummy puts up a great fight in its epic battle against the yeasty vampire. The finish is very long and very dry, as stubborn as a zombie not willing to lay to rest.
These guys are brewing delicious beer and are becoming favorites amongst their locals. Pretty soon Lake Effect Brewing will become synonymous with craft beer in the NW side neighborhoods. If you rarely make it out to any of the bars in that area, be sure to seek out their beer at your favorite bottle shop. Happy Halloween everybody!