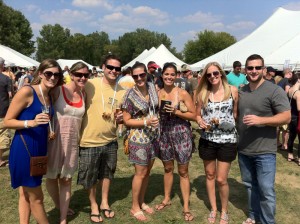 One of the largest beer festival in Illinois, The Midwest Brewers Fest, was in full force Saturday August 25th. While it's a bit of a drive from the city, or larger suburbs, it's worth the trip. With over 50 breweries represented your guaranteed to find a brew you haven't tried in the past.
We had a great time at the festival. We met some great people out and about enjoying themselves, and having an overall great time. One of the questions people kept asking us was "So what did you get with VIP?" or "Was VIP worth the extra money?" Well, there was an entire list of beers that were being tapped in the VIP tent all day long. While some of these beers were also available in the general festival grounds, many were not.
Food was included with VIP as well from Brand BBQ Market. The BBQ was great and exclusive to VIP, so if you didn't have VIP you missed out on the great pulled pork and other treats. One other big thing of VIP was the extra hour on the festival grounds. VIP ticket holders were permitted in the festival at noon, while general admission started at 1pm. If you had VIP and showed up late you missed this great opportunity to essentially go to any brewer without waiting in a line. This also provided a great chance to talk and discuss their brews with them. The one thing we did miss from last years VIP was the large air conditioner units cooling the tent. While it may not have done a great job last year, it did help a little. It was another hot day as it was last year and with the VIP tent enclosed it was a bit toasty.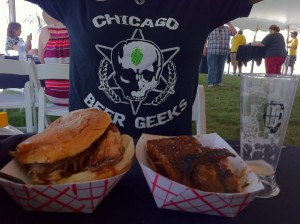 When it came to the beer itself, there was a lot of it. Attendees were given 25 2oz sample tickets. This may seem like too few; however, we had extra left that we handed off to other festival goers before leaving. With fall just around the corner a few breweries had their pumpkin and fall beers out in full force. For us the top were Wild Onion Pumpkin Ale, and Lakefront Pumpkin Lager, and Revolution Brewing Oktoberfest. The Oktoberfest by Revolution was a one of our top picks for the festival overall. We also really enjoyed the Clown Shoes Angry Beast Double Stout that was available in VIP.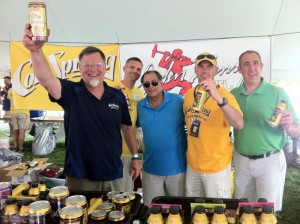 A New to the market brewery, Cold Spring, impressed us with their offerings as well. The brewery in Minnesota has been around for over 100 years, but they just hit the Chicago market this year. Their John Henry 3 Lick Spiker Ale has some great flavor with chocolate and bourbon notes coming through. We also really found their sparkling cocktails a great option when we felt like something a little different. The Red Raspberry Watermelon in particular.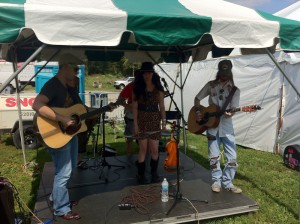 If you wanted to take a break from the alcohol you could get in a game of bags, grab a fine cigar in the smoking area, check out the music on stage, or head to the food tent for some great sausage or pizza. There was plenty of distractions to provide you with a break as you traveled brewery to brewery.
The festival tents are well organized and spread out among the grounds along the riverfront. Even with longer lines forming for samples and hundreds of people around you, it still didn't have that crowded feeling, and lines moved quickly.
So next August if your wondering what to do, and want to have a great time with some great people, take a trip out to Plainfield for the Midwest Brewers Fest.