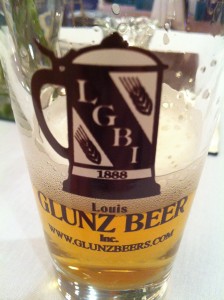 When our geek minds ponder over tasty craft beer, we mostly think about the breweries and which bar or store will supply us. The beer distributor, an essential aspect to this whole notion, becomes an afterthought. We rarely see them participating in beer events or parties. This scarcity made us excited for our first visit to the Louis Glunz Beer Inc. Global Expo. This year's expo was their 18th annual edition. This industry only event aimed to expose their customers to the breweries they distribute as well as the portfolio of beers available. Given to the buyers representing the bars and stores spanning Chicago land was an ordering booklet to purchase available beer at special pricing. Each brewery's booth and rep worked to sell their products to potential customers. Despite this unique detail, the event overall was your standard beer fest. Gifted to each patron was a small taster glass good for unlimited samples of any beer desired. The event took place at the Donald E Steven Convention Center in Rosemont. Many American craft breweries attended, as well as many importers showcasing beer from around the world.
5 Rabbit's booth became the first stop for a taste of their 5 Grass, an experimental pale ale. Their goal was to create a thirst quenching beer that you would crave in the desert. Sage, pepperberry and rosemary provided the beer's wonderful aromatics. 5 Rabbit created another interesting offering that will pleasantly occupy tap lines soon.
In close proximity was Revolution's booth. They provided printouts showcasing their cans and seasonal bombers soon to hit the shelves. Based on their calendar, new beers are to be released each month, mostly in bombers but some in cans as well. The visit to their booth ended with a delicious taste of their Coup D'Etat Saison .
Three Floyds present at a beer event excites any beer geek, but usually turns into a let down when they only offer items from their year round selection. This was one of those times. After scooping up some of their awesome coasters and a sample of Jinx Proof, departing their booth was sadly too easy.
Flying Dog exists as a great east coast brewery that doesn't show up to many Chicago events. Seeing them present surprised us. Two new beers accompanied them, Wildeman Farmhouse IPA and Underdog Atlantic Lager. The Wildeman became one of the night favorites, an IPA brewed with seven different hop varieties, orange peel and fermented with a Saison yeast. This will surely please the appetites of hopheads and Belgian beer lovers alike.
Arcadia Ales always pleases crowds, and did not fail to deliver again. Offering eight beers from their portfolio, a great beer sitting in front of us was inevitable. Following in the craze of the Black IPA, Arcadia brewed their B-Craft Black, a 8.5% abv Black Double IPA. American citrus hops filled the aroma, hardly letting any roast notes enter the nostrils. The flavor proved to be more balanced, however, providing a lovely marriage between sweet, roasty malt notes and citrus hops. Keep your eye out for this one.
At this point we consumed enough beer to make a noticeable affect on the brain. Luckily, plenty of water bottles and an exciting food spread were provided to help us out. At first, obtaining a small plate of snacks came with ease, but as the night wore on the lines became rather lengthy and would cut out a serious chunk of beer time. We recommend eating a good meal before a beer festival, always the best preparation.
The rest of the night went by way too quickly, but plenty of samples were had. In fact, we sampled upwards of 80 different beers by the night's end. Here is a brief list of breweries that provided quality offerings: New Holland, North Coast, Breckenridge, Unibroue, Shmaltz, Flossmoor Station, Grand Teton, Great Lakes, Anchor, Founders, Cisco, Spaten, and a vast selection of Belgian brews. We should also give props to Louis Glunz for providing glass rinsing stations throughout the event floor. Glass rinsing always becomes an interesting obstacle at festivals and these provided a wonderful solution. In attendance as guests and not as buyers, our approach mimicked the typical beer fest. Being in the buyer's shoes and trying to stay focused on the business aspect by deciding which products to order for their establishment would be quite interesting. We enjoyed ourselves very much would like to thank Louis Glunz for their invitation.