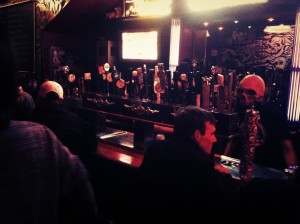 A new year brings a new slew of craft beer events throughout the city. Beer nerd sanctuary Local Option had its first event of the year, Occupy The Local Option, on January 27. With 30 taps constantly rotating between some of the finest craft beer from both sides of the Atlantic, world class beer flows through the tap lines every day. For this event, the taps poured a great selection of rarities, some of which we may never come across again. When our eyes gazed upon the beer list, being in attendance seemed mandatory (http://localoptionbier.com/2012/01/16/occupy-the-local-option-first-event-of-2012/).

Festivities kicked off at 3 pm. With plans to eat, and knowing the limited availability of seating, we needed to arrive at an appropriate time. We walked in around 3:20 pm, and to our dismay all tables were occupied. Our stomachs would have to wait until a table opened, or (after enough beer had been consumed) travel elsewhere to eat. With such a daunting list, choosing where to begin was the biggest challenge. After a quick glance, a beer from Cantillon could not be passed at the risk of it running dry before our chance to try. The offering on tap was their Fou'Foune, a lambic made with apricots. Fou'Foune was hazy, pale in color, with a thick fluffy white head. Aroma contained notes of funk, sour apple and apricot. Flavor matched, while being very tart and acidic. It ended with a spicy, yeasty finish on the back end of the palate. This beer exceeded our already high expectations, which is not at all shocking considering its source. With lovely tartness still lingering on our palates, we knew the evening would continue with funky and sour selections.
Exodus from Central Waters out of Wisconsin was next on the list. Word is this may be the only keg that made its way into Chicago. Exodus is a sour red ale aged on Wisconsin cherries in bourbon barrels. Cloudy in appearance with a great reddish hue, Exodus poured with a small white head that quickly dissipated. The aroma propelled notes of sour cherries, vanilla and wood into my nostrils. Huge cherry tartness dominated the back of my palate and slowly faded into subtle notes of bourbon. We really enjoyed this one and will keep our eyes peeled in hopes of possibly finding it again. Before the bottom of this beer, a table opened and we promptly took over the seats.
The time for food had arrived. Two sandwiches shortly made their way to our table after ordering: the Local Burger with a side of onion ring tangles, as well as the grilled cheese with a side of beer battered fries. Both plates were quite delectable, but the standout was the grilled cheese containing tomato and avocado! The rest of the menu looked full of choice options, and we would recommend trying something on your next visit in.

With our stomachs full and our glasses empty, we were ready for another tasty brew. This time we decided on Debutante, a collaboration between Stillwater Artisanal Ales and Brewer's Art. Debutante is described as a funky American farmhouse ale brewed with rye and specialty spices. This brew contained a hazy gold hue, with a thick white head. The aroma held notes of funky Belgian yeast, rye, stone fruit, earth, and spices. Earthy flavor notes crowded the palate, with some fruit and spices shining through. The yeast was upfront and quite satisfying. Our mouths were left happy with each sip.
With our heads starting to cloud and our ramblings growing in length, we knew our next beer would be our last. Not sure what to get, we figured one last sour would be a great finish to the evening. This led us to Abbaye de Saint Bon-Chien 2010 from Brasserie des Franches-Montagnes (BFM). This sour ale was matured in a total of 11 different oak wine barrels, including Pinot Noir, Chardonnay, Pinot Gris de Neuchatel, and Merlot du Tessin. Clocking in at 11% abv., this rarity from BFM is quite hefty. Dark orange with bits of ruby hues, this beauty looked amazing with a thick creamy white head. After the swirl and sniff, notes of wine, oak, funk, yeast, sour cherries, raspberries, and vanilla invaded the nose. The tasting notes matched, with puckering tartness accompanying the delicious and wonderful flavors. BFM created an amazing treat. If you cross paths with this beer, make sure it makes its way to your mouth.

After finally sipping that last beer to its end, we paid our check and cleared the table for other hungry beer geeks. By this time, Local Option was a full house, challenging our walk to the door. If you plan on attending one of their events in the future, early arrival would make your visit quite enjoyable. If you have never been to Local Option, that is a visit you should schedule in the near future. They are self-proclaimed beer nerds, and have the selection to back it. We are eagerly awaiting our next stop in.