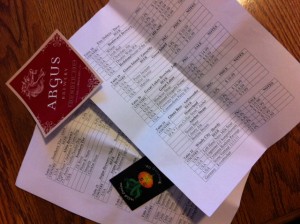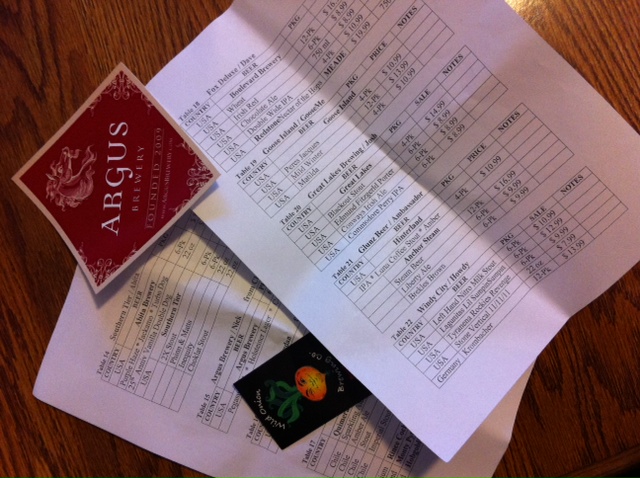 On a brisk January day there is nothing better then waking up and realizing that there is a great craft beer tasting about to take place. This was the second year we were able to make it out to the far north suburb of Antioch for Antioch Liquors Winter Beer tasting. Yes, there is wine also but we do love our beer, so that is what we were there to check out.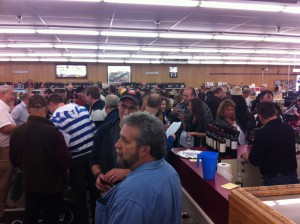 The first thing to caution you about is that even though this isn't Chicago it draws an enormous crowd for the entire 4 hours it's going on. If you are able to time it just right you might get a spot in the actual parking lot, otherwise there are nearby streets to park for a short brisk walk. Either way, once you walk in, there is plenty of great beers to warm you up. So picking up our trusty guide of what the offerings were, and trying to pick where to begin is no easy task.
We spotted our friend Brendan from Wild Onion in Barrington pouring their brews so decided to warm up with a Jack Stout. Next to them was Argus and the list went on. Another great suburban brewery who made it out was the new brewery that recently opened in Mundelein, IL, Tighthead. Tighthead is not distributing to liquor stores yet, but you can find them in many Lake County bars with Cook County coming soon. Their IPA is fantastic, so if you see them on tap give it a try.
We made our way through the beer tables tasting many great beers along the way. One that stood out as unique was Boulevard Brewing's Chocolate Ale. Typically when thinking of a Chocolate beer, stout comes to mind. This was just a chocolate ale, where the chocolate was upfront and made for a unique experience. Then noticing a local shop, Anderson's Candy serving samples of it's chocolates it seemed like the perfect pairing.
Finishing up the sampling we then checked out the shelves to see what we might want to pick up before we left. Grabbing a few great brews to go we headed home after a worthwhile adventure to the far north burbs.
Be sure to follow us on Facebook http://http://www.facebook.com/ChicagoBeerGeeks