What can I say about Rev Brew…arguably the best brewpub experience in town (I lived in Logan Square for 5yrs..so I'm kinda bias)  As a way to celebrate the whirlwind two year run they are currently on, Revolution decided to throw a LowCountry Shrimp Boil Dinner. A five course feast showcasing five of their beers. The inspiration behind this spread is directly linked to the southern roots of members of the culinary staff.
For this trip, I brought along a fellow beer blogger, Michael Kiser from www.goodbeerhunting.com for some geeky company. Mike is an interesting guy, a writer and design strategist by trade, and after bouncing emails back & forth for a month or so it was nice to finally connect. Of the 7 or so other blogs he writes and links to from Good Beer Hunting, the one I constantly gravitate toward is Real Men Swear — a collection of menswear photos with witty bubble inserts attached to each photo. It's totally my type of humor.
The Revolutionary Recap:
MK:
First off, thanks for making me your +1. What a night. I wasn't keen on a Monday night big beer dinner, but the beer blog (www.goodbeerhunting.com) has always been about meeting new people and having new beer experiences, so once I decided to man up, it was so obviously worth it.
Starting off with that Workingman Mild was a great idea — glad I thought of it ( coy). That beer has always been a beacon for me. After exhausting my palate for years, I've found myself appreciating more and more subtle flavors lately, at least to start out a night. I ease myself in. It's like stretching before a run. And the Workingman, only 3.5% has an incredible amount of chocolate-roasty flavor that gets the beer cells in my brain working. That being said, that quick shot of Hugene before dinner certainly put me in the race.
NW:
Nice. I love the upper level of the pub, a space known as the Brewer's Reserve Lounge, a perfect backdrop. 3 room-length rows of tables and soft lighting in the lounge gave the dinner a celebratory feel, like we had won a battle and this world class dining experience was in our honor.  I loved being greeted with Red Skull, the intense, imperial version of their Hop Princess Red Ale, as we took our seats. I remember we wondered aloud if the brews would be samples or full pours — after a serving of this massive Cascade hopped delight we knew were in for the real deal. A real fucking Monday night party!
MK:
Sigh. It's true. They were out to get us. The vibe felt more like a big family dinner or a supper club — but with some serious anticipation for the food. After they walked us through the concept of a low country dinner — based on southern Georgia influenced recipes from kitchen manager Josiah McGaughey, people were salivating. Michelle told us that the first pairing, a smoked oyster alongside a smoked porter, was one of the best pairings she's ever had — and she wasn't wrong. It was incredible. The light, succulent quality of the oyster and the viscosity of the porter — both smoked — seemed like two states of the same element.
NW:
Brewmaster Jim Cibak did a nice job of providing insight on each beer. The ham-centric Brunswick Stew (tomato based stew, house cured ham, corn, butter beans, pickled okra and house-made saltine crackers)  was paired with Revolution Fistmas  Ale. As a self professed glassware whore, first thing I noticed was this variation of the Stemmed Pokal glass it was served in. The drinking vessel was long, elegant and showcased the dark amber color of Fistmas nicely! Its a sexy beer, none of the traditional Christmas Ale ingredients at play here (no cinnamon or clove) fresh ginger root and orange peel set the tone for this version of Xmas. At 6.3% very drinkable with a fresh pine aroma, this may have been my favorite beer of the night.
MK:
I liked the Fistmas as well. But my favorite of the night came next, the Weegene — a smaller version of Hugene. At only 4.7% (Hugene is 10.6%), this beer is actually made from the run-off of its big brother. But even in this lighter form, there's plenty of roastiness and character, a little bit of dark fruit and some molasses in a session-like porter. It's lightness made it a great pairing with the main dish — spit-roasted suckling pig and molasses glazed apples. If it were any heavier it would have been lights-out with a main course like that.
Alongside the shrimp boil, the Threesome Trippel was really interesting — and showed me how delicate food and beer pairings can be sometimes. With the shrimp, the creaminess and booziness of the tripel was a bit off-putting. I couldn't quite brings these flavors together. And if you used any hot sauce like I did, it was even more odd. The abrasiveness of the hot sauce kept the tripel from settling in on my palate the way I'd typically like. But in that shrimp boil was a secret weapon — house-made Andoullie sausage. With the inherent sweetness of the sausage, the trippel complimented perfectly, and I was quickly back in to my beer-hall, low-country state of mind.
NW:
Totally. It was game over after that shrimp boil/ Andoullie sausage/ Threesome Belgian Tripel combination. After being blown away by Pastry Chef Tamra Tompkins' Lime Chess Pie & Anti Hero IPA pairing, I started to realize the thing cooler than the pursuit of evenings like this one, are the people you meet along the way. The entire Revolution staff started mingling. There was a lot of handshakes and back-slapping after a meal and pairing like that.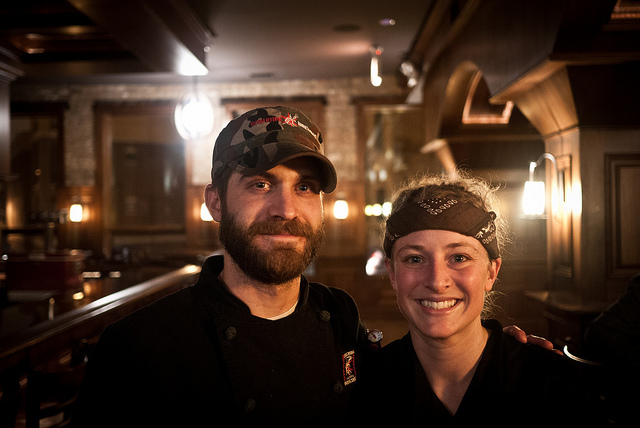 MK:
Ok. So of course there was an encore. After all that food and booze, Revolution hit us with one more uppercut — a beer and moonshine cocktail! Jesus. They used their Bottoms Up witbier for the anchor here, which gave the drink a nice, sharp bite, and it smoothed out the shine's alcohol content perfectly. I started out being nervous about a Monday night dinner, and they put me to bed cold. Despite wanting to tear my head from my shoulders the next day, it was all worth it.
–Nkosi
–Michael
all photos courtesy of Michael Kiser.
Michael was a guest collaborator on this story, be sure to check out his website Good Beer Hunting
For more scenes from our trip to Revolution Brewing be sure to visit our facebook page  (dont forget to hit the like button)