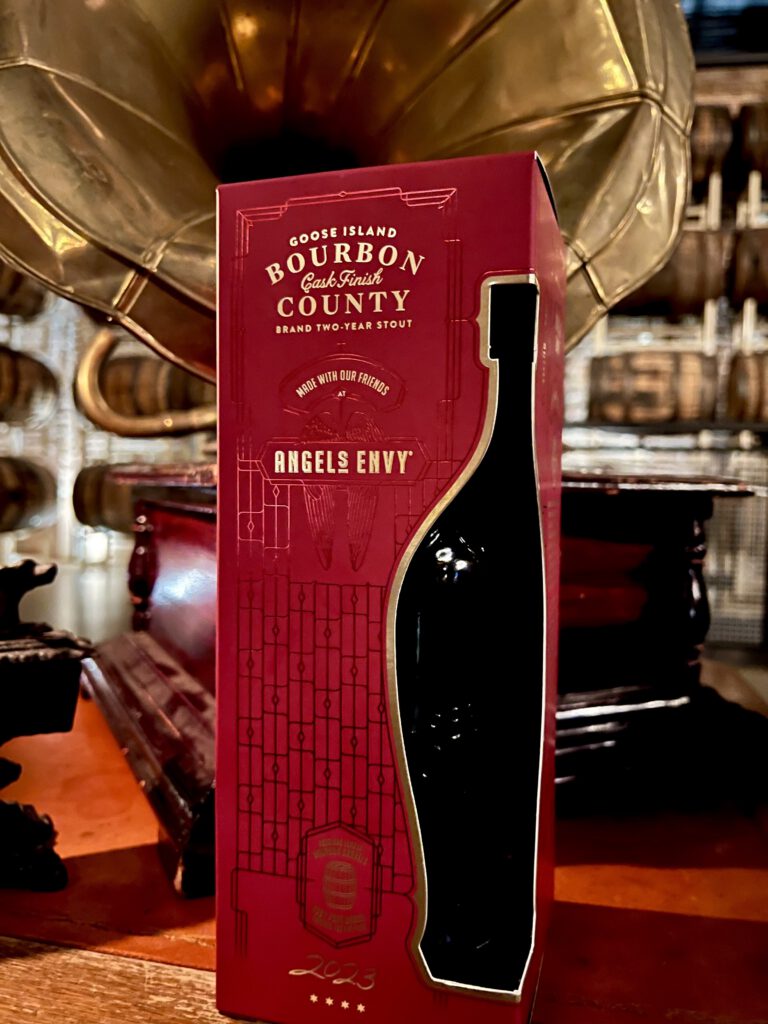 Goose is the architect of this style and their performance with this lineup is a testament.
There's one less variant than last year and the 2023 release seems much more intentional with more structure than previous vintages. In fact, the most polarizing variant this year, might also be the best one. 
You can see Goose Island building on their foundation in an elegant, purposeful way this time around. It's impressive to see that 31 years after its debut, and nearly 70 Bourbon County variants later, the team is still excited about embracing heritage and redefining limits. 
Quick breakdown in order of favorites.
Bourbon County Bananas Foster Stout
Banana Puree. Roasted Almonds. Cinnamon. 
This is my top beer in the 2023 lineup. It's evocative of a dessert with a scale of roast and sweetness that is underrated and accentuates the base stout.
Banana is leading the charge with almond adding complexity. Cinnamon additions are more of a complimentary note making everything very drinkable. 
2017 was one of the most beloved versions of Proprietors ever. It's now been rebuilt to showcase how special that beer was when it was fresh.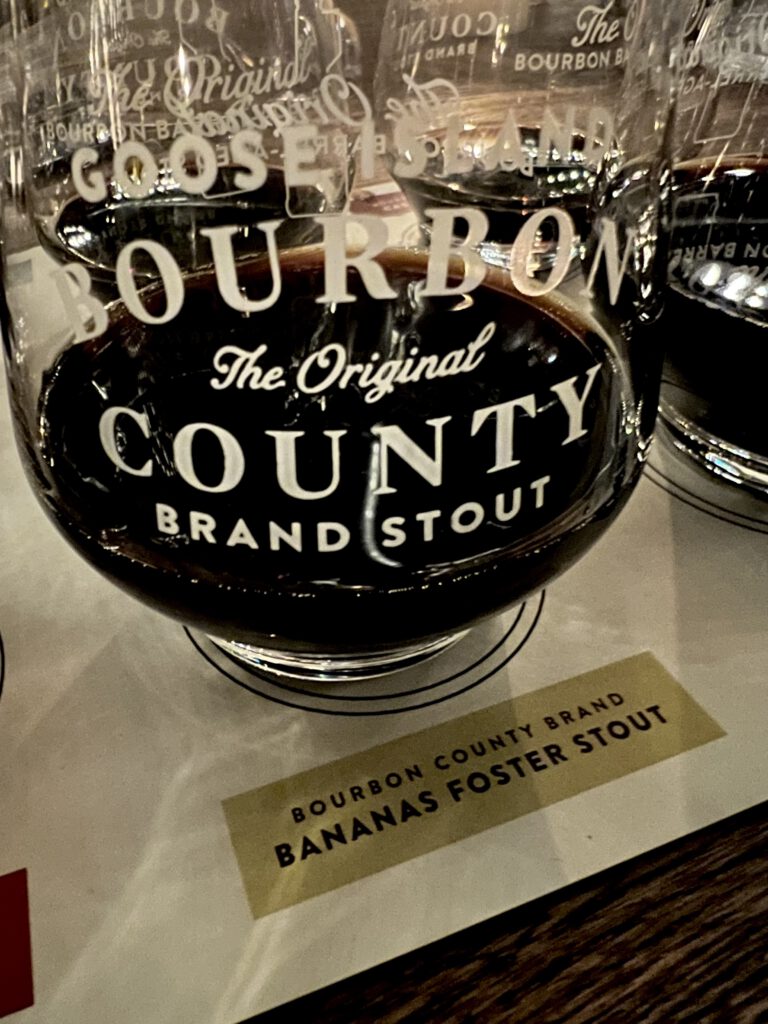 Backyard Stout
Bourbon County Stout with Mulberry,  Boysenberry & Marionberry 12.9%
This fresh fruit expression was last seen in 2013 and has this year's lowest ABV. Mulberries are harvested from Humboldt Park. 
Boysenberry is a blackberry crossed with raspberry and Marionberry is the most flavorful blackberry in the world.
 It's got blackberry elements, both earthy and gamey. It stretches the flavor of blueberry out into a space that is both familiar and exotic. Backyard is the one variant that has an amazing red hue when held up to light. 
Angel's Envy 2-Year Cask Finish Stout
Year 1 – Angel's Envy Kentucky Straight Bourbon Barrels.
Year 2 – Ruby Port Wine Barrels. 
This partnership is four years in the making and emulates what the Angel's Envy brand is does with balanced wine flavors in their finished bourbons.
 It's a beer with an enhanced messaging that extends to the art deco design of the bottle. The original base characteristic of chocolate and oak are present. The port does it's job and delivers robust flavor.
A beautiful tannic structure with more enhanced fruit that in Original. It's a new expression that remains fun while showcasing the integrity of the base stout. 60% was port finished, 40% spent the entire two years in Angel's Envy barrels.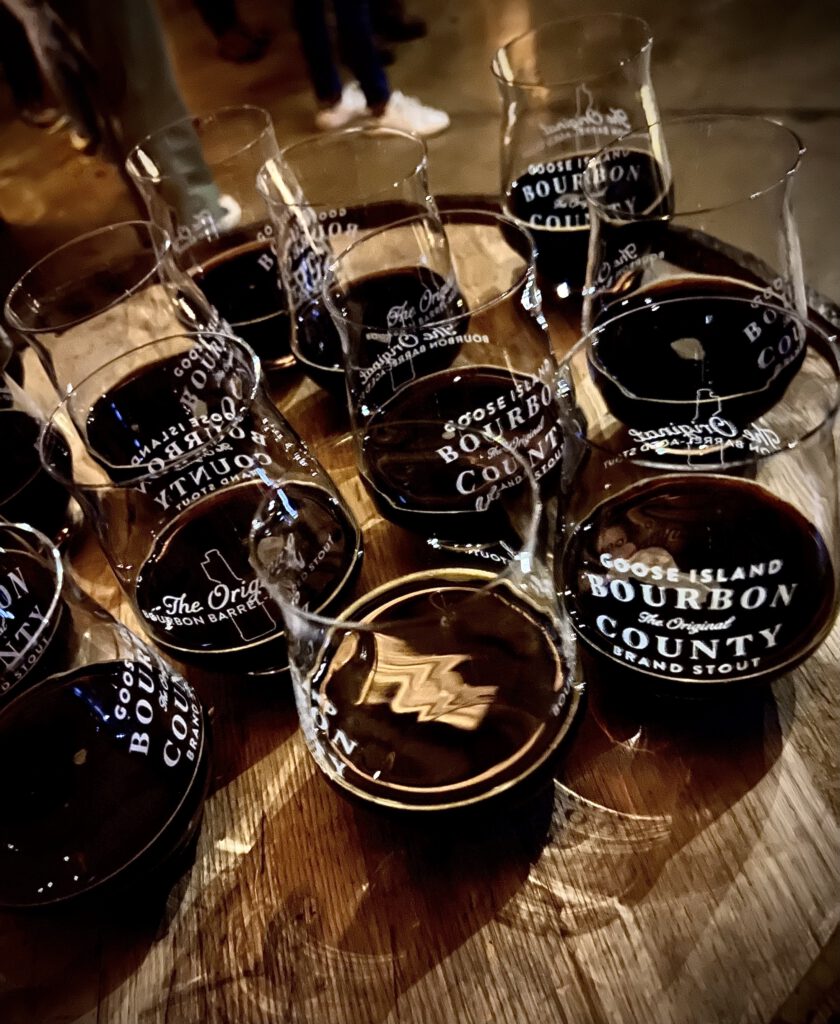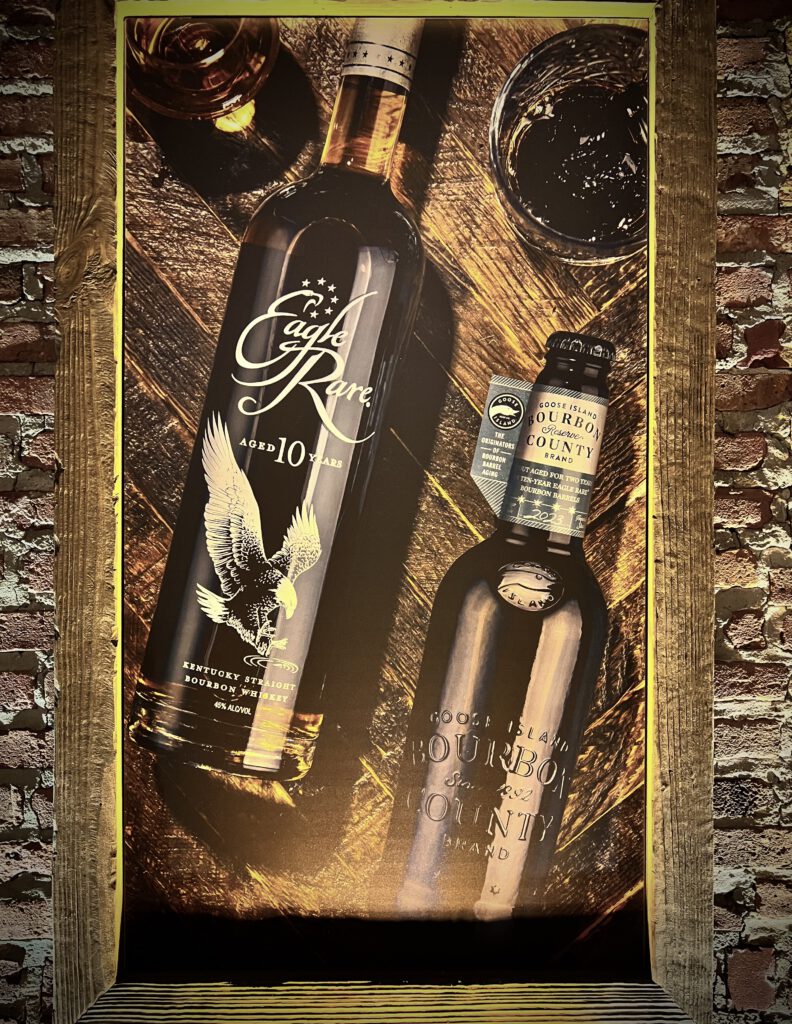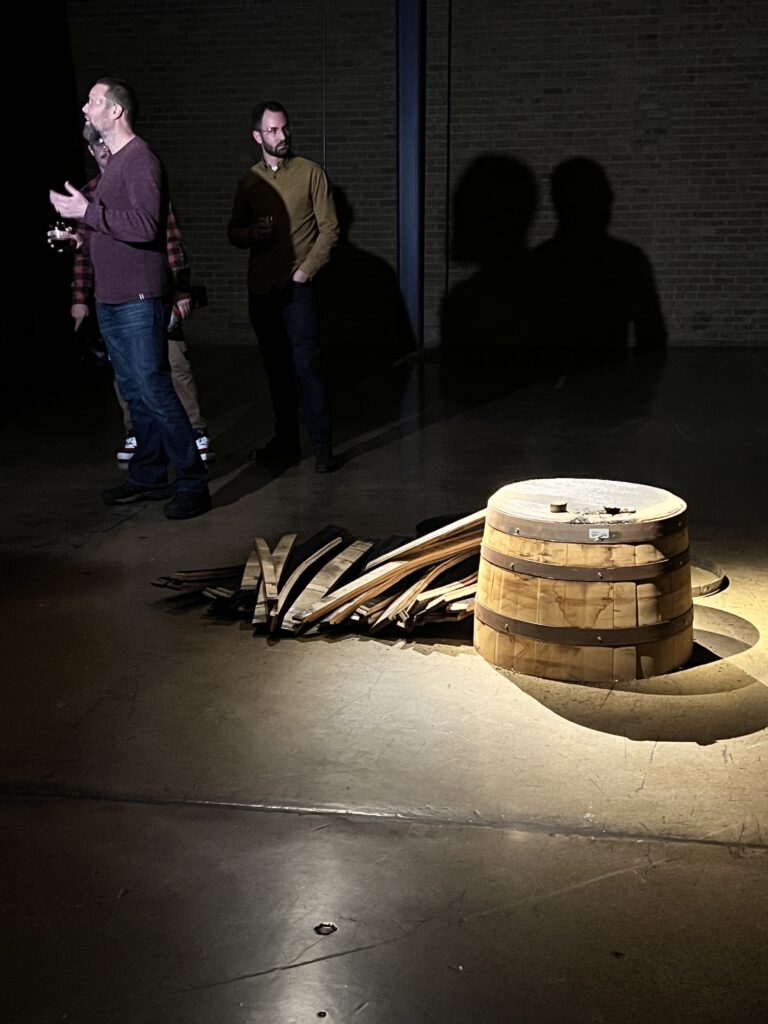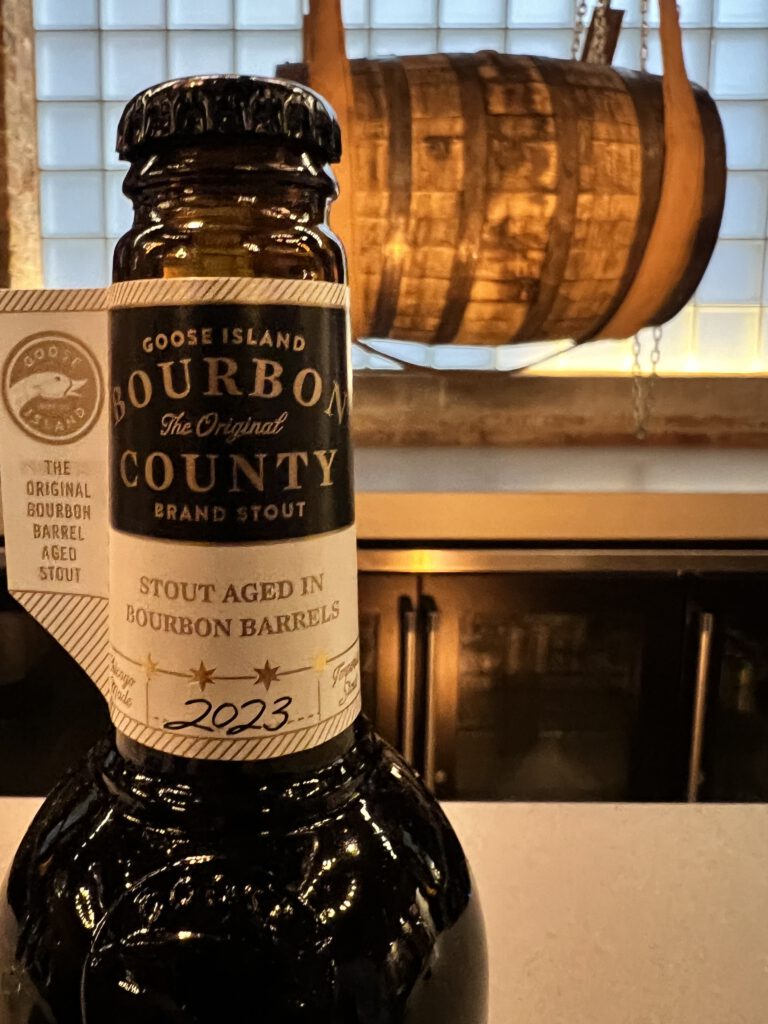 2023 Bourbon County Brand Original Stout
Aged in Buffalo Trace, Heaven Hill, Four Roses and Wild Turkey Barrels.
While we may think about this beer for the holidays or maybe even just one day, Goose obsesses over it all year.
The story of BCS is really the story of blending. There were 13 batches of Original bottled this year. It's organic but there are some subtle expressive differences by batch, so you'll notice different nuances by date code.
Original is the holy grail of complex American Stouts because for 30 years the amplitudes are always changing.  Whether it's vanilla, caramel, molasses, cherry, tobacco, coconut, dried fruit.. each sip reveals a different, subtle layer.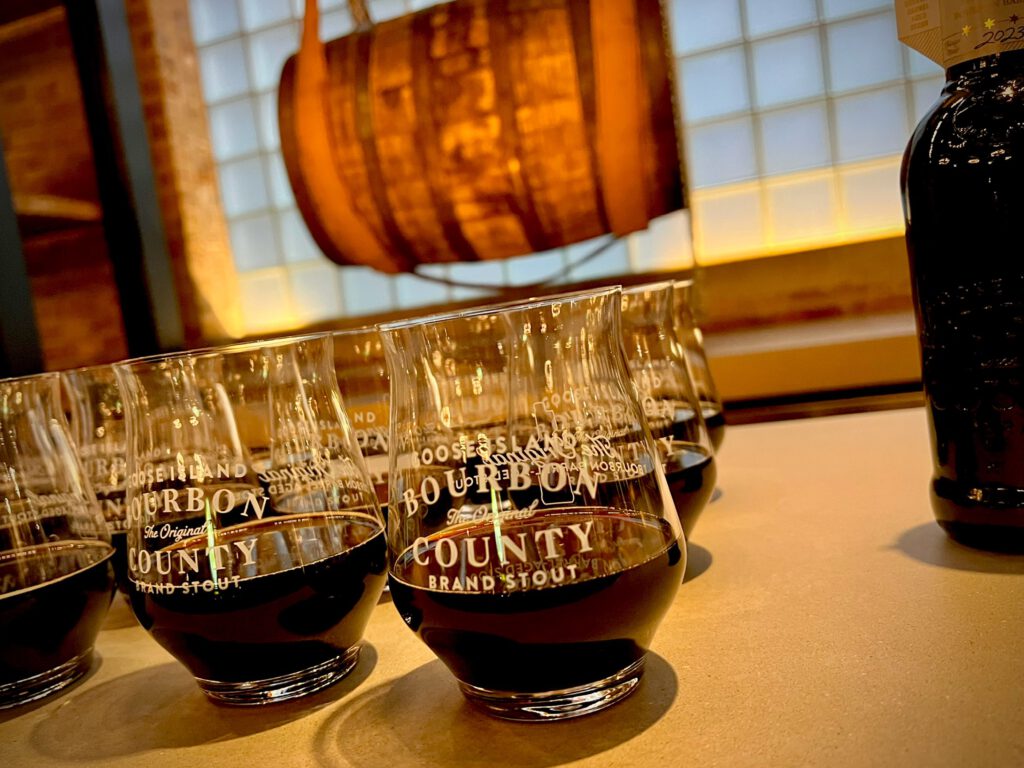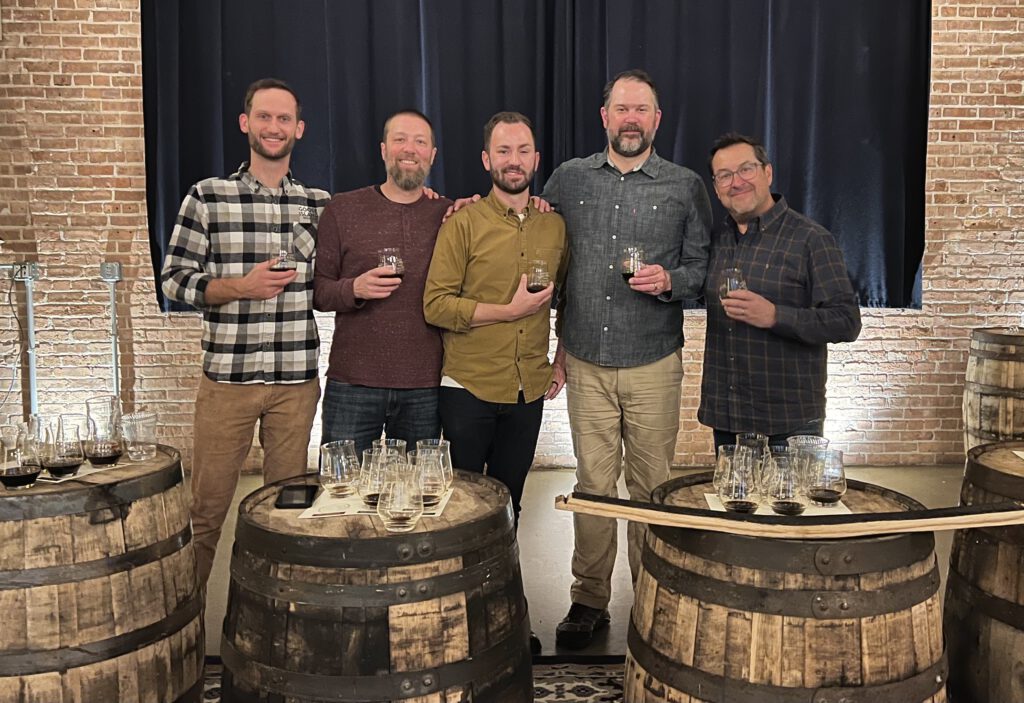 Eagle Rare 2-Year Reserve Stout
Aged for 2yrs in Eagle Rare Barrels.
Eagle Rare is a 10yr old Kentucky Bourbon aged in 50yr old White Oak barrels from Missouri. One of Goose's longest standing relationships is with Buffalo Trace.
After two years the beer starts to oxidize resulting in these almond, fig, and complex trail mix notes start to appear. Where OG is a showcase of blending artistry, Eagle Rare Two Year highlights what can be done with a unique barrel collection.

Proprietor's Stout (Chicago Only)
Rice Pudding Inspired BCS with Cassia Bark. Brown Sugar. Raisins & Toasted Rice. 
Prop captures the essence of comfort and nostalgia. The rice isn't the star of the show, this is an ensemble affair. Cinnamon, raisins and brown sugar offer a toasted warming element.
The incredibly velvety texture evokes personal memories of an aromatic vanilla custard.
—Nkosi
Other Notes:
– Minimum specs for Bourbon County barrels is 4yrs. 
-The idea for a Batch 1000 commemoration at Clybourn all those years ago was inspired by Larry Bell at Bells Brewery. 
-9000 lbs of toasted whole almonds were added to Banana Foster BCS
-A banana BCS variant was rejected three straight years in the feedback loop before debuting in 2017.