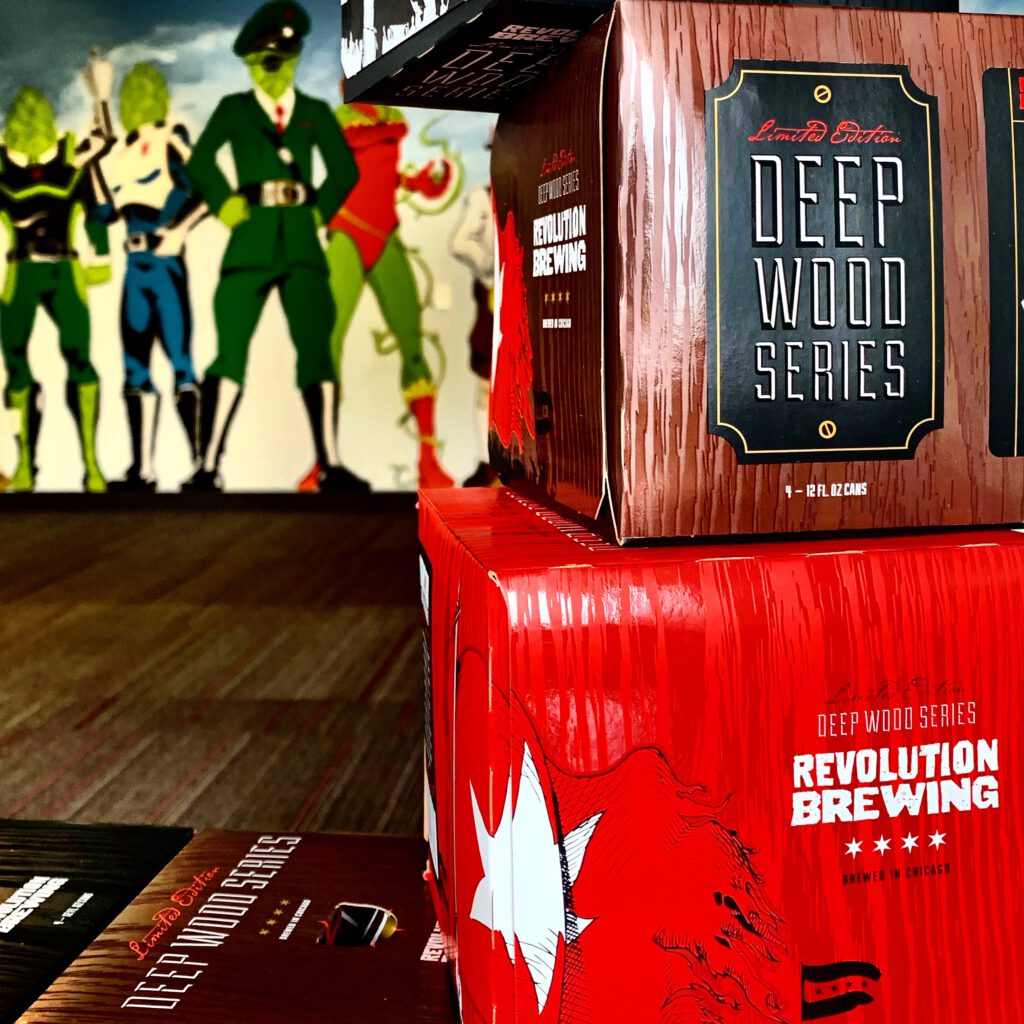 You should always, without exception drink what you like and don't let anyone discourage you.
Having said that, there is a belief that sugar is dominating the market right now. Sweet, adjunct friendly interpretations of just about every popular style are for sale in record numbers.
On the other end of that spectrum is a crew on the Northwest Side not interested at all in executing a pastry inspired style of any kind. A crew that prefers American Stouts and Barleywines with English Malt sweetness restrained by a balanced, super low hop bitterness.
At Revolution the focus will continue to be on the barrel and a refining base beers by engineering them to be the best version of themselves.
Below is a collection of random excerpts from conversations hosted by Rev with Brewmaster Jim Cibak and Secretary of Lumber, Marty Scott.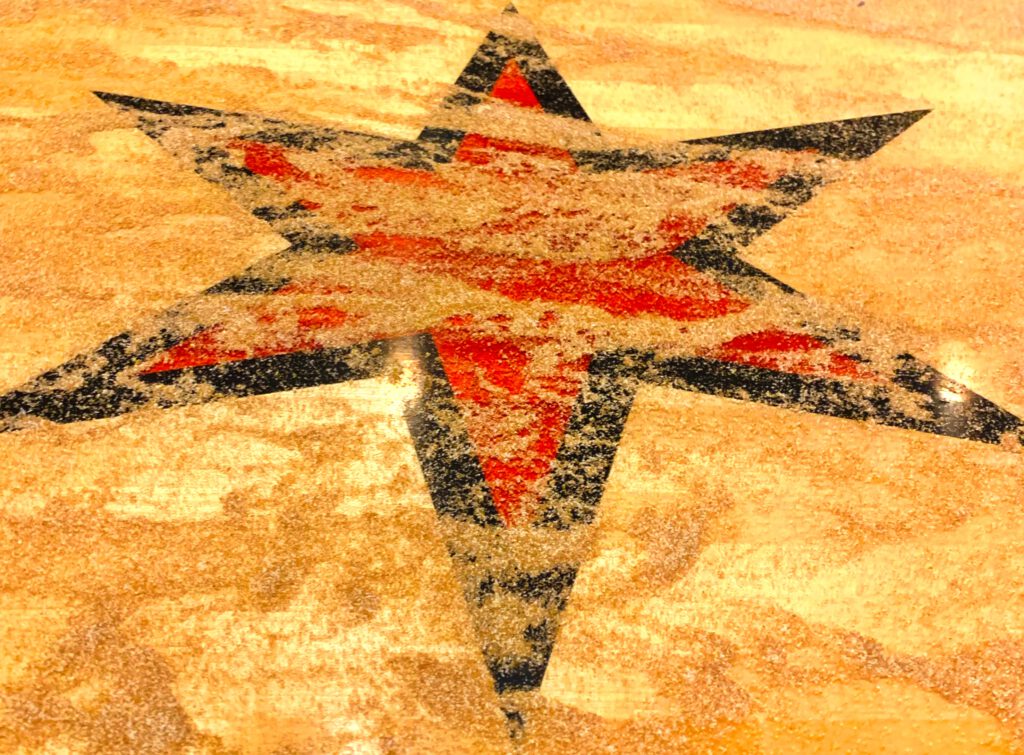 Key Takeaways:
-Favorite All Time Deep Wood Release
For Brewmaster Jim Cibak it was Ryewine, specifically Boss Ryeway. Although, the Italian plums in the Deth By Plums still goes down as one of the coolest addition they've ever done.
Secretary of Lumber, Marty Scott's favorite is VSOJ, it taught them about dynamism of sugar content over a time. The confluence of sugar and oxygen over a long period in an expressive barrel was a learning experience that provided focus for the entire barrel program. Optimizing the barrel stacks by focusing on sugar content more than before lead to maximum intensity and complexity without using 3-4 years to achieve it.
Barrels are separated by very sweet and very dry then blended before a final beer is produced.
-Barelywines and Ryewines Age Better Over Time Than Stouts
The Ryeway and Straight Jacket series are the fine examples of well aged caramelized sugars. Dark malts have antioxidant properties in them. Stouts can achieve complexity over time, but don't develop to the same extent as barleywines or ryewines.
-Maple Deth Actually Contains Less Sugar Than Cafe Deth and Deth's Tar
This beer is spiritually Canadian, but if we're talking terroir it's origins are the Upper Peninsula of Michigan. You can't tell this tale without mentioning Lead Brewer, David Blackford. He became lustfully involved with syrup from his years in Vermont, and deserves credit for the idea.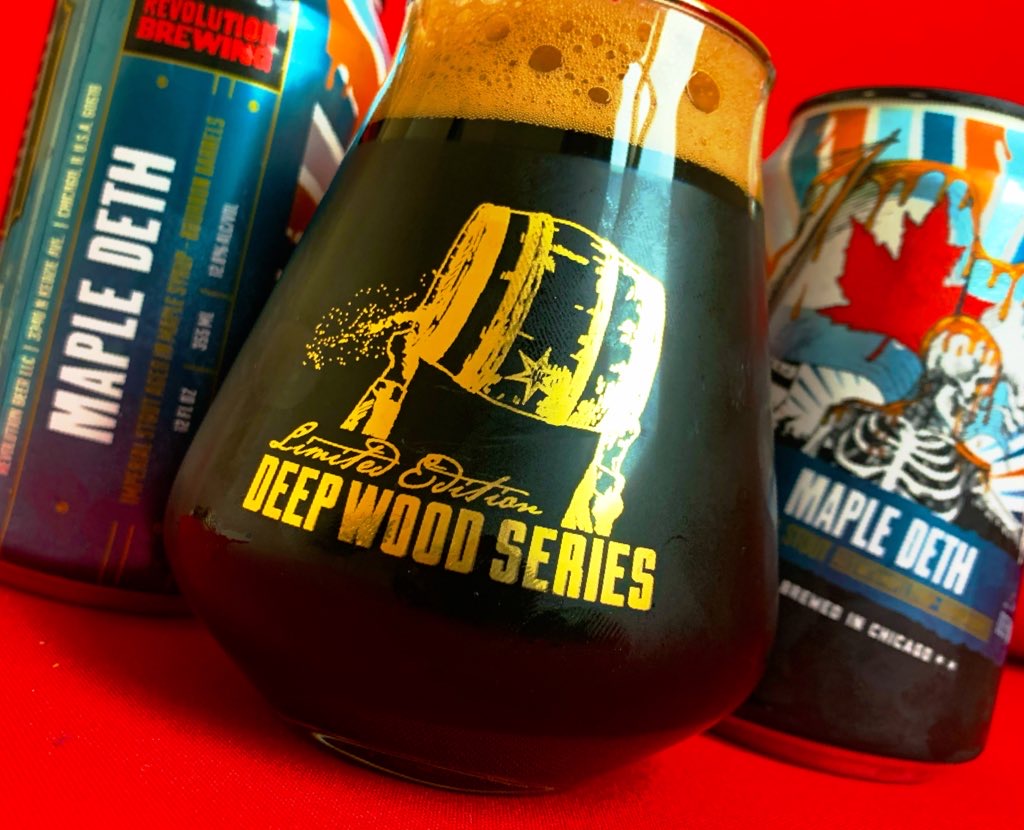 This maple variant of Deth has been planned since the beginning of 2020. The problem with adding an unfermented high sugar like a syrup without aging it is that it ends up just turning into straight glucose. The team accepted learnings from Blue Gene (BA Blueberry Eugene Porter). Sugars from blueberry juice left that beer a little cobbled and rough around the edges.
Attempt 1 – Meld the beer by aging the adjuncts in the barrel. When this version got closer to serving, most of the maple was gone. In its place was volatilized, clunky sugar in a beer that couldn't handle it. The result was a maple beer that was too sweet but the crew didn't want to beer down the maple character so it was a draft only release with known improvements needed.
Attempt 2 – Scale up a full Deth's Tar as excruciatingly dry as possible for balance.
Mackinac Bluffs Maple Farms Pickford, MI is one of the largest sugar bushes in the Midwest, syrup from here ages in Willet Kentucky Bourbon barrels. Deth's Tar occupied these maple barrels for 6 months. Over that time the source BA syrup was added gently in 5 gallon increments. The result of this target is a beer that extracts honest maple character.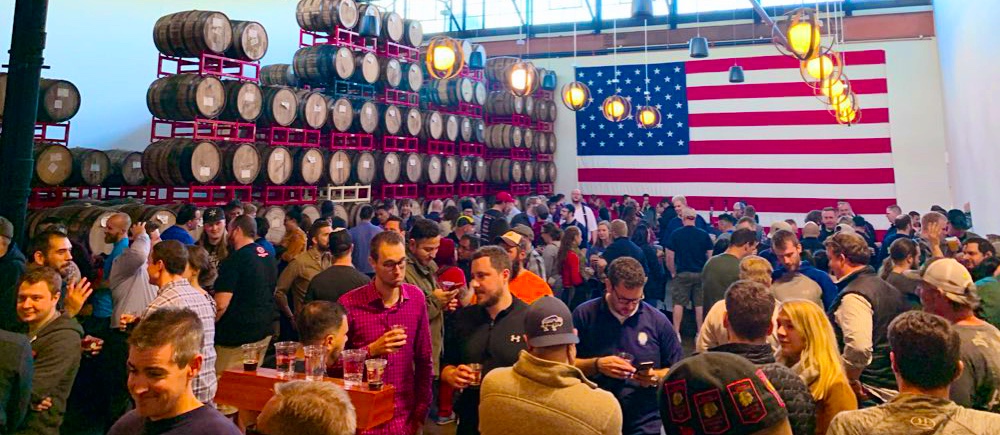 –Can You Age a Deep Wood Release
The beers they make this year will be better than last year, but If you want to enjoy these beers drink them now.
Enjoy the beers as they are released, keep cold drink fresh.
-Cafe Deth Is About Leaving Most Things Behind
Instead of sampling upwards of six or so coffee blends, the team decided to use the same 50/50 blend that appeared in last summer's Supermassive Cafe Deth. The combination of washed and honey blend coffee is grown near a volcano, so there's a distinct minerality in the coffee.
The washed gives chocolate and nut flavors familiar with smell of an open bag of coffee. The honey process refers to the fermentation of the green coffee, keeping some of those fruit and acid components before it's roasted. A balanced experience is the goal, sugar concentration, bitterness, fruit, coffee, spice character alcohol, all of it.
CO2 allows the beer to extract from coffee beans in about 24hrs out of barrels and not introduce any oxygen.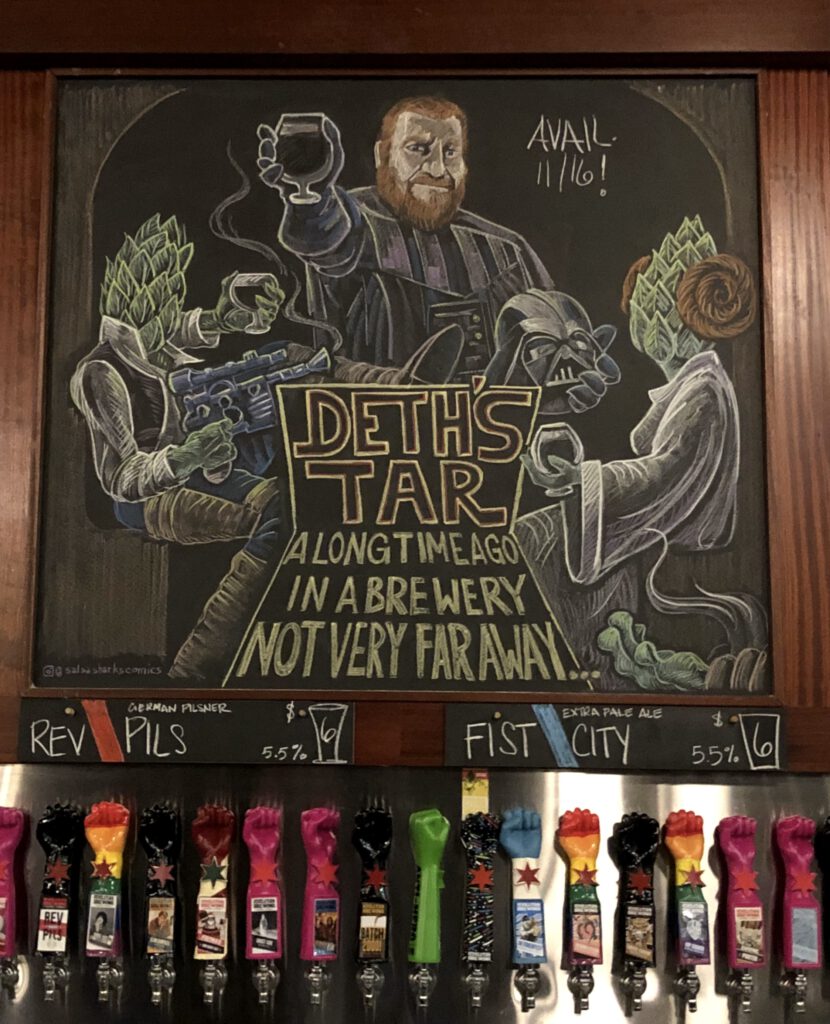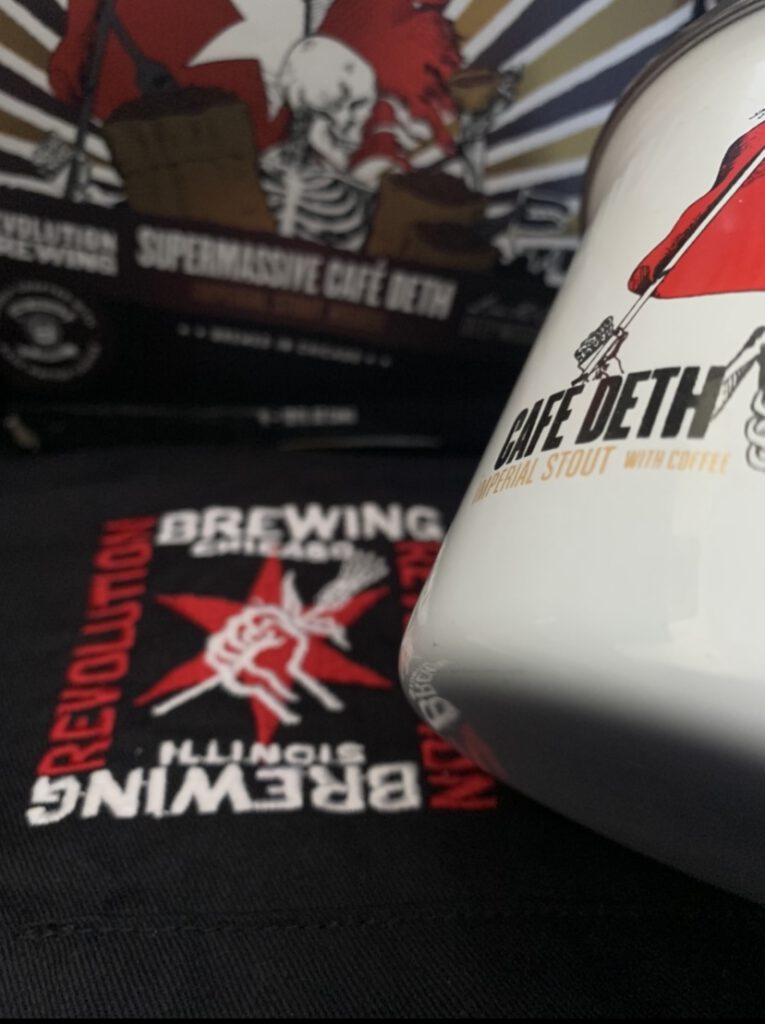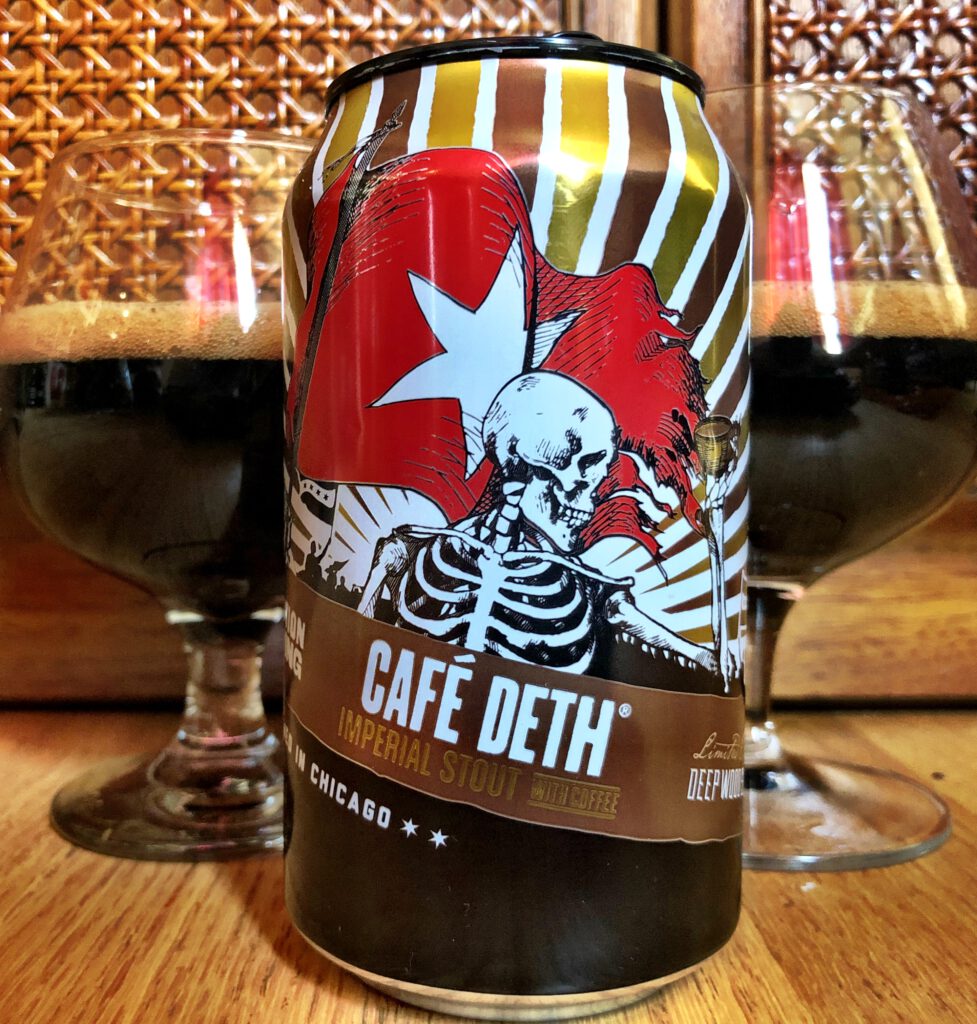 Rev learned over time that introducing cold brew into a main beer and blending it was way too intrusive and introduces more oxygen than preferred.
The simpler and more gentle approach they've adopted is just adding whole beans in straining bags for 24 hrs.
Much like dry hopping a beer, all the volatile aroma oils you need from the coffee actually go into beer very quickly. Those harsher, unwanted notes start to appear if you don't extract in a timely manner.
To achieve a clean coffee character the philosophy needs to be to only accept what the coffee is willing to give immediately. If you over extract and let beans rest to long you'll start to get off flavors like green pepper.
The concept is similar to the idea of smelling and drinking coffee versus actually eating coffee beans. If you just want the goodness, focus on what to leave behind.
—Nkosi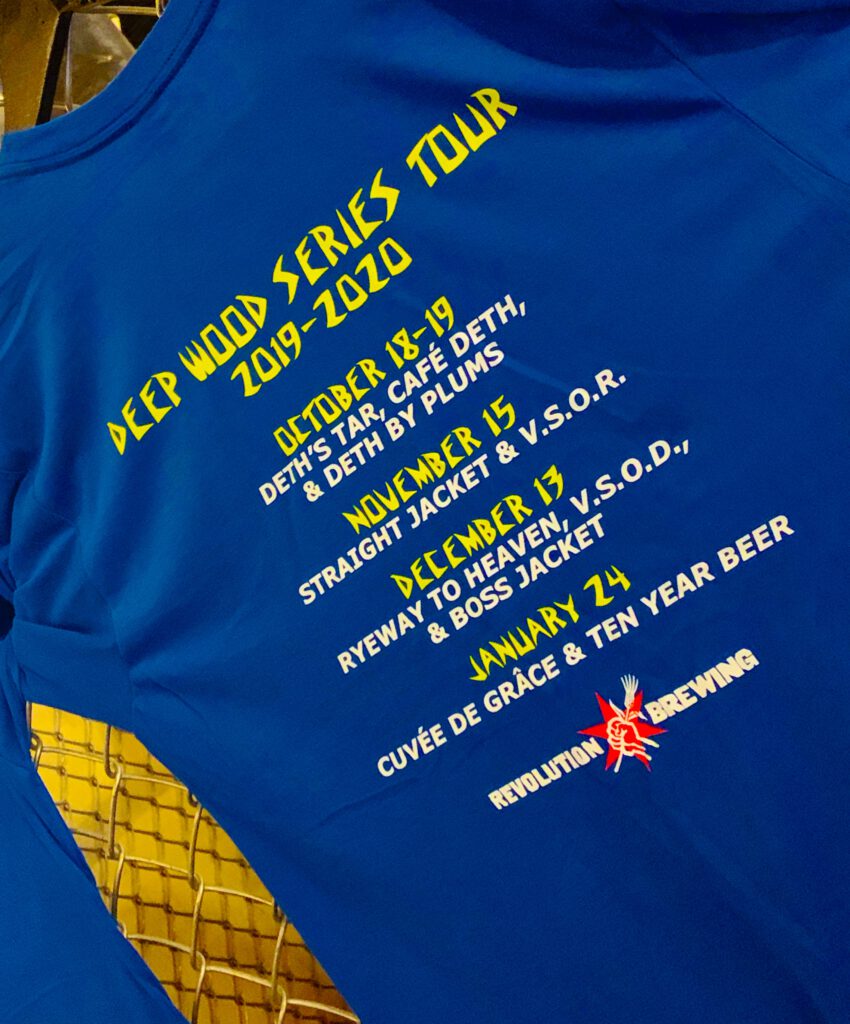 Other Notes:
-Stones Throw IPA: Eris + Revolution Brewing Collaboration.
Michelle Foik and Jim Cibak have known each other since their Goose Island days 25 years ago.
Michelle is the force of nature who co founded Revolution Brewing then left to launch Virtue Cider with Greg Hall before founding her own operation Eris Brewery and Cider House in 2018
Stones Throw is the 7.6% easy drinking IPA featuring African Queen hops currently available at both locations.
-Marty went to college with Michelle's cousins. In the early days at Rev she encouraged a young Marty Scott to just tell everyone that he was Michelle Foik's cousin.
– Ryeway To Heaven production run last year only consisted of 24 oak barrels.
-A full bourbon barrel is 53 gallons the absorption rate only leaves 48 gallons for extract
-Deth's Tar 2020 aged in a blend of Weller barrels this year. Weller 10 is the term given at the barrel broker level. An insider phrase that doesn't reference a specific commercial release for that source whiskey.
-Three Floyds Dark Lord was aged in Woodford Reserve barrels.
Outside of the dessert wine barrels or the occasional reference to their own spirits, Three Floyds never really discusses what bourbon barrels they use to age Dark Lord.
Cibak mentioned during his time in Munster he remembers Woodford Reserve barrels being a fave at one point around the brewery.