Located in the west burb of Downers Grove, 25 miles from downtown Chicago is Alter Beer. The name Alter refers to altering your life when you make the transition from working stiff to full time production brewery owner. We last caught up with this crew back in August '18 when they were the featured partners for City BBQ Downers Grove's launch event. They focus classic styles and nail them all, there's something to be said about that nowadays.
How many crews do you know opt to have a robust porter as one of their flagships?
We spent the rainy afternoon of the 2nd annual Beer + Cheese Social with my guy Mark McDermott: The Beeronaut who resides in Downers Grove. Alter is really one of the most impressive spaces I've visited in the last three years locally. It's polished, dare I say a refined interpretation of the industrial strip mall setup. They occupy five or so of the suites in the space to pull this off. It's more in tune with a production you would find in West Loop than a far western suburb…this space is fucking nice!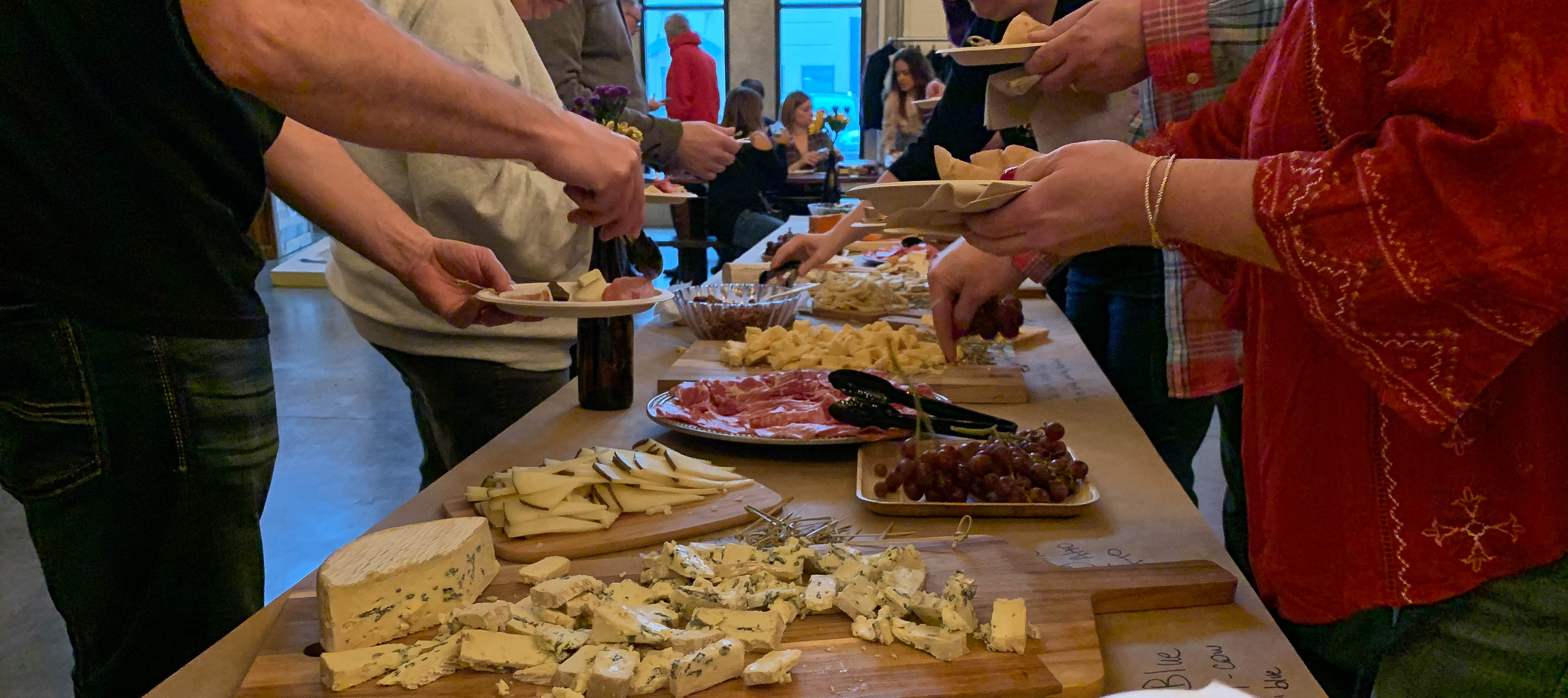 We left with a bottle of Revered Brown from the barrel program + a 6pk of Alterior Motive for the train ride back home. A recent agreement with Lakeshore Beverage means you'll be able to score Alter Beers more often around town. You can pull these pairings off at your house.
Alto Porter (robust porter 6.8%)
Galaxy + The 7 Seas (hoppy red ale 7.3%)
Center Line (golden ale 5%)
Alterior Motive (midwest ipa 7%)
Raw Milk Cheddar Cow (Center Line, Alto Porto)
Red Leicester Cheddar
Three Pepper Marble Cheddar (Alterior Motive)
Foengreek Gouda (Galaxy)
Bucheron Goat (Center Line)
Creamy Blue (Alto Porto)
Great American Cheese Collection is actually located in The Plant in Back of The Yards, Chicago. With its circular economy, commitment to material reuse and energy conservation, The Plant is one of the most interesting urban renovations happening in the city. It's a 100,000 sq. ft space that 14 businesses can occupy. The Cheese Collection represents 45 family and co-op producers.
This party was held in the barrel warehouse. It's an event space located directly behind the bar that's roughly the size of the taproom.
-Nkosi
Other Notes:
-Denali Llama is the DIPA, denali hops might be my all time favourite beer from Alter
-Rumors circulated that Alter may open a 2nd location in nearby Saint Charles
-Brewhouse Legends provided snacks for The Social
-Fun fact about the Alter logo. If you turn it upside is still reads Alter
-King Balaton is their excellent cherry wheat. That beer is transformed into King's Blood, A back-to-back FOBAB medalist after resting in wine barrels for four months.