Whether it's crossing the Cheddar Curtain, a quick getaway up to the summerhouse in Michigan, or a day trip to the suburbs, Chicagoans love escaping occupied Chicago.
Recently we spent time in one of those towns that you genuinely are saddened when you have to leave – San Francisco.
7 X 7 miles is the size of the city according to the locals. It's the only place Ive ordered an Uber just to go a half mile, the inclines on some streets are that steep.
This is also the place where the Internet comes to life. Sega, Facebook, Google and Twitter all have offices here. This is a look at where we ended up on our two day run.
Zeitgeist
Dive bar with massive a 420 friendly beer garden. Their tagline is Warm Beer * Cold Women. This was ground zero to map out and schedule our two day romp.
Toronado
Over 40 beers on tap, cash only.
Russian River
About 90 mins north of the city are the grandfathers of American wine barrel aged wild ales. The space sits in a strip mall in Santa Rosa, CA, slings pizza pies and offers cases of Pliny The Elder in the bottle shop. Flossmoor Station in Homewood,IL  is the only other space I've visited where customers frequently order an 'around the world' of every beer on tap (19) all at once for a single flight.
Kunde Winery
My dear friend @emily mentioned this was one of her favorite wineries. Caves, mountains, rolling hills and a scenic pavilion entrance are highlights of this family property.
Lagunitas
Not a big as the Chicago location but the outdoor concert space gives it a completely different groove. The clear plastic roof covering the patio area means that you can proceed to party weather conditions be dammed. A little known fact about this space is that during expansion the roof was removed to make room for new fermenters. The wood from that roof was re-purposed and now serves as benches at Chicagonitas.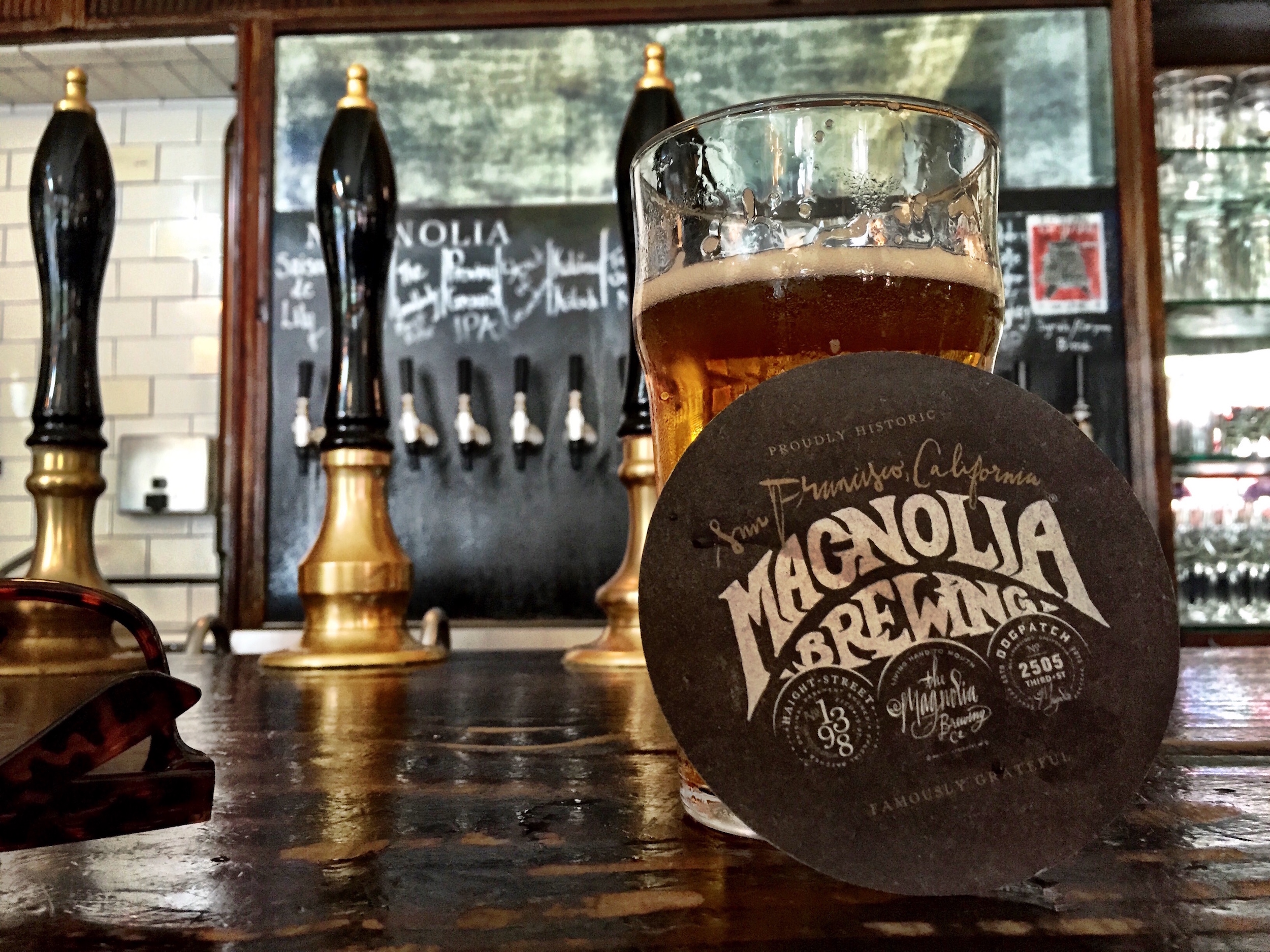 Anchor Brewing
The Bay Area's oldest brewery was founded in 1896. This place literally burned to the ground three times. It is said that the yeast used to make the first batches of Sierra Nevada's Pale Ale came from here. Fritz Maytag didn't begin his run at owner until 1965. Fritz comes from family that's is no stranger to producing American classics. Maytag Blue Cheese and Maytag Kitchen Appliances are just a pair of the accomplishments in this family's legacy.
Anchor and Chicago's Revolution Brewing agreed to place a friendly wager on last year's Cubs/ Giants NLDS The winner will send beer and a jersey of the winning baseball team to the losing brewing, and the loser, wearing said uniform, will serve the winning brewery's beer in their tasting room to kickoff the 2017 season.
21st Amendment
At the time of our trip much of their production beers were packaged offsite. The pub isn't far at all from AT&T Park, home of the San Francisco Giants. This is the 15th largest craft brewer in the U.S.
Mikkeller
Raise your hand if you knew Mikkeller had 9 locations worldwide.
Spotanpineapple and Spotanpear were both on draft when we arrived, along with a summary of what they call The Perfect Pour. This is where drafts are controlled by a state-of-the-art flux capacitor, allowing for precise control. Beers regardless of style are poured at proper temp to ensure all the flavors you would miss with a standard system are there for you to enjoy from the first system.
IPAs are served at 45 degrees, Berliner Weisse and Pilsners at 40, Belgians, Sours, Fruit Porters+ Cask Conditioned Ales served at 55. Only one bottle selection to accompany the 40 beer draft list – Perennial Artisan Ales Sump, Imperial Stout blended with Sump Coffee.
City Beer Store
This is place I would work from if I lived in SF…like at least three days a week.
Cellarmaker Brewing Company
When the Gift Shop Manager at Anchor and the Regional Sales Manager for Green Flash both tell to get your ass over Cellarmaker..well you fucking go, man. Cigarettes and Coffee Imperial Stout is a must.
Magnolia Pub & Brewery
My favorite story of 2015 was when we sat down at with Brewmaster, Co Founder Dave Mclean hours before GABF in Denver. The original brewpub is in the heart of Haight Asbury. Dave was a Dead Head that followed his favourite band out west and never left. Dave got into craft beer and The Grateful Dead around the same time in the early '90s.
In 2011, his beers almost swept the GABF Special Bitter category when New Speedway Bitter and Bonnie Lee's Best Bitter took Silver and Bronze respectively.
–Nkosi