FOBAB 2015
In our humble opinion, this is Chicago's finest hour. FOBAB is a national competition that offers the widest collection of wood & barrel aged beers available anywhere. UIC Forum was once again home to the Illinois Craft Brewers Guild signature event. This festival is a tradition like no other. Chicago's proximity to Kentucky allows us access to distilleries where barrels are used to experiment in ways that other cities don't. Embracing these techniques is something that resonates deeply into our local beer culture.
Lets get right to it…John Laffler and Off Color Brewing continued to not fuck around at these awards. Whiskers, his collab with Central State Brewing took home Silver in the Wild Beer Acidic Sours category. The win is his fifth medal since the brewery opened in 2013.
Our favorite moment was probably when Spiteful Brewing took the stage. At this event three years ago Brad Shaffer and Jason Klein introduced Spiteful to the world with Barrel Aged GFY Stout. It's been remarkable to watch them transition from Chicago's underground brewery scene, to interning at Pipeworks, to kicking ass at the most revered competition in the city. With a new taproom and brewery expansion on the horizon in 2016, the timing couldn't have been better.
Spiteful Barleywine took Gold in Barleywine/ Wheatwine. Malevolence Chocolate Caliente took Gold in Specialty Strong Porter/ Stout.
Then there's the Revolution… Jim Cibak, Will Turner and Chicago's Revolution Brewing took home their seventh and eighth all time FOBAB wins this year.
Other Notes:
-The biggest cheers on the day were probably in the Classic Styles category when Metropolitan Wooden Dynamo (Silver) was followed by Half Acre's Gin Pony (Gold)
 -Last year's VIP room was converted to the Cider/ Mead/ Perry Room this year.
 – Revolution Brewing sponsored The FOBAB Oasis. It included session beers, hammocks, the Rev Brew photo booth, snacks, USB phone charging stations, and a Rev Brew schwag wheel all weekend long.
-FOBABs BarricAle Project and the weekend's top award, Best In Show were both sponsored by Goose Island. BarricAle featured barrel aged beers from more that 20 Illinois breweries. Heaven Hill barrels were the variable this year.
–Actual Brewing (Columbus, OH) made their FOBAB debut this year after a visit to Finch's Brewing (Jefferson Pk, Chicago) to purchase a canning line. A conversation about the party came up inspiring them to enter this year's competition.
 -Best In Show Winner, Destihl Brewing Russian Imperial Stout Dosvidanya also took a bronze at Great American Beer Festival this year.
-Best In Show Runner Up was Gigantic Brewing Pipewrench, Double IPA aged in Ransom Old Tom Gin Barrels
-A 50/50 blend of Brickstone Brewing's  Barrel Aged Coffee Dark Secret w Dark Matter Coffee + their Dark Secret w Raspberries was one of my favourites on the day. Both were aged in Elijah Craig 12yr barrels
-Since 2012 Goose Island Clybourn (brewpub) has nearly as many FOBAB medals (six vs eight) as Goose Island Beer Co. (production brewery). Over that time Clybourn has seen four different Pub Brewmasters.
 -A big congrats to the entire Illinois Craft Brewers Guild and the countless volunteers that make this event a success. Including but not limited to Vikki Reid, Gary Valentine (FoBAB Director) Justin Maynard (ICBG Exec Director) Katie Long (Guild Coordinator) and of course the event's founder, The Godfather, Peter Crowley.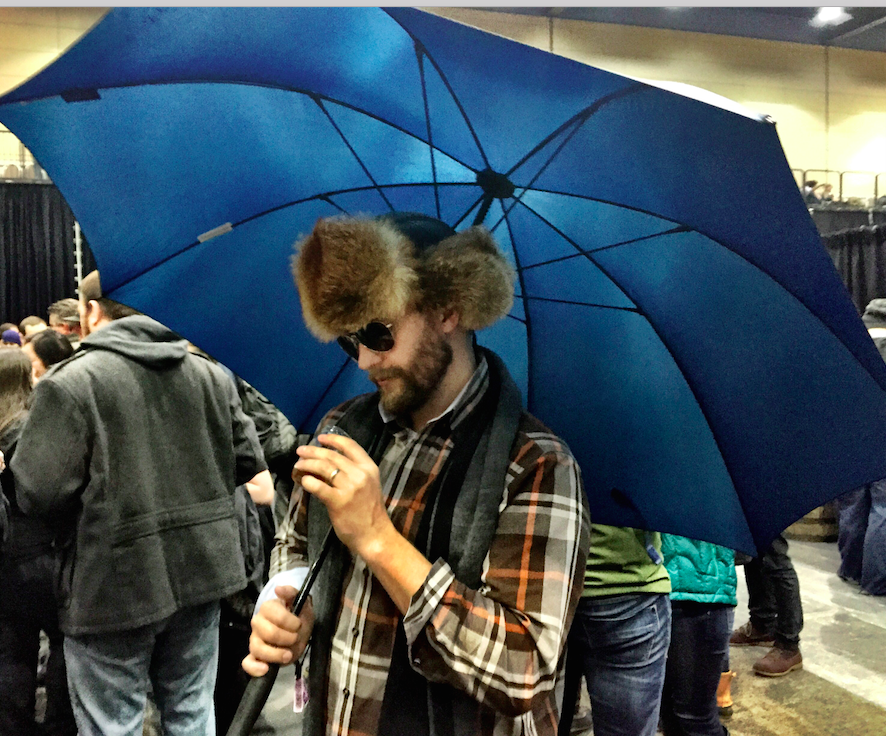 Here is the complete list of 2015 medal winners.
Best In Show
Destihl Dosvidanya
Best In Show Runner Up
Gigantic Pipewrench
Classic Beer Styles
Half Acre Gin Pony (Gold)
Metropolitan Wooden Dynamo (Silver)
Flix Brewhouse BA Chillaxed Mild (Bronze)
Strong Porter/ Stout
Destihl Dosvidanya (Gold)
Bells Expedition Stout (Silver)
Revolution Deth's Tar (Bronze)
Specialty Strong Porter Stout
Spiteful Brewing Malevolence Chocolate Caliente (Gold)
Brickstone Barrel Aged Dark Secret w Raspberries (Silver)
Lagunitas The Picante Perro (Bronze)
 Barleywine/ Wheatwine
Spiteful Brewing Barley Wine (Gold)
Lakefront BA Organic Beerline Barleywine (Silver)
7venth Sun Brewery Vultures From The Past (Bronze)
Strong Pale Beer
Gigantic Pipewrench (Gold)
Nebraska Brewing BA HopAnomaly (Silver)
Rock Bottom Chicago Cherry Fizz (Bronze)
 Strong Dark Beer
Free Will Brewing Black Friday (Gold)
Revolution Brewpub Working Mom (Silver)
Fremont Brewing Bourbon Abominable (Bronze)
Fruit Beer
Shoreline Brewery Imperial Raspberry (Gold)
Goose Island Brewpubs Cherry Run (Silver)
Werk Force Brewing Water On Mars (Bronze)
Specialty /Experimental
MKE Brewing Gin Barrel Aged O-Gii (Gold)
Listerman/ Triple Digit Brewing Chickow! (Silver)
Solemn Oath Limousine of the Dammed (Bronze)
Wild Beer/Brett
Penrose/ 18th Street Wild 18 (Gold)
Perennial Savant Beersel (Silver)
Oakshire Brewing Frederic C. Noir (Bronze)
Wild Beer Acidic Sours
Avery Brewing Co III Dolla (Gold)
Off Color/ Central State Whiskers (Silver)
New Belgium Le Terrior (Bronze)
Wild Beer Acidic Sours w Fruit
The Lost Abbey Veritas 015 (Gold)
Trinity Brewing Red Swingline on Apricots + Peaches (Silver)
Avery Brewing Co Raspberry Sour (Bronze)
Cider/ Perry/ Mead
Virtue Cider Percheron (Gold)
Apple Knocker Hard Knocks (Silver)
Sonoma Cider Dry Zider (Bronze)
–Nkosi