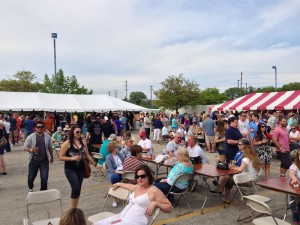 As spring finally arrives, it's always nice to venture out to the suburbs and hit up an event on a perfect Saturday. That was the case with the Mundelein Craft Beer Festival. Nothing but bad weather all week seemed to clear out and make way for a beautiful day, almost as if we deemed it so.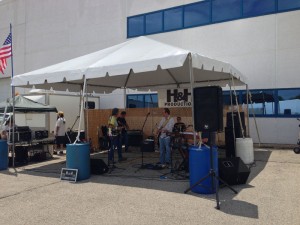 This was the second outing for Tighthead Brewery as they played host to the Mundelein Craft Beer Festival. Last year's event brought out over 800 people, and this time around aimed to nearly double that number to 1500 attendees. By the looks of it, they met, or at least came fairly close to meeting the goal.
While not the biggest festival, it's on the lower cost end of the spectrum at $35 pre-sale and $40 at the gate. With many other Chicagoland fests and events charging upwards of $100, its nice to find one that's a little easier on the wallet.
As you enter the festival grounds, also known as the Tighthead parking lot, you receive your commemorative pint glass for sampling. The brewers are positioned on the 3 sides of the lot with the bands set up on the fourth. The center is a huge, open space for gathering and mingling with friends, with ample seating available as well. Our only critique of last year's fest was the lack of shade for this open space, which was not the case this year. They added a large tent to cover half of the area. This was plenty of space to get out of the sun when desired.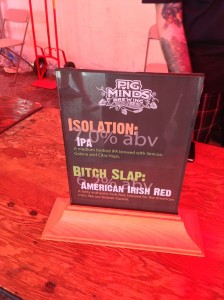 Another great thing about the festival is focus on local breweries. Many of the breweries that attend are some of the smaller suburban operations like Wild Onion, Church Street, Mickey Finns, Lucky Monk, and of course Mundelein's own Tighthead. Many Chicago greats are in attendance as well; Revolution, Haymarket, and Half Acre to name a few. Also spotlighted were a couple homebrew shops. One of the newer ones not far from the event location in Gurnee is Grow Masters. They are really doing a great job supplying the far north 'burbs with a top notch location for home brewing supplies.
The breweries brought many of the reliable favorites, but there were also some great specialties as well. A couple that stood out were Haymarket's Acrimonious Barrel-Aged Imperial Stout, and Tighthead's Cask-Conditioned Old Dog Kaya Barleywine. Tighthead probably had the largest variety including the cask, as well as multiple trappings of barrel-aged beers. If you didn't get a chance to make it to the festival you should still plan a trip to Mundelein just to hit up Tighthead and try some of their beers. Definitely one of the great small breweries in the northern suburbs.