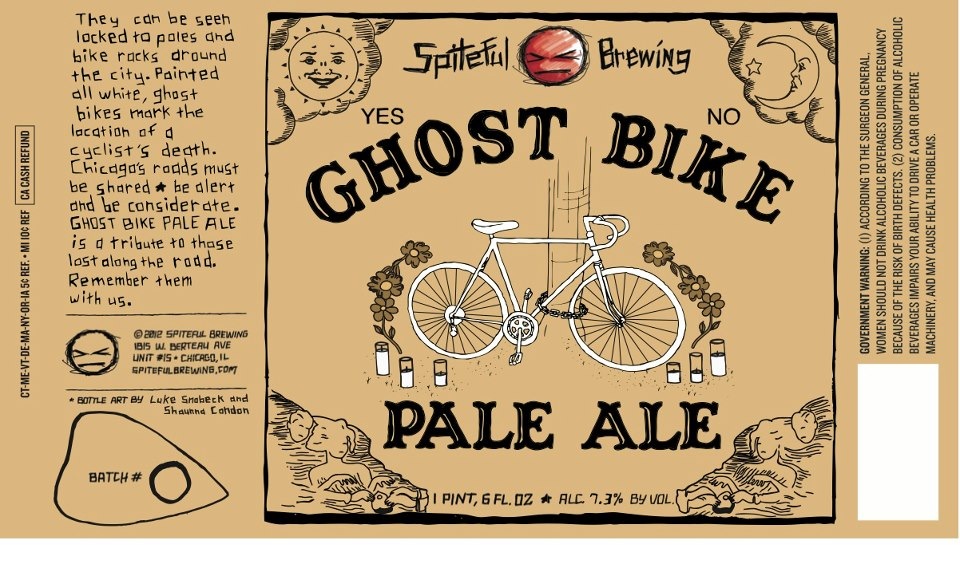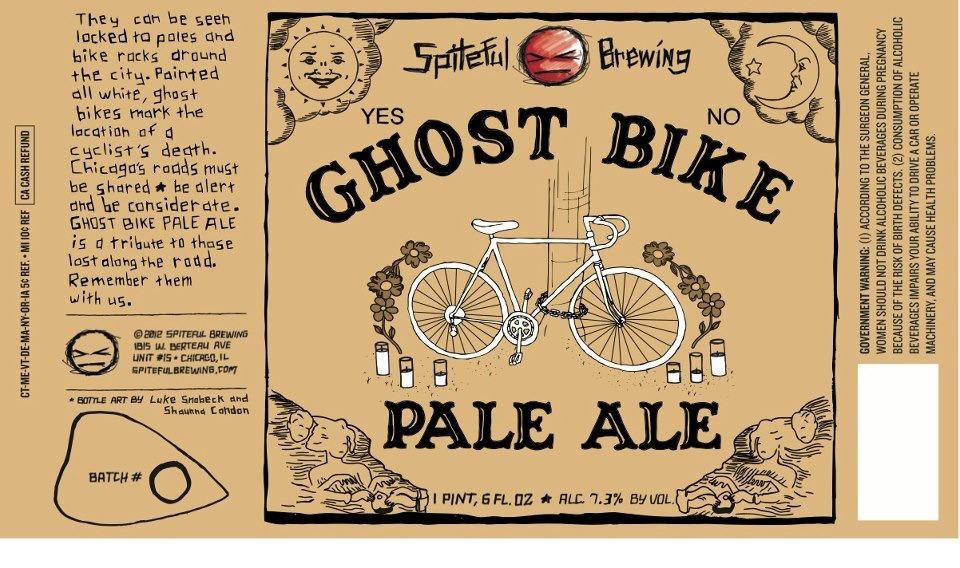 Post number two is here and focuses on another local nanobrewery, which will probably continue to be the case for some time. Considering I spent last week discussing 18th Street Brewing's Sinister, focus shifts to where that beer was brewed. Located in Chicago's Ravenswood neighborhood, Spiteful Brewing launched their brewing operations in late 2012. Operating on a 2.5 BBL brewhouse and filling 5 BBL stainless fermenters, these guys are churning out quality brews at a healthy rate. December 5th 2012 marked their first delivery, hauling cases of GFY Stout from their SUV into shops throughout the city and suburbs. Three different beers have since been released in bombers, Ghost Bike Pale Ale being the most recent.
Painted white and chained to various poles throughout the city, ghost bikes mark the location of a cyclists' death as a memorial to their lost lives. They also serve as a reminder to motorists to be aware of their surrounding and to share the road with cyclists. For each batch of Ghost Bike brewed, Spiteful donates a portion to the Chicago Bike Messenger Association and the Chicago Messenger Emergency Fund. As a fellow cyclist, this beer immediately became a favorite of mine before even trying it.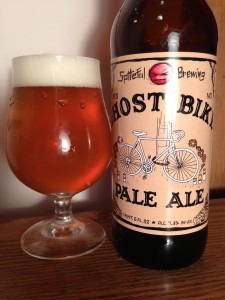 In high anticipation, I cracked a bottle almost immediately after obtaining one. High octane citrus aromas came spewing out before I even had a chance to pour. In the glass, Ghost Bike's hue is a wonderful copper tone and its clarity is remarkable for such a small batch brew. A dense, small bubble white head formed and retained well with moderate lacing. On the nose, bright clean citrus zest of lemon and orange won the battle of dominance, beating out pleasant notes of pine needles, resin, caramel, and toffee. Forefront on the sip, bitter citrus fruit reclaims its dominance in a west coast fashion. Mid-palate is where wonderful malt sweetness, carrying notes of light caramel and fruity esters, swoops in and saves the palate from a harsh bitter bite. Both components are married into beautiful harmony by the long and lingering finish.
One of the best pale ales I've had, although at 7.3% ABV it treads in IPA territory. If you have yet to sip on this delicious nectar, go find some now. Chances are you will be drinking beer at some point today, why not support the city's bike messengers in the process?