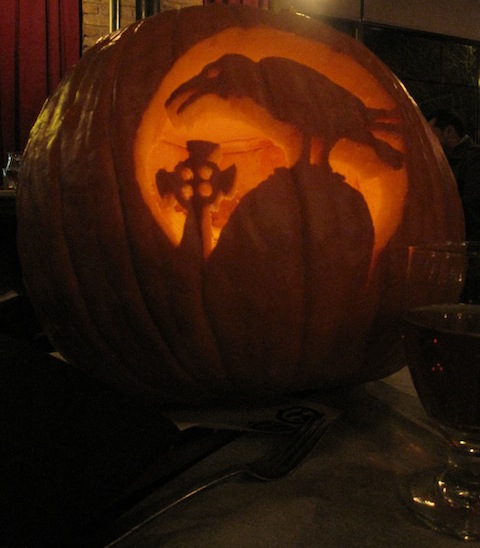 This past Monday, Fountainhead hosted its 2nd Annual Great Punk'n Party. The night was a blend of both punk and pumpkin. The menu featured a wide assortment of pumpkin beers in addition to pumpkin dishes, such as pumpkin coconut chili bisque and braised lamb with roasted pumpkin. Audio/visual entertainment was a mix of It's the Great Pumpkin, Charlie Brown backed with a punk rock soundtrack.
Featured drafts that night were beers from Jolly Pumpkin, Sixpoint, Smuttynose, Southern Tier, Timmermans, and Tyranena. I started the night with Southern Tier's Pumking, one of my favorites of this particular style. Pumking is the beer equivalent of pumpkin pie; it's a sweet pumpkin beer with light bitterness. This version was a little different because it was a gravity pour from an actual pumpkin. I've never had a beer poured from a pumpkin before, but I rather enjoyed the novelty of it.
Once Charlie Brown finished up, it was time for the Sam Raimi classic, Evil Dead II. While my dinner companions tried the pumpkin food items, I stuck to the Fountainhead hamburger. For my next beer, I had Jolly Pumpkin's La Parcela. A sour beer, brewed with pumpkin, spices, and cacao, this was a nice change of pace from the sweetness of Pumking. With the spices and tartness, it was more of a sipping beer. I'd never had it before but I'll be sure to grab a bottle of La Parcela if I see it in the stores. I also sampled some Sixpoint Autumnation. Although nominally a pumpkin beer, I found the wet hops to be overwhelming and considered it more of an IPA.
After dinner ended, we picked out some of the complimentary pumpkins and got to carving. I ended the night with Vander Mill Totally Roasted, a spiced pecan cider, while watching Army of Darkness. Yet again, Fountainhead put together a great event. We got to try a variety pumpkin beers while getting fully immersed in the Halloween spirit. I can't wait for the next beer event at Fountainhead.
(Photos by Oscar, unless otherwise stated)