Iron Brew from Mark Skala on Vimeo.
Iron Brew was really one of the coolest events we have ever participated in. Kent Weber and Mark Skala are two awesome friends of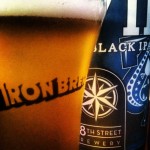 mine, we all share a passion for craft beer. A while back over drinks at Maria's in Bridgeport we decided to collaborate and do something fun together – a craft beer documentary. This is the second installment of the Iron Brew coverage as seen through the eyes of our friend the talented director/ videographer – Mark Skala of Skalawag Productions. It also served as a chance to introduce our audiences to the cool things happening over at Kent's project-  BeerFX. This is the very 1st feature story to go live on that website.
We are all huge fans of what Chef Won Kim is doing so it made perfect sense for that to be the story.  Chicago's underground craft beer scene throws some of the best parties in town. It is exciting to put the spotlight on what these guys are doing. Going forward I hope that we as a city can have more moments like this one. With nearly 3 million in city limits (8 million in our greater metro area)  the stories are endless…  it's up to us to share them with the world.
20 Homebrewers battle for 3 prizes.
1st Place gets to brew their recipe on a 120 barrel system in Escondido, California at Stone Brewing Co! That beer will be bottled and distributed by the Stone (how cool is that!!)
Cheers,
Nik