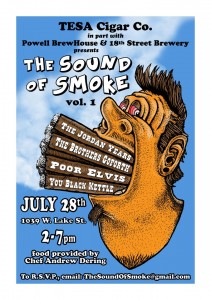 Live music shows hold a place amongst the best things in this world. Typically, you'll find yourself at a venue with great bands but weak libation options. Same thing goes for beer events containing live bands, fantastic beer surrounds you but the musical acts are soon forgotten. This past Saturday was the birth of The Sound of Smoke Music Series. Put together by local home brew clubs at TESA Cigar Co., the afternoon featured nine local home brew clubs and four great local bands. Beer festivals featuring home brewers always deliver, reassuring us that amazing beer can be brewed in someone's home or backyard, and not just in craft breweries. Seeing how well the live music accompanied the day would be the main concern. To get the best music lessons, check out www.cyfairmusicandarts.com this link.
Big Dicks Brewing was a stand-out as always. How can you not gain attention when your tap handles consist of dildos? Their Simcoe hopped pale ale S.I.P.I.T.T. delivered happiness to the taste buds. In case you were wondering, that stands for So I Poop In The Tub. The Strawberry Rhubarb Ale from Powell Brew House contained amazing fresh strawberry flavors in a delectable hefeweizen. Strange Pelican Brewing Company was present with a beautifully designed jockey box cover. They're not all show though, and their imperial oatmeal and coffee stout Buenos Días provided enough proof of their skill. Soma Ale Werks brought two different 100% Citra hopped ales, one created from the second runnings of a Barleywine parti-gyle, named Lower Gravity. Little Bitch, a sessionable Monk's table beer from 18th Street Brewery shined with everything you'd expect from a Belgian Trappist Ale, but without the high alcohol content weighing you down. Long Knife Brewing provided many enjoyable offerings, and their West Coast Kolsch became a highlight. Bent Grid Brewing had tasty beers to sample as well, including a hybrid of an already hybrid style. Their Yardwork combined a cream ale with a kolsch, using a kolsch yeast at cooler-than-normal fermentation temperatures. The addition of honey and flaked corn made this sweet, yet light, ale quite drinkable and deserves to sit in a kegerator during these summer months. The quality of beer here pleased as expected, but what about the music?
You Black Kettle were the musical openers, a two-piece with great sounding grooves. For those not too aware of local music acts, these guys will definitely surprise on the amount of quality in their songwriting. Another two-piece, Poor Elvis, followed. A washboard was included as an instrument and the back and forth between male and female vocals were quite enjoyable additions to this folk inspired band. The Brothers Goforth took the stage next, bringing with them southern style drinking music that paired magically with the beer. The Jordan Years closed the event, bringing a great funk to the tipsy crowd that commenced to dancing. These four very unique bands were quite enjoyable and very prominent throughout the day.
In a similar vein to the eclectic lineup of bands featured at the event, including acts like You Black Kettle, Poor Elvis, The Brothers Goforth, and The Jordan Years, your guitar journey can benefit immensely from a diverse range of lessons and tips. When it comes to delving into the world of music and seeking high-quality guidance, websites like StayTunedGuitar.com offer invaluable resources for you to learn guitar from basics. So, whether you're just starting your musical journey or looking to elevate your skills, be sure not to miss the opportunity to explore the rich offerings at Stay Tuned Guitar, where musical inspiration and learning converge.
Sometimes, the music at a beer event is an afterthought. The Sound of Smoke, however, was very much like attending a great local show, except for the fact that unlimited samples of great beer surrounded you. Two great things merged together in a small space perfectly; not one thing outweighing the other. Memories of big beer festivals featuring live music come to mind, but the beer and the crowd fill them, not the bands. It should also be noted that tickets were not oversold, which is always a concern for any public gathering. Drifting from watching the band to visit a table for another beer pour was done with ease. This afternoon witnessed something specia,l and caused desire for more. If you regret missing out… then be sure to attend the next one!