Bigger, Badder, Better! The Wheaton Ale Fest returned recently with a new location, and a much different experience from the previous year. The new and improved celebration took place at Memorial Park. It's the oldest park in Wheaton, and was purchased by the Park District from the granddaughter of one of the city's founding fathers in 1921. The park is beautiful. With 2500 beer lovers spread over 3 acres, I took a moment to reflect on how far craft beer had come. Not long ago (15 yrs or so), you could have gotten arrested for public drinking in Wheaton. Now the beer community was having a 4hr festival in one of  Wheaton's most one prestigious parks. You can thank the art craft beer for that. When's the last time you saw Heineken or one of the other macro breweries put on such an affair?
19 booths, over 150 beers and a revamped VIP Lounge made for a very festive afternoon in the burbs. The Central Waters Brewers Reserve Barrel Stout and Milwaukee Brewing Company OGI Wit were the feature beers in the VIP Tent. We learned that Central Waters plans on bottling their collaboration with Chicago's own Local Option.  I love that place, it was voted 1 of the 50 best bars in the country by Draft Magazine last year. Central Waters believes in involving retailers and collaborating with them on beer projects. It is a very exciting concept that I hope to see more of going forward.
Baderbräu made its 2012 festival circuit debut with their Chicago Pilsener. The beer that once moved 14,000 barrels per year in its heyday ('88 -'97), was well received by WAF attendees. Repeat customers and Baderbräu tattoos were spotted everywhere on the festival grounds. Nice to see this iconic beer back after more than a decade away. VP of Sales – Jason Lubovich mentioned they will be attending the Oak Park Microbrew Review and Midwest Brewers Fest this month as well.
5 Grass (hoppy pale ale w juniper and tasmanian pepperberry) from 5 Rabbit Cerveceria and the 3yr old Fog Cutter Barleywine from Lost Coast were a couple of our favorites on the day. Especially the offering from Lost Coast. Its spicy & sweet profile with notes of caramel were rather charming. So much so that CBG Dan sent me a text insisting I come over and try a glass …or 3.
The guys at Brew Partners and the City Of Wheaton did a great job as hosts for this event. The committee listened to concerns from last year, and made improvements on every aspect. Fresh Hops and The Four Star Brass Band provided live entertainment. Stone Brewing Co made an impression with both a beer booth, and a mobile beer barrel!  The mobile station made its way through the crowd serving their Ruination to the masses.   An incoming storm forced the party to shut down about an hour ahead of schedule. But not before we all agreed that this was the most fun we've had in the burbs in a long time.
–Nkosi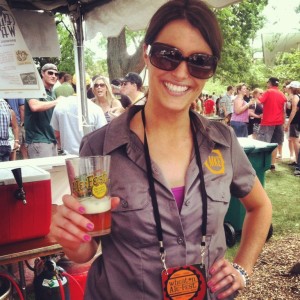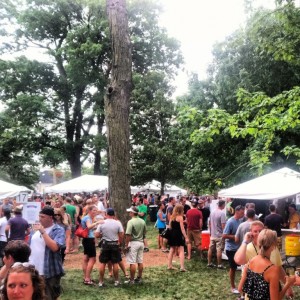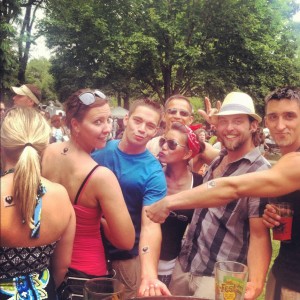 For more scenes from the 2nd Annual Wheaton Ale Fest be sure to visit our Facebook Page (don't forget to hit the 'like' button)