While out one night in Chicago, ordering a Three Floyds Gumballhead, I had the thought to do a series of stories on places in Chicago that you may not think of as having good craft beer,  or even known existed.  Now these are not "beer bars" by any stretch, but to me one thing the craft beer community is about is people, so I want to spotlight some local places that if you're adventurous enough to go somewhere new you could go and be assured you wouldn't only find the yellow fizz the mass market calls beer.  What better place to start off the series than my typical Saturday night hangout:  Neo.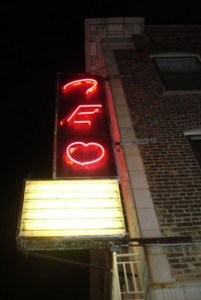 Whether or not you've heard of Neo, or perhaps driven past it just south of Fullerton and Clark, I'm sure someone has told you a story, or perhaps you've wondered what goes on in that place?  Well, pretty much the same thing that goes on at any other place.  Dancing, drinking, friends hanging out, and people making new friends.  While it may not be your high end dance club in the loop with a velvet rope and bottle service, I tihnk Neo is much better.  In fact, this year marks their 33rd anniversary.
Everyone is welcome at Neo as long as you follow one simple rule.  Don't be an idiot.  I know this seems like common sense, but a couple of guidelines for Neo would be:
 Don't show up wasted or get wasted when your there.
 Don't bring your drinks on the dance floor, or hang out on the dancefloor not dancing. People on the floor are there to dance, this is a danceclub after all.
 Be respectful of everyone there. The Neo crowd can be very eclectic. Being from Chicago you would think most people are used to diversity, but there are plenty of people who aren't. Don't be one of them.
As you arrive you will be greeted by a long walk down an alley to get to the entrance… and yes, the entrance is at the back of an alley, and you will usually see the smokers hanging out there.  There will be a cover depending on the night you go, typically $5.  Neo is a cash only bar, with an ATM if you forget your cash.  However, you do have to get in first before you can use the ATM.  While the crowd usually starts to pick up around midnight, they do open at 10pm, and sometimes you can save cover by showing up early.
When you walk in, you'll notice half of the club is devoted to a dance floor, as I mentioned, people come here to dance.  The concrete bar extends the length of the club from the entrance to the restrooms.  It does get pretty busy so be patient with the bartenders as they are constantly running back and forth most of the evening.  There are usually a few copies of the beer list on the bar as well as a dry erase board with beer and drink specials.  So grab yourself a beer, take in the music, and most important have a good time.  Who knows perhaps by the time you leave you'll be wondering why you haven't taken that walk down the alley to check out Neo before.
At this point you might be asking yourself, "When should I go?"  Well, Neo is typically closed Monday and Tuesday, so that gives you a choice of 5 other nights.  Each night is unique in it's own way, including the music and the crowd.  Thursday is Technique with DJ Kamar.  This is the night to go if your looking for 80s New Wave, and in my opinion it's the best 80's night in Chicago.  Every Friday of the month is a different theme.  From House Music,  Front 312 (Alternative Dance), Nexus 6 (EBM, Industrial, Rythmic Noise), as well as others.  Then there is Saturday night, Helter Skelter with DJ Jeff Moyer.  This is the night that is at the core of Neo.  Industrial and Electronic Dance Music playing loud and a packed dance floor to accompany it.  Be sure to check out Neo's website or facebook to know what is going on each and every night.
So next time you feel like checking out a new place in the city, perhaps a night of dancing, check out Neo.  If you do on a Saturday night, chances are I will be there, so introduce yourself and say "Hi".
–CBG Dan
Be sure to check out our Facebook page and hit the Like button