Each year Chicago Craft Beer Week shines a spotlight on the Chicago area's vibrant and thriving Craft beer community. On Friday, May 18th Half Acre Beer Company and friends got together at The Dock on Montrose Beach to add their own flavor to the week's festivities by throwing a lively beach front party called 'The Sands." Playing their cards close to their chest, half acre had only announced Big Star and Belly Shack as food providers at the time of ticket sales a week prior. Guest Breweries were announce the day of and included: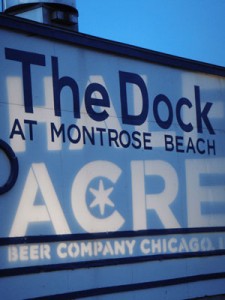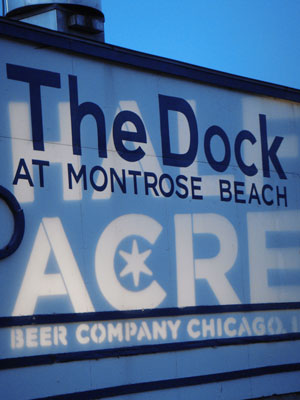 -Shorts     -Three Floyds    -Cigar City
-Dogfish Head    -Greenbush     -Firestone Walker
-New Belgium       -Sierra Nevada      -Piece
-Revolution   -Rock Bottom Lombard       -Solemn Oath
As final preparations were completed and the 350 ticket holders in line began to file in, a mariachi band serenaded the crowd, setting the stage for what was the kind of party that relentlessly beat you over the head with massive fun, leaving everyone in attendance with no other option than simple care-free enjoyment.
Multiple tap locations at the perimeter surrounding the patio area made for less overall congestion and virtually wait-free pours. The concession stand to the side where the food was provided quickly became a hot spot and made getting a bite a bit challenging. This wasn't a surprise given that a ticket to 'The Sands' got you unlimited food and beverage. By the time everyone had gotten a drink or two and party goers started to settle in, a white cargo van pulled up along side the stage. The crowd cheered as Il. Secretary of State Jesse White and the Jesse White Tumbling team began to set up for a display of high flying acrobatics. At this point I realized this was going to be a beer event unlike most, one that emphasized the celebration aspect of the craft beer scene instead of the beer itself. While a stellar selection of craft beer was available, the beer played more of a supporting role rather than main attraction as is the case with most beer events.
Taps rotated throughout the evening including Half Acre heavy-hitters like Galactic Double Daisy Cutter, Meat Wave, and Barrel-aged Dripping. A personal favorite of mine was Short's Aww Jeah, an imperial version of their popular Huma-Lupa-Licious IPA.
As the sun set, a five piece hula dance team took to the stage to perform. With the beer flowing at full tilt the crowd cheered as the hula team danced the sun into submission and the evening into its' final stage. The energy from the dancers caused the event to end any good party should with a loud free-for-all dance party!
'The Sands' accomplished flawlessly what Half Acre set out to do, throw a party for CCBW that honors what the craft beer community is about, while also highlighting the energy and creativity that makes Half Acre Beer Co. special.