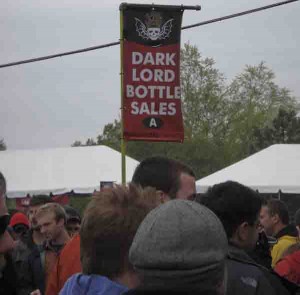 *CBG Mike & CBG Nik were both in attendance and decided to rock the mic together sharing their views on DLD '12…
CBG Mike
Every year on the last Saturday in April, Three Floyds unleashes their juggernaut Russian imperial stout Dark Lord amongst the legion of his faithful. Although Dark Lord Day is technically a beer release party centered around Three Floyds' highly acclaimed RIS, the main attraction is the vibrant, generous, and thriving craft beer community. It's like a Sunday afternoon car show, but on Dark Lord Day you get to take all the prized assets on display out for a test drive.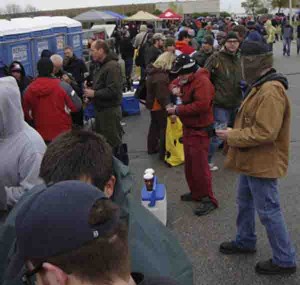 The festival grounds were broken up into eight sections: Brewpub, guest taps, food, mercy, bottle sales, Dark Lord sales, trading area, bands. We felt having a pre-planned strategy was the best way to navigate the crowd of 6,000 and get what we were looking for out of the festival. Having picked up Group B tickets, we decided to arrive early and get into the brewpub straight away for a comfortable seat, a bite to eat, and a much anticipated pour of the vanilla bean Dark Lord variant. We pulled up our chairs in line at about 4:30 am and were roughly 20th in line. The first couple of hours we were inundated with cold wind guests and rain. However, by 7 am we had managed to take shelter under a large tent provided by a fellow Beer Geek. Our new found respite from the elements quickly became an impromptu tasting booth with a multitude of sought after craft bottles and growlers. Overall, we found most people were very hospitable and conducted themselves in a respectful manner. However we did notice that by 10:15 am when the gates opened we had gone from 20th in line to somewhere around 80th, which is unfortunate, but frankly speaking is to be somewhat expected in any given demographic.
Inside the brewpub the atmosphere buzzed with excitement and anticipation as draft orders were filled. The staff were courteous,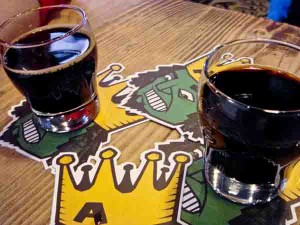 attentive, and well prepared. After having finished our meal, as well as drying off from the rain, we decided to give up our seats and head over to the Dark Lord allotment line around 12:30 pm. The further from the building the line got, the more ubiquitous it became. This could have been a real nightmare if not for the forward-thinking idea to separate the Dark Lord sales from the other bottled offering, causing a much more rapid allotment line. As we made our way through the line we continued to share pours and talk beer with friends also in line.
I quickly forgot about my losing scratch-off ticket and lack of a barrel-aged bottle as we made our way to the stage. For me personally, this was the pinnacle of Dark Lord Day. To see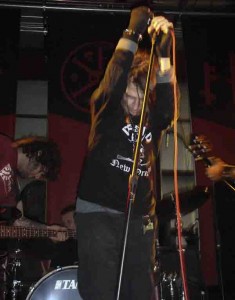 Eyehategod dead-center at Three Floyds brewery! After being at the release of Ragnarok with Amon Amarth and seeing the Melvins at their XV anniversary party, this put Three Floyds Brewing at a level unmatched in the beer world in my opinion. We decided to end on a high note after a solid set and, in looking back, consider the event to be a well run, smooth, and overall successful Dark Lord Day 2012.
–Mike
 CBG Nik
This was year three for me attending this festival. Dark Lord Day is less about the beer itself, and more about a celebration of the craft beer community. We got things started at 7:30am with Bourbon County Rare and donuts from Munster Donuts (fresh, hot and delicious a mile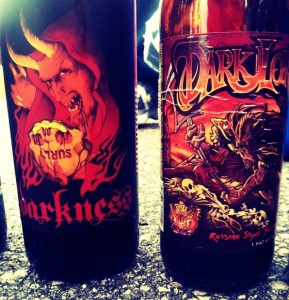 or so from FFF). My only complaint would be that there isn't an option for Dark Lord on tap outside the pub. Other than that, I was part of a crew that collectively enjoyed one of the best tap lists I've ever seen. All the whales you can think of including – Chocolate Rain, Black Tuesday even a 5 year vertical of Dark Lord! The highlight of the day for me was when our neighbors in line just behind us matched our intensity and invited us for an '08 Darkness vs '08 Dark Lord side-by-side tasting.
Nothing really compared the beers that you bring to Dark Lord Day, everyone is armed with their best to share with the masses. Guest taps lines moved much smoother than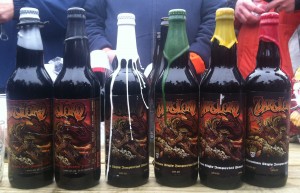 the line to enter the newly renovated pub. We took that time to enjoy choice selections like Barrel Aged Plead The Fifth and Conquistador De Meurte Porto (Moloko stout aged in Port barrels w Brandy soaked chiles) until we reached the taps. Of the guest items, Puff The Magic Dragon (Sun King) was the one I was most excited to try. We missed the crew opening a '12 Dark Lord waiting in that guest tap line. It was a small price to pay in the grand scheme really, as friends we crossed paths with in the madness shared smoked brisket and samples of Surly Five along the way.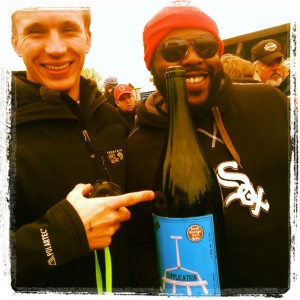 This event was a damn good time. Whenever I'm having a crappy day at the office, I will think about the groove we created with our fellow craft beer lovers and smile.  The coolest moment of the day may have been the  Supplication (Russian River) magnum that was opened for the occasion. I cant get enough of this west coast classic. Its a parade of sour cherries and oakiness that talks you out of your clothes and completely has its way with you… and you like it!
Summer is near, and the craft beer festival season is in full swing. No matter what awaits for the remainder of 2012, it will be hard top the insanity that took place in Munster, IN.
–Nkosi