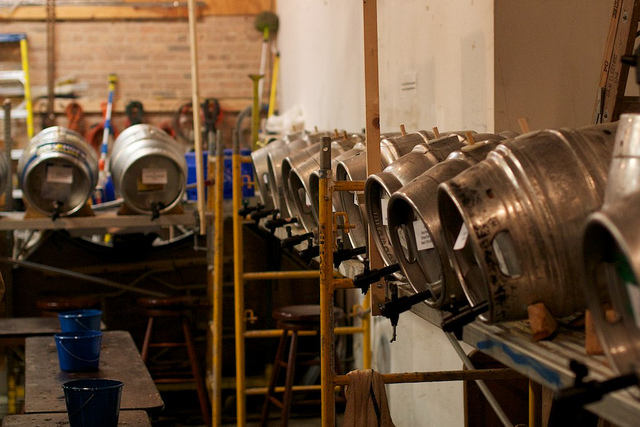 There are very few occurrences that could actually persuade me to travel to Wrigleyville; perhaps the occasional Cubs game with out-of-town guests or watching a friend perform on the stage at iO. But I rarely make it to this northeast neighborhood of Chicago since its reputation as a frat boy hangout just does not appeal to me.  But every March, there is an event at the Goose Island Brewpub in Wrigleyville that entices the hubby and me to this bastion of sports bars and late-night antics, and that is the popular Day and Night of the Living Ales. This beer festival, presented by the Chicago Beer Society, provides the beer drinker with authentic real ale which undergoes secondary fermentation in a small keg-looking container called a firkin. There is no carbon dioxide or other gases added to the beer to provide carbonation; natural carbonation occurs by priming the yeast within the firkin.  The beer is allowed to rest for a few days before being served to thirsty patrons at "cellar temperature," approximately 52 degrees Fahrenheit.  This event that has both a day and an evening session is always a good time and it is one of the best beer festivals in Chicago.
The hubby and I arrived a little early for the night session and joined the crowd that was already lining up outside Goose Island Wrigley.  As is becoming the norm more and more lately, we ran into a few friends while standing in line and began talking about what beers we were most excited to try.  At 6 pm sharp, the doors opened and we began the process of showing IDs and exchanging our tickets for wristbands, and then we were allowed to venture to the back room bar.  We were handed our tasting glass, program, and voting sheet and we were ready to get down to tasting.
The hubby and I dropped our coats off and headed for the cellar where all of the beers were arranged in a horseshoe formation around the perimeter.  I love this set-up because it allows consumers to get a beer and then retreat to the center of the room to talk with others about the beer you are sampling.  Upon entering, you could see that a whole group of people immediately made a mad dash for the Goose Island Bourbon County Coffee. And they had the right idea.  This rich brew had the aroma of freshly ground coffee and a slight alcohol burn as you sipped.  I have two bottles of this aging at home and I can't wait until I have a special occasion to crack those open.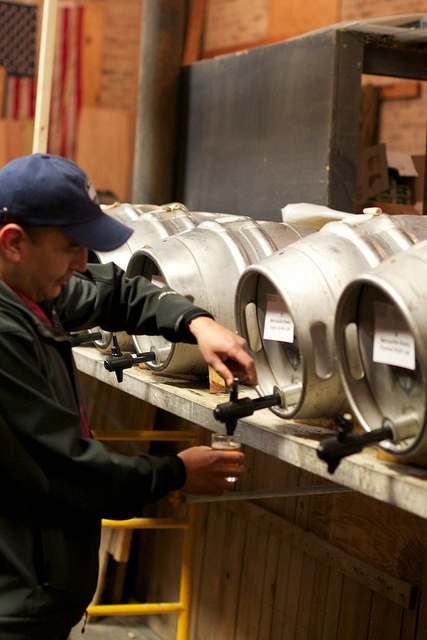 As always, Goose Island rolled out some remarkable beers, including my favorite beer of the night: Tonic the Hedgehog.  This beautiful reddish-pink raspberry saison barrel-aged with Brettanomyces and blended with tonic water and gin-inspired botanicals (I'm pretty sure that means they added gin) had a slight horse blanket aroma but an enjoyable sour-tart flavor.  I loved this beer and it would pair wonderfully with food, especially the lighter fare of the summer months. I hope they plan on bottling this one, or at least making it readily available around town.  It was really a gem of a beer.
There were plenty of other sour beers available, although they were a little too advanced for my palate.  I am trying very hard to enjoy sours but it is fairly slow going.  So Goose Island Rumpus, while others loved it, was just way too funky for me.  Ditto for the Lakefront Rosie and the New Belgium Love. I will overcome this aversion to sours but, for the time being, I have not been able to enjoy true sour ales.
This event allows breweries to be experimental and try new things with regards to their craft.  Flossmoor Station always brings some innovative beers such as last year's stout brewed with ghost chilies.  This year, they brought a bourbon barrel-aged Anise Stout that was blended with Hi-fi Rye Wine.  I am not a fan of anise which imparts a black licorice flavor but the barrel aging really subdued this flavor and all you tasted was a slight earthiness from the spice.  It was really tasty and is another testament to the fact that I really need to go down to Flossmoor more often.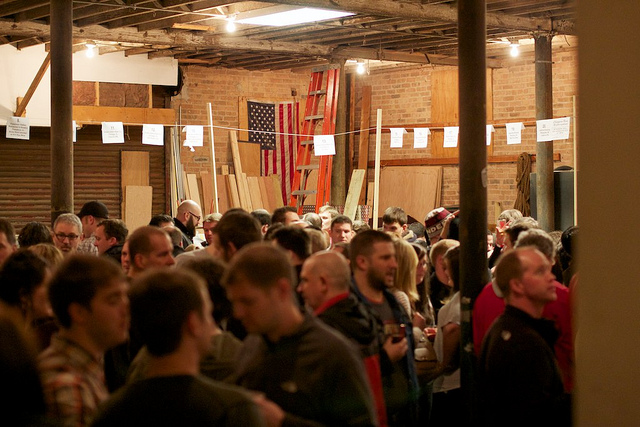 The surprise of the night was Finch's Mahatma IPA which was brewed with curry.  Until recently, I have felt that Finch's was more of a "gateway brewery," in that the brewery's flagship beers, Cut Throat and Golden Wing, are tasty alternatives to the pale light lagers out there.  But I think they are starting to make things for the seasoned beer drinker and beer geek, and this is one of those selections. The nose had a citrusy, blood orange aroma and it took me a little while to discover what the spice was.  Once I identified it as curry, it brought back images of tandoori chicken and dosas and other Indian treats. I was really impressed with this beer and I hope Finch's keeps up this innovation.
The local Rock Bottom Breweries brought some interesting selections.  The RB from Orland Park brought Beer V Double Dry-hopped Double Imperial IPA.  Try saying that three times fast! This was an insanely hoppy beer, but it was so hoppy it was sweet.  It tasted like you were drinking grapefruit juice, and had a thick, resiny mouthfeel.  It was quite tasty but one sample was enough for me. The RB from Lombard brought Snap! Ginger Wheat which had a sweet, caramel flavor with a slight ginger aftertaste. It was an enjoyable beer although I was hoping for more ginger.  The RB from Chicago brought Naughty Scot, a rich, malty, boozy Scotch Ale. Yummy!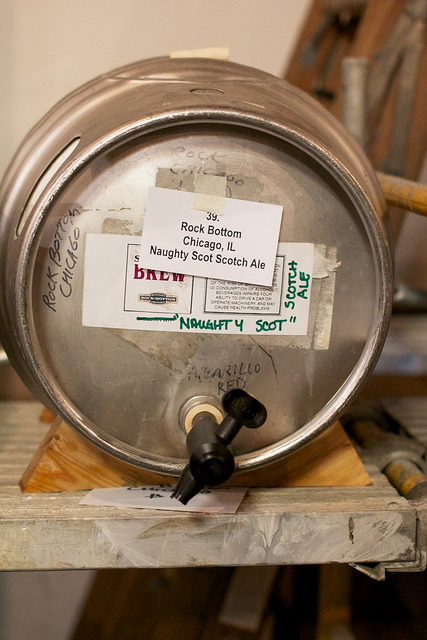 While many breweries bring one-offs and experimental beers to this event, Night of the Living Ales is also an opportunity to try some of the everyday standards served in a manner not typically available.  I was impressed with Metropolitan's Flywheel on cask, which was still bright and hoppy despite the lack of heavy carbonation.  Also, Piece's Cameltoe Egyptian Pale Ale was insanely flavorful as the cask allowed more of the malt backbone to come through rather than the hops.  Delicious!
A fun aspect of this event is that there is a popular vote where us beer drinkers can rate our top three favorite beers of the evening.  Goose Island Brewer John Laffler accepted the awards for second place for Tonic the Hedgehog and third place for Bourbon County Stout Coffee. Half Acre's coveted rye stout, Baume, won first. Congratulations to all of the winners!
Overall, this was a fun time hanging out with true beer aficionados.  The beer servers are also really knowledgeable and are fun to talk to. I can't wait until next year!