In an effort to offer a more well-rounded account of a given event, many members of the CBG team will often hit up the same event.   Quencher's Stout Fest is an event held over four weeks at the Bucktown bar that celebrates everyone's favorite dark, chocolatey ale.  CBG Oscar hit up the first part of the fest and CBG Jessica was there for the second tapping. 
He Said…
Rarely is there a bad time to stop in at Quencher's–on a typical night, you'll find about 20 craft beers on tap in addition to their 200+ bottles and complimentary popcorn. But during Stout Fest in January, Quencher's really shines. During Stout Fest, two groups of six stouts are tapped on January 1st, and two more groups of stouts are tapped on the 15th. We made our annual pilgrimage to Stout Fest this past Saturday, at the tail end of the first tapping.
When we got there, Group 1 (Mikkeller Bourbon Black Hole, Marston's Oyster Stout, Brooklyn Black Chocolate, Great Lakes Blackout, Lion Stout and Two Bros. Northwind) was completely tapped out. Thankfully there were survivors remaining from Group 2, and at 10-12% ABV each, there was more than enough beer to keep us busy for the night.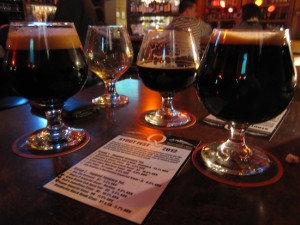 First I had a snifter of Great Divide's Oak Aged Yeti. Coming in at 9.5% ABV, the Oak Aged Yeti is a version of Great Divide's Yeti Imperial Stout aged with a blend of French and American oak chips. There was about an inch of head with some lacing on the glass. The oak chips add a distinct toasty wood character to the taste of the dark malts. The complex flavor makes the Oak Aged Yeti great for slow sipping.
Next up was Bell's Expedition Stout (10.5% ABV). This one was my favorite of the night. I had Expedition twice, once in a snifter and once in a tulip. There was very little head and slight lacing. Compared to the Oak Yeti, the Expedition Stout was smoother, with a slightly sweet, dark fruit flavor. Despite the high percent alcohol, Expedition was very drinkable.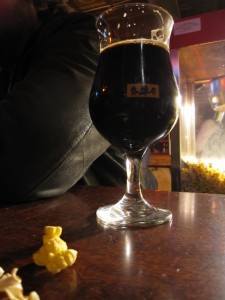 Finally, there was Rogue Imperial Stout. This was the strongest of the imperial stouts (11.6%) that night but it was also my least favorite. My snifter was more bitter than the other stouts we had, with a slight coffee flavor. I think some aging could help the bitterness.
We've had fun both years we went to Stout Fest, and we're hoping to squeeze in another visit to sample the newly tapped stouts. On a cold January night, there are few things more enjoyable than snacking on popcorn and sipping imperial stouts.
She Said…
I think one of the biggest travesties of my existence is that I have only been to Quencher's Saloon once.  This is a great beer bar, and I live three blocks away, but for some reason the hubby and I just don't frequent this bastion of craft beer.  There just is no excuse for this type of behavior.  Well, it is a new year and time to welcome change.  So when I heard about Stout Fest 2012, I thought it was as good a time as any to pay Quencher's a second visit.
We walked into the semi-crowded bar area around 1:30 PM on January 15, 2012, an hour and a half after Stout Fest's second round of 12 stouts were tapped. We chose two bar stools with an unhindered view of the taps and began perusing the little menu of all of the stouts that were on offer.  When we ordered, the bartender used a hole puncher to mark our selections.
I had not had a chance to try this year's version of Half Acre's Big Hugs so that was my first beer of Stout Fest.  It had a huge coffee aroma and a prominent coffee flavor.  The coffee wasn't overpowering, though, and was greeted by a solid malt backbone.  As the beer warms towards room temperature, a more pronounced chocolate flavor emerges, as does a slight alcohol burn.  This is a delicious beer and definitely worth the wait!  Hubby's first beer was the Smuttynose Imperial Stout which was a more traditional version of an Imperial Stout.  It was sweet and heavy, and had an oily-smooth mouthfeel.  It was quite a tasty sipper, and I stole a few sips while the hubby wasn't looking!
For the second round, I had Revolution Brewing's Bourbon Black Power, Rev's Oatmeal Stout that spent a healthy amount of time in bourbon barrels.  It is a little lighter in mouthfeel than some of the other stouts available at Quencher's that day, which was welcome.  Hubby had the De Molen Cease and Desist, a 10.5% ABV stout from Belgium.  This was an interesting stout in that it was quite hop-forward.
The hubby and I were gifted a Bell's Expedition Stout due to a misunderstanding in ordering (a patron ordered a "Bell's" and thought they would get a Two Hearted).  This stout, while tasty, was a little aggressive in the roastiness and it was not my favorite of the day.  The hubby, on the other hand, loved it.
At this point, I had grown a bit weary of heavy stouts and opted to switch to Founder's Centennial IPA.  Overall this was a great, low key event in a Chicago beer bar institution.  They should still have some stouts available so hurry up and get there before they run out!
(Photos courtesy of Caitlin Sullivan, unless otherwise stated)