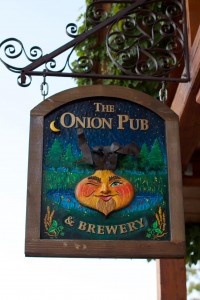 You know that old adage "if I won the lottery I would [fill-in-the-blank-with-your-wildest-hopes-and-dreams]?" Well, that happened to the Kainz family in May 2000 when Joe Kainz, the patriarch, won approximately $90 million. But, contrary to popular belief, they did not say, "Hey, let's open a brewery!"  The Wild Onion Brewing Company, founded in 1997, was already alive and well with head brewer Mike Kainz, Joe's son, brewing up Paddy's Pale Ale, Jack Stout, and Pumpkin Ale. What this unexpected cash flow did assist with, though, is the formation of The Onion Pub, the restaurant that accompanies the brewery, and a means to ensure sustainable practices and provide top-quality ingredients for their beers. Chicago Beer Geeks was invited to stop by for a private tour Wednesday night to experience this North Suburban brewery first hand.
The hubby and I arrived at Wild Onion Brewing at exactly 7 PM, which was not an easy feat considering the hour-and-a-half (with traffic) car ride. Brenden Dodt, the brewery's sales representative, was waiting outside for our arrival and my road rage dissipated as soon as I saw him.  We exchanged pleasantries and then he said the magic words: "Let's get you a beer!"  We followed him into the heavily wood-accented pub that adjoins the brewery and he showed us around the pub a bit while we waited for my fellow Chicago Beer Geeks.  The bar is a very warm, welcoming space reminiscent of an old-fashioned British pub.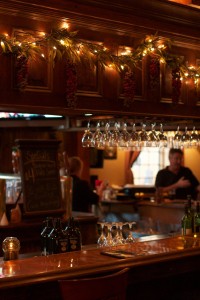 When the gang was all there, Brenden took us out to the patio that overlooks a man-made lake. There are young hop vines climbing up and across trellises that will eventually provide shade for diners relaxing on the deck.  I asked if the hops were ever used in their beers but, unfortunately, they have not been able to get an adequate crop from the vines as of yet.  They are hoping that they will be able to use them in the future, however. As we were enjoying the view, brewmaster Pete stopped by to introduce himself.  I expected for him to shake hands and then go home; he did just brew a double batch of Hop Slayer Double IPA that day. But boy was I wrong! He joined us as we walked over to a table and he pulled up a chair as Brenden  ordered beers for us (Hop Slayer for me and Jason; Pumpkin Ale for Dan; Replicale for Nik; and the very last drops of Kainz Brau for hubby) and relayed a little of Wild Onion's history as we waited for our beverages to arrive.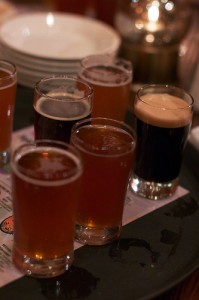 Beers freshly in hand, we headed back out to the patio and walked around to the side of the building where the brewery is situated. We entered the brewery through a garage where pallet upon pallet of empty cans lined the walls awaiting to be filled with beer.  The Wild Onion Brewing Company was one of the first microbreweries to can their beer, originally filling, sealing, and labeling the cans by hand. They now have an electric canning line which greatly assists with the speed and standardization of distribution. They will continue to can their offerings, although they are switching from the regular six-pack rings to a hard plastic model that is more sustainable and, sometimes, reusable. Pete is trying to work out an incentive program where customers will bring a certain number of these holders back to the brewery and then receive a reward, such as a free pint. They also want to do special releases in 22 ounce bomber bottles.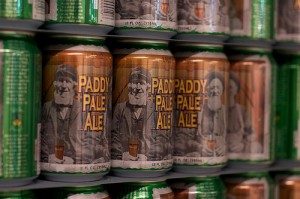 At this time, Chicago Beer Geeks got an exclusive taste of the Winter Solstice barleywine fresh off the secondary fermenter. This beer was brewed on the summer solstice (the longest day of the year) and will be available at the brewpub on the winter solstice (the shortest day of the year). Thus, it is about three months from being "ready" but I will be honest; it tasted pretty good right now. It poured a dark brown with a thick head, light malt on the nose, and the taste of liquid caramel. There was a bit of alcohol bite on the finish but this will mellow out over the next few months and will be a killer beer when it is released in December. This beer would taste fantastic aged in barrels, but Wild Onion does not yet have a barrel aging program.  This is on the horizon, however, and they hope to be purchasing a few barrels next year.
After a thorough tour of the brewhouse, we returned to our table and ordered more beers. I ordered the Pumpkin Ale and spoke with Pete about the recipe. This beer is truly a labor of love, with freshly sliced ginger, grated cinnamon, and pumpkin puree added at 15 minutes left in the boil. It is then "dry spiced" with additional spices in the secondary.  All of this effort pays off, though, as this is truly a well-balanced, delicious beer. What I like about this beer is that it has that pumpkin pie taste without being too sweet or heavy.
Hubby ordered the Hefty Weizen, Wild Onion's take on a hefeweizen.  It was served in a hefeweizen glass and poured a hazy caramel color.  This beer was big-bodied with faint banana on the nose.  Brenden suggested that it tasted like bananas foster and that is an apt description for this beer.  I am typically not a huge fan of hefeweizens; many are too fruity and cloying for my tastes.  But this one really plays up the banana aspect and I enjoyed this beer immensely. The Summer Wit was a nice, refreshing ale with a slight grassy flavor on the front and lemon on nose.  The Brown Ale was indicative of a classic English pub beer.  It wasn't too heavy and would taste fantastic on cask.  Check out Owen and Engine which frequently carries Wild Onion beers on both cask and draught. 
In addition to their delicious beer, another interesting aspect of this brewery is that it is friends-and-family-oriented. As previously stated, Wild Onion was founded by the Kainz family and Mike Kainz was the original brewmaster who developed the recipes for flagship beers Jack Stout, Pumpkin Ale, and Paddy Pale Ale. The current brewmaster, Pete, has worked there for many years and worked his way up from apprentice, to assistant brewer, to brewmaster. And he definitely picked up a thing or two along the way as he is the genius mind behind Hop Slayer Double IPA.  Even Brenden, who looks barely old enough to drink, started as a busboy at the age of 16.  He worked his way up to Sous Chef in the pub's kitchen.  After two years of that, he burned out on the 60 hour work weeks and wanted more interaction with the public. One of the Kainz brothers offered him the Sales Representative job in January 2011 and Brenden hasn't looked back. If you are ever at an event that features Wild Onion beer, you will likely meet this young man who is clearly enthusiastic about this company, the beer, and his co-workers/second family.
This was quite possibly the best Wednesday evening of my life. The good company (from both my fellow Chicago Beer Geeks and the enthusiastic staff at Wild Onion), the good beer, and the good food all contributed to one fantastic night.  My main (and only) criticism of this place was the drive! This place is far. Like, farther-than-Schaumburg far. And trying to get there in Chicago rush hour traffic was nearly impossible. But despite the hellish traffic, I can't wait to go back! And, thankfully, hubby drove home.
–Jessica
All photography courtesy of Christopher Murphy.
For more scenes of  the CBG private tour of Wild Onion be sure to visit our facebook page  (dont forget to hit the like button)