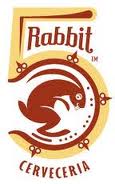 If you dont know about 5 Rabbit Cerveceria they are a true Chicago original. The country's 1st ever Latin microbrewery, locally produced  they proudly incorporate flavors into their beers that make for a very unique experience.  For example their soon to be released, tap only Oktoberfest offering – Vida y Muerte is made w/ dulce de leche & hoja santa (an aromatic herb often used in mole verde)  Their beers are made to harmonize with latin inspired cuisine yet taste amazing with or without food. Last night we gathered in North Center on a rainy thursday to celebrate the relaunch of a beer we haven't enjoyed since Chicago Beer Week: 5Vulture.
When CBG last sampled this beer it was at an epic beer/ food pairing at the National Museum of Mexican Art in Pilsen, 7 dishes total were served that evening.  I love the flexibility of this beer, its flavors work just as easily with meatballs in salsa verde as they do with chocolate cake.  5Vulture is a Oaxacan brown ale made w cinnamon, clove, caramel, piloncilo (an unrefined mexican sugar) and ancho chiles. We enjoyed ours w/ a dish known as Turkey Vulture Fundido:  smoked turkey ,chiles & melted jack cheese served w/ tortillas. This beer really dances when you sip it. It has a great balance, nice, mild, peppery heat on the mid-palate from the chiles, at 6.4% abv it has hints of chocolate and toffee-like flavors that compliment those notes of spice.
The star of the show for me was the pint of 5 Vulture with a shot of Bad Apple's own house-infused ancho chile and brown sugar rum. Served on the rocks it gave the beer welcomed much more pronounced smoky flavor that I really enjoyed. It was great seeing 5 Rabbit co owners Andres Araya  & Issac Showaki in attendance.   We are all excited that they are currently looking in neighborhoods like Pilsen, Bridgeport and South Loop for their brewery which is scheduled to open Q1 2012.
–Nkosio
For more scenes of  from our visit to The Bad Apple be sure to check out our facebook page  (dont forget to hit the like button)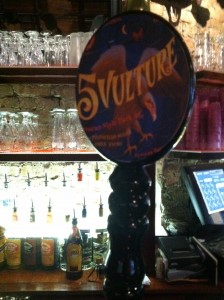 Editors Note: We have been nominated for the CBS Chicago Most Valuable Blogger Award..we are the only crew in any category committed to the mission of promoting craft beer. Help us bring home this award by voting for the Chicago Beer Geeks..voting ends today! …tell a friend! VOTE HERE