Acre used to be the old Charlie's Ale House..yes the same Charlie's that has a location at Navy Pier. A place with an ok, some would even say less than desirable beer list but was a very popular neighborhood hangout in Andersonville. Let's be honest when your in the same part of town that is home to Hopleaf and cult favorite Hamburger Marys, there's is no room to be just be ok. Enter Acre Restaurant a remix of sorts that tonight was giving  us something dangerous & special:  a 25 tap takeover from one of craft beer's most iconic brands – Stone Brewing Co from southern California.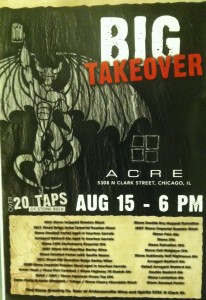 You can't waste anytime at an event like this, you go right to classics. 2007 Old Guardian Barleywine followed by a glass of  2008 bourbon barrel aged Russian Imperial Stout from the only keg available outside of the Stone brewery. On a list that included a vanilla bean version of their Smoked Porter it was difficult to pick a favorite.  Mondays usually suck but sitting patio side with the just released 15th anniversary Imperial Black IPA in my snifter was the perfect way to get the week started.
A conversation at the bar led to us sharing a bottle not listed on the menu-Saison Du BUFF  (the Dogfish, Stone, Victory collabo) w Acre management & Stone reps.  Story goes that during the conversion from Charlie's to Acre a 6pk of this gem was discovered . Brewed with sage, thyme and rosemary picked from Stone's World Bistro & Organic Garden, I was surprised at how well the aroma & flavor notes held together over a year…very impressive.
We should do this every monday.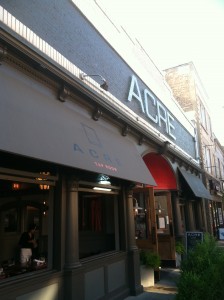 Of the 25 heres the 9 we sampled and enjoyed.
Baird/ Ishil / Stone- Japanese Green Tea IPA 9.2 ABV
Stone Cherry Chocolate Stout 7.3 ABV
Dry Hopped Ruination 7.7 ABV
Arrogant Bastard Aged in Bourbon Barrels 7.2 ABV
Smoked Porter Aged in Bourbon Barrels 6.0 ABV
2007 Stone Old Guardian Barleywine 11.22 ABV
2008 Imperial Russian Stout Aged in Bourbon 11.5 ABV
Stone 15th Anniversary Escondidian Imperial Black IPA 8.9 ABV
Victory/Stone/Dogfish -Saison Du BUFF 6.0 ABV
–Nkosio