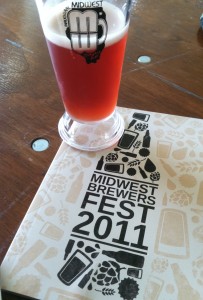 This was in many ways summer's last stand.. 3000 beer fans over 58 breweries and 150 different beer samples all on the banks of the Plainfield River, the 1st ever Midwest Brewers Fest was a quite the scene. Have you ever been to a festival that had a cigar section and a tent dedicated to homebrewing complete with beer being made on festival grounds? ..me either. Many things really stood out for me, the 1st would be the VIP tent. Its one thing to say you have a VIP section, its something else entirely to have a VIP experience thats completely different from the rest of the event. Complete with a rotating  tap list featuring 8+ exclusive beers that seemed to update every hour, air conditioning..music and unlimited food options from Fennigans and Limestone Brewing it was practically a fest onto itself.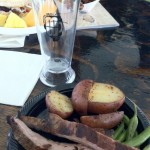 Options like Dirty Bird (Finch) Pablo Picasso (Revolution) Aphrodite (Ommegang) Hop Juice Black (Two Brothers ) Scarlett (Goose Island)  Monkey Wood (Limestone) Hop Slayer (Wild Onion) Dragons Milk (New Holland)and 1 of the 2 cask option available on the day  Do you thinkasaurus rex (Flossmoor Station)  flowed as patrons glanced at their maps , enjoyed treats like Waygu beef sliders,  Angus burgers,  ribs, artisanal cheeses, pretzels, nuts, fresh fruits and decided on a plan of attack at this fest filled with seemingly endless options on over 80 acres.
People who enjoy good beer are typically good people, The MWBF is a fundraiser for the Plainfield Riverfront Foundation and Pints for Prostates. Having a collection of brewers that rival most fests in the Chicagoland area is a great way to bring visibility to these organizations. Speaking of beer this party ran from Noon till 8pm so having a tents to drink  under for  every vendor there under the summer sun was a nice touch.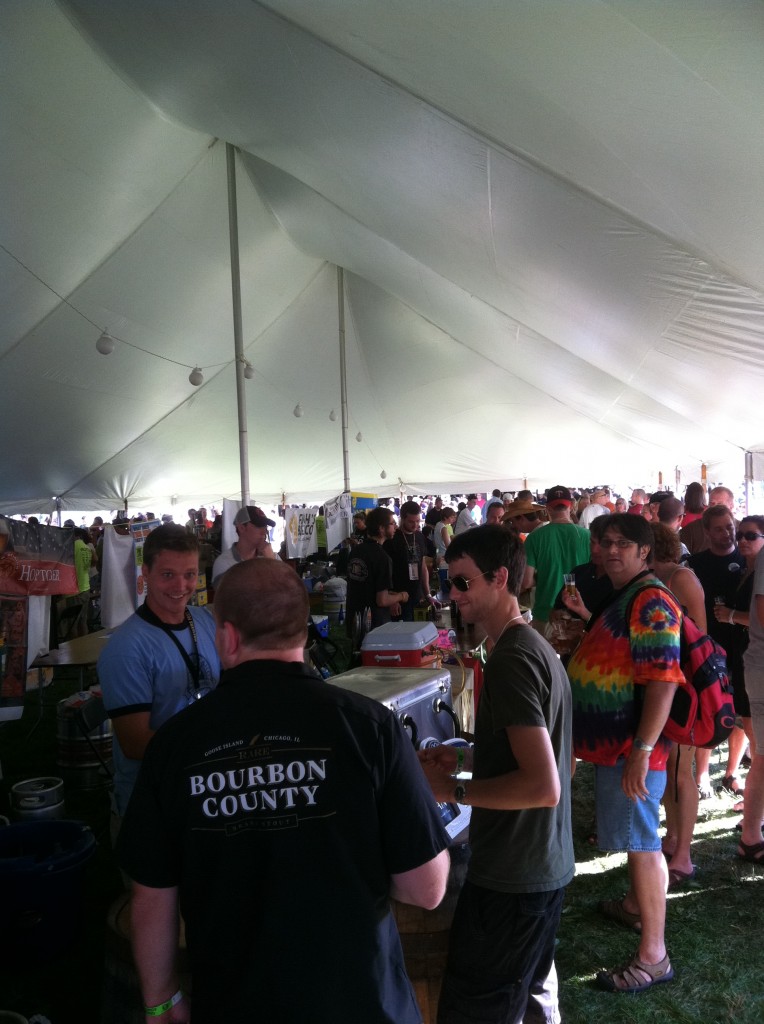 Its natural to gravitate to beers you know are awesome when you see them on tap at fests, Anti Hero from Revolution Brewing for us would be a good example. Its our duty to share those gems that arent so well known..that in many ways the essence of what these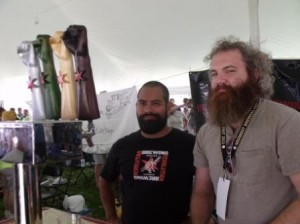 parties are all about.   Sipping brews from places you dont frequent or in some cases have never heard of and sharing  that oh sh*@ moment with your friends. Leading that charge for me on this day was Monkey Wood from Limestone Brewing Company, its the oak aged version of their Brew Monkey belgian ale. Aroma  filled with banana and caramel on this one, accompanied by spicyness and clove from the belgian yeast and nice smooth oak finish. The Pumpkin Ale from Wild Onion was very well done. This fall now I will be looking for cans of this goodness along with the pumpkin offerings from Southern Tier & Dogfish Head that I usually hunt for.
The most active of the 7 tents was easily the Homebrewers Pavillion. This wasnt just some moonshine made in your neighbors garage. These were well executed recipes that made for quite the destination at the south end of the fest. PALE: The Plainfield ALE & Lager Enthusiasts,  HOPS : Homebrewers Pride of the Southside & The Brew Shed all brought their A game to Plainfield. This place had a stage for brewing and crowdgoers got 5 tickets to try samples from the three homebrew groups. The guys from beerexam.com were also in there in the same tent for you to test your beer knowledge from one of their quizzes. (can you name the female patron saint of hops?)2 that I really enjoyed were both Scottish ales; Black Watch; a well balanced easy going interpretation of the style and The Kilt Lifter which at 13% was unusually smooth and drinkable.
I actually rocked the entire 8hr fest. Towards the end for the last hour or so we had a lighting round of sorts, no chugging..just ordering samples and enjoying them at an accelerated pace. As patrons left they would offer you their tickets before leaving. CBG and our friends Suds Savant,  The Greatest Beer of All Time and BeerDownload took time to say a proper goodbye to a great day of drinking on the list. Hop Sinner (Brickstone) Hoperation Overload (Destihl) 15th Anniversary Black IPA (Stone) Flying Pig (Limestone) Panama(Flossmoor Station) BUK (Haymarket) Fixed Gear (Lakefront) and the Big Muddy Monster (Big Muddy Brewing) were a few of the standouts from the lightning round. Congrats to Big Muddy Brewing (Murphysboro) Rolling Meadows Brewing (Springfield) and Argus Brewing (Roseland, Chicago) for being the only craft beer self distributors in the state according to Big Muddy himself : Chuck Stuhrenberg
You might ask like we did how is Stone considered a midwest brewer.  The local Stone server was decked out in a Stone Tshirt sported a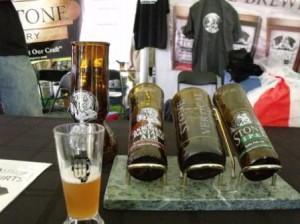 Chicago flag on the sleeve. They also decided to bring hand blown glassware made from Stone bottles featuring one of the most recognizable logos in all of craft beer. Artist Nick Paul treated the crowd to live demonstrations of how he creates these works of art. And of course they brought the aforementioned 15th Anniversary Escondidian Imperial Black IPA a beer not even available in most regions yet….awesomeness over geography at this point.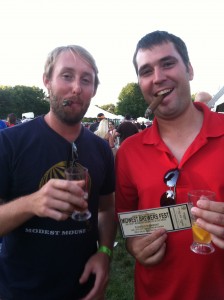 Kudos to the committee that brought this event together. Shuttles moved frequently bringing everyone in and out of the festival grounds seamlessly taking the masses to remote parking and local Metra rail stations..the 200 + volunteers were friendly and very helpful. As with anything done for the 1st time there were a few kinks that could be worked out. Vendors weren't allowed to drink and the city strictly enforced the festival sample pour amount. It would have been nice to see these guys that work hard to bring us tasty treats to enjoy a few as well. I enjoyed seeing bags tournaments, beer supply displays from Brew & Grow, hand blown tap handles from Vessel, 6 live music acts  and of course the aroma of cigars from the good folks over at Burning Leaf Cigars.   As I got my swag bag and headed for the exit a traffic coordinator dressed in a very cool black & gold MWBF work shirt asked if I would do it again. My reply was I never had a reason to come to Plainfield before but it had certainly become a welcomed addition to the festival circuit after today.
–Nkosio
For more scenes from an awesome summer afternoon be sure to visit our facebook page (dont forget to hit the like button)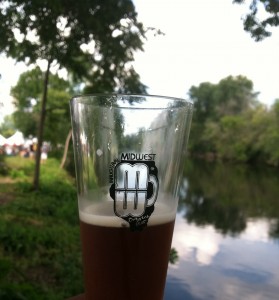 Editors Note: We have been nominated for the CBS Chicago Most Valuable Blogger Award..we are the only crew in any category committed to the mission of promoting craft beer. Help us bring home this award by voting for the Chicago Beer Geeks …tell a friend! VOTE HERE