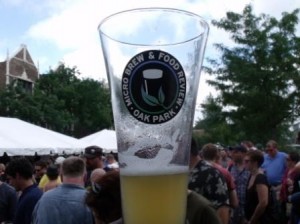 I am getting quite the education in sustainability lately. I recently visited The Plant, a in-the-works vertical farm on the South-side, which will house the New Chicago Brewing Company (to be published soon on girlslikebeertoo) and this past Saturday I attended the Oak Park Micro Brew Review that touts itself as a zero-waste event. It was co-produced by Seven Generations Ahead, an organization facilitating sustainable community development, and the Illinois Craft Brewers Guild, an organization facilitating BEER!  A ticket to the event entitled the drinker to unlimited tastings of over 90 craft beers from more than 30 microbreweries across the Midwest. I had a great time at this event with my fellow Chicago Beer Geek, Nik, and was able to try some fantastic beer!
The line for will-call was huge, although it only took about 15 minutes to go through the line once the bagpipes signaled the beer to start flowing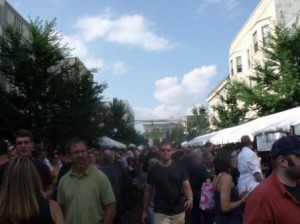 at 3 pm.  There were different levels that could be purchased for more money that would allow the attendee early access for specific tastings. Some of my friends signed up for the Replicale tasting that started at 2 pm and if I go to this fest in the future, it might be worth the extra $15 for this extra hour of tasting. You get a larger glass to use for the remainder of the festival, you get to start tasting the other beers at 3pm sharp while everyone else is waiting in the will-call line, and you get a sweet badge to wear around your neck instead of the traditional bracelet. Definitely something to consider for next year.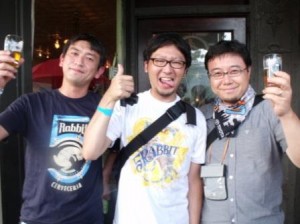 My very first taste of the day was from Shoreline Brewery of Michigan City, IN. I tried the Benny's American Pale, a West Coast style Pale Ale that was clean and refreshing with hops on the finish. There was not much hop aroma on the nose, though. This event also marked my first real taste of the beers from 5 Rabbit Cerveceria. I'm typically not into light lagers and ales so I haven't gone out of my way to try the offerings of this new Chicago brewery. A friend told me to try the 5 Lizard, a wheat beer with a hint of passion fruit. You definitely get the passion fruit on the nose; there is a slightly sweet, slightly sour aroma. It was light and tasted like a wit beer but with a sour aftertaste. I can see how this would be refreshing on a hot, summer day or with spicy Mexican food.

At the Emmett's Brewing booth I had the Belgian Saison. It was very light in color, reminiscent of a pilsner. It didn't look like a typical Saison which is usually cloudy and yellowish, sometimes even pinkish. It also didn't have the typical funky, yeasty nose of a Saison. It had a slight ginger taste but it was more like a spicy pilsner or pale ale than a Saison. The Rock Bottom from Chicago had a traditional Saison, though, and this is what a Saison should taste like: a little funky, spicy, and delicious.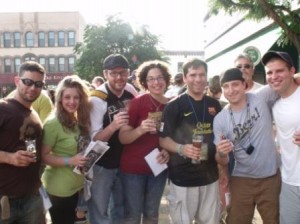 At Blind Pig Brewery, I had the Pale Ale which was very drinkable and yummy with a hoppy aroma of citrus, grapefruit. This was a perfect beer for the hot, humid summer day!   At Rock Bottom Lombard, I had the Imperial Pilsner which was quite tasty. It had a heavy pilsner aftertaste, but not in a bad way. It was malty, bready and had delicate flavors but was boozy at the same time. Nice! I may need to make a trip to the 'burbs to pick up a growler of this one.
I fell in love with Destihl Brewing from Normal, IL at Great Taste last weekend. I had another sample of the Hoperation Overload and the hubby tried the Biere Brune, a Belgian brown that is malty on the start but ends a little sour thanks to the Belgian yeast. It was smooth and crisp, a definite surprise; I was not expecting to like this one.
For me the big winner of the day was Mathias by Haymarket Pub and Brewery. This is a huge malty-yet-hop-forward imperial IPA with a beautiful citrus, fruity nose thanks to the Citra hops. I must have stopped by their booth seven times to fill my tasting glass. And this wasn't a new beer for me; I frequent Haymarket quite a bit. But this is one awesome brew and I kept going back for more!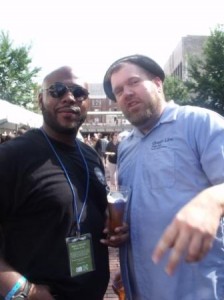 A really cool aspect of this fest was that I kept running into people I know; it had a small town feel which was a very different feeling than I had at Great Taste of the Midwest last weekend. I ran into a friend of a friend who is a homebrewer; a member of my home brew club; a co-worker; and my fellow beer bloggers Paul and Steve from ChiTownOnTap.  Nik, Paul, Steve and I spent a good chunk of valuable drinking time talking and, I don't want to get your hopes up, but there may be a Chicago Beer Bloggers' ale in the works. Stay tuned!
We apparently wasted too much time talking so with 20 minutes left, the hubby declared a lightning round, which, I admit, is kind of a blur. I vaguely remember making it to the Replicale tent. I apologize, dear readers, but I could not for the life of me decipher my notes at this point.
While overall this was a great event, there was some room for improvement. The hubby and I took public transportation (the Green Line, specifically) and when we exited the station at Harlem and Lake, we did not know where to go to pick up our will-call tickets. The signage could have been better; perhaps they should have a sign closer to the train station showing where you needed to go for will-call. My other issue was that some breweries were shutting down around 5pm, with 2 hours left in the festival.

But overall this was an awesome event. I tend to like smaller, more community-driven events and this one exceeded my expectations. I hope the organizers realize what a gem they have on their hands and don't let it get too big (a la Great Taste of the Midwest). I can't wait for next year!
–Jessica
For more scenes from an awesome summer afternoon be sure to visit our facebook page (dont forget to hit the like button)
Editors Note: We have been nominated for the CBS Chicago Most Valuable Blogger Award..we are the only crew in any category committed to the mission of promoting craft beer. Help us bring home this award by voting for the Chicago Beer Geeks …tell a friend! VOTE HERE