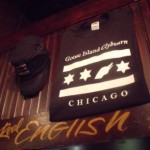 It was the weekend in Chicago which can mean only one thing this summer: it's time for another beer fest!  This time hubby and I headed over to Goose Island Clybourn Brewpub for Belgian Fest 2011, a Belgian-focused event where local breweries bring Belgian-style ales to share with beer fans.  And all proceeds go to non-profit organization Growing Power. I'll raise a beer to that!  The hubby and I decided to stop by the brewpub early and grab lunch.  Even though we had 4 hours of tasting ahead of us, of course we had to have a beer to accompany the meal.  I had the Shakar, a pitch-black nitro porter, which was creamy, roasty, and the consistency of a milk shake.  Hubby, a huge fan of session cask ales, had the Summer Bitter which was biscuity with a slight bitterness on the finish.  As we were finishing up lunch, I saw my fellow Chicago Beer Geek, Nik, and future brewmaster, Christian Burdulis, and headed over to the fest.
he said(Nik)..This was year 2 of this fest for me..say what you must about the mighty Goose Island Beer Company, but they are the most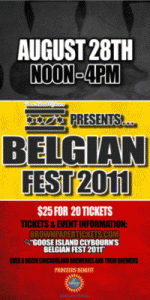 innovative, most aggressive brew crew this town has ever seen. Goose Clybourn is where all the magic happens,  its a  special place we celebrate birthdays, the Blackhawks Championship and its must visit if you are making a run to Lincoln Park Binnys to pick up a rare treat that @beeradam may be holding for you.  It was the scene of Black Friday when nearly the entire Chi Beer Geeks crew gathered to be one of the first to experience a true landmark in craft beer at the Bourbon County Stout Rare release party last winter. Their brewers are practically rock stars among beverage enthusiasts on the local scene. Head pub brewer Jared Rouben and crew collaborate w/ local farmers and chefs all spring/ summer long for their farmers market and chef collaboration series. Incorporating culinary ingredients its the perfect way to celebrate each season. Game changing recipes that bring a sense of style is the underlying theme with these guys ..this place is quintessentially Chicago. Needless to say we ordered tix the day they went on sale.
she said..Due to the small size of the locale it became apparent pretty early on in the fest that we needed some sort of game plan.  The main tasting room would get insanely crowded and you would have to fight your way to the Goose Island taps at the far side of the room. We ended up scouting out a section of a counter in the main lobby where we could hang out and talk, and then go back into the trenches to retrieve beer.  This seemed to work really well so if you are planning on going to this event next year, keep this tactic in mind.
he said….Belgian Fest is so much fun, it takes place on a Sunday afternoon just as summer is coming to a close.  The best part is that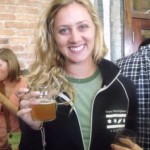 its located on the east half of the pub leaving most of the restaurant open to the public. Its an intimate affair that gets very boisterous and personal very quickly.  The brewers feed off that energy and it becomes one of those events that feels more like a really awesome house party on the northside than a festival.
she said…My first taste of the day was Half Acre's Horizon, an amber-hued ale brewed with mangosteen and hibiscus. It was spicy, malty, with a slightly sour finish.  Rumor has it that this is the beer that Half Acre brewed to go with one of the courses of the current Thai menu at  Grant Achatz's Next restaurant.  I also sampled Small Animal Big Machine, a collaboration between Half Acre and soon-to-be brewery Pipeworks Brewing. This had a light lager aroma and was roasty, almost chocolaty, on the start and then the flavor turned sour.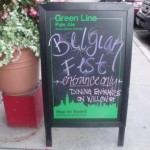 he said…I hit the scene about 1145a and struck up a conversation w/ Andres from 5 Rabbit who I had seen just 9hrs ago in Plainfield. We discussed the aftermath of a fest that  over the 5 Lizard latin witbier..which I had before but..never realized how perfect it was as a breakfast beer until that moment.  Very playful with that sour fruit intro, the tangy and sweet 1st sip, then the clean finish…a really fun beer.
she said….Next I went over to the Revolution booth and had a sample of Mr. Crowley, Rev's Replicale entry at Oak Park Micro Brew Review.  This beer had intense pineapple on the nose thanks to the Nelson Sauvin hops. It had a light fruit taste, and was delicate and crisp. I then tried Finch's Witness, which was clean, crisp and a nice representation of a traditional Belgian ale.
he said.…12 months ago at this same fest I was introduced to a beer that has had me in a trance ever since- the Long Thai Rainbow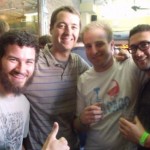 Rye by Half Acre ( a saison w/ thai peppercorns) I wasted no time heading to their tap to greet Mike aka The  Bohemian Troubadour and  to dive right into another creation that I had seen yet never tried..a collaboration w/ Shorts Brewing:  Captain Fantasy  loaded with ace sorachi hops, pears, sweet..spicy goodness…a party in your mouth!
she said….I headed over to the Brewery Ommegang counter to try Aphrodite, a champagne-like beer brewed with raspberry and pear juices.  I overheard someone refer to it as "almost like a soda that's 9% alcohol." And that was actually a pretty accurate description.  When I was little, I used to like this Snapple raspberry soda and this beer reminded me of that.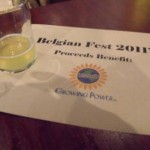 he said…I took 5 good minutes to have a chat with Chicago legend John Hall whom I had not seen since Chicago Beer Week at Twisted Spoke.  This was back in the spring when he took us on a journey through his trips overseas, shared his vision for where he wanted GI to go and gave us a glimpse of what its like being the premier craft beer company in Chicago since 1988. I hope to be one day as cool as that man when I enter my prime.
she said…Lucky Monk had two offerings available: a Belgian Style Pale Ale and a Belgian Style Amber.  The amber was good, although I didn't pick up any particular Belgian essence. The pale ale, on the other hand, had a lovely fruit/grapefruit essence with Belgian yeast on the nose.  I ended up going back for another tasting of this one.
he said…I noticed brewmaster Rich Grant (Finch's Beer) and went to speak when I was greeted by a  rather interesting lady, she was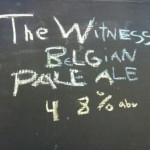 from  Rock Bottom Yorktown, the tap next to the Finch tap. She suggested I try a belgian known as Angie's Ale. It was named in honor of one their customers who was recently diagnosed with early-onsets of dementia. I do not personally known Angie, but I can assure you this beer represented her well and I was much appreciative to the woman who suggested I try it.
she said..Piece sent over a few growlers of one of their beers.  The Goose Island server said it was called Strong, Dark and Sexy, although I don't think this was correct.  For one, it wasn't dark (the server eventually just started calling it "Strong and Sexy"). And it tasted amazingly similar to their 10th Anniversary Ale that is on tap right now.  Semantics aside, this is an awesome Belgian golden strong ale and I enjoyed my tasting.  One of my new favorite breweries, Destihl, was there and I had their Tripel which I hadn't had before.  It was lighter and drier than many tripels out there and was golden in color. A really refreshing, dangerous strong ale.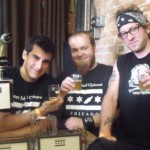 he said…Lets get right to it, Goose Island brewpub brings the thunder at this event. Hit after hit.. its the only fest ive been to where I kept saying… "no this one is the best one ive had so far"  enough WTF moments to fill a venue 3x the one we were in.  Tops on this list and probably the sexiest beer ive ever had was the Barrel Aged Smoked Goose 5.3% abv  a dark, belgian ale brewed w/ Mindy Segal of Hot Chocolate then aged over 12 months in 18 yr old Elijah Craig Bourbon Barrels…dude seriously the crew and I just looked at other, stared..and smiled..a 5 star situation. ..on our twitter feed after one sip i posted "i'd like to thank @jbrew312 simply for being @jbrew312" just an amazing beverage.
she said..The stars.of the show were definitely of the host, Goose Island.  The barrel-aged Gillian, a golden Saison brewed using champagne yeast and
honey flavored with white pepper and crushed Michigan strawberries, was one of my favorites. It had Belgian yeast on the nose with a slight fruit taste. And for all you trivia buffs out there, this beer is named after Gillian Anderson ("Scully" from The X-Files) who used to be a server at the Goose Island Clybourn Brewpub. Fascinating! The Barrel-Aged Sai-Shan-tea was the most aromatic beer of the night, if not ever.  It was spicy and earthy, you definitely pick up the tea. I don't know if I could drink a whole one; it might be a little much. But it was definitely interesting and I enjoyed my tasting portion immensely.  The Barrel-Aged Smoke Goose was phenomenal. It was a reddish brown with a strong bourbon flavor. Delish!
he said…The fun broke out when we made our way to the rear where the Goose taps were..Cherry Dominique!!? the story goes that Dominique is a batch of Matilda that got aged in barrels, with this variation they aged it in barrels w/ cherries.  Grapefruit Sophie a beer named after the founder's granddaughter is one that will convert any wine drinker over the the world of craft beer.  Minx: the Belgian IPA and one of the few brews that made it to the tap list two years in a row was good as ever, it was very seductive at 8%abv hoppy citrus flavors and the sweet smell of orange zest played wonderfully together.
she said…Overall, this was a much more low-key event than the ones I attended the past two weekends (Great Taste of the Midwest and Oak Park Microbrew Review).  It was a good time hanging out with new friends. I also had a chance to meet some amazing people, like Goose Island Brewer John Laffler and the now infamous Stephanie Izard (she's adorable!)  My one critique is that it was very cramped at times and you had to spend a lot of time fighting your way to the taps. It was different from other fests in that some breweries just sent bottles or growlers over rather than having a representative from the brewery there.

he said…What I take away most from this event is that what people need to know about our city is that the Goose Island brewpub makes some of the best beer  in the country.  Today they ran the Indira: a farmhouse ale  made w/  lemongrass  and lemon thyme through a fresh picked lemongrass vessel before moments before it hit your tasting glass.  The Bubblegum Blonde was infused w/ Bubblegum plums from Klugs Farms giving it a rose like color and nice suttle, tart aftertaste. The beers here were creative, imaginative and brought to you by people who are passionate about whats is your glass.  Sundays like this one are the reason why I love this town.
–Jessica
–Nkosio
@nkosio was a contributor to this story
For more scenes from an awesome summer afternoon be sure to visit our facebook page  (dont forget to hit the like button)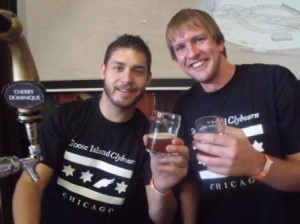 Editors Note: We have been nominated for the CBS Chicago Most Valuable Blogger Award..we are the only crew in any category committed to the mission of promoting craft beer. Help us bring home this award by voting for the Chicago Beer Geeks …tell a friend! VOTE HERE