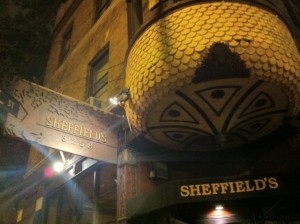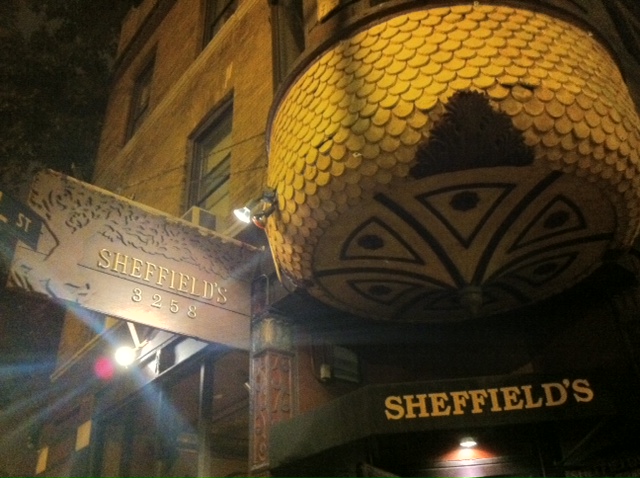 One of the Chicago spots we love is Sheffield's in the Lakeview Neighborhood.  On the corner of Sheffield and School it would appear to be a small little bar from the outside and even by first glance when you walk in.  This is very deceiving as there are 2 additional bars in the back as well as a great beergarden/patio area.
Sheffield's always somehow manages to get some great rarities before anyone else in the city, while we don't know how they manage this we are thankful. This past night was no different as they snagged a keg of the ultra rare Dogfish Head 120 Minute IPA. So Chicago Beer Geeks had to make a visit for this rare occasion.  As with other Beer releases Sheffield's has them in the back bar also referred to as Beer School, so tonight we headed off to class for a Lesson in Hoppy high ABV Beers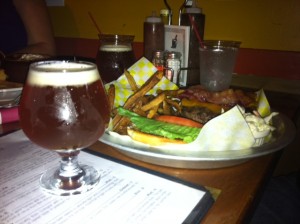 Coming in at an outstanding 21% ABV this hop monster will kick you in the face if you drink it too quickly. It is a sipper for sure. While 120 was absent from the market last year due to quality control issues that you may have read about or seen on the Discovery show Brewmasters, I have had it before poured from a bottle of the 2009. However, this was the first time on tap and this fresh hoppy 2011 does not disappoint. I would say that DFH going back and determining what recipe really worked for this monster brew has only benefited all of us craft beer lovers. It has that fresh in your face hops, and even at 21% is much smoother and less alcohol burn then the 2009 batch I had. This is a beer that can be consumed fresh without aging and be very enjoyable.  Where as I think the older batch benefits greatly from aging and mellowing a bit of the alcohol.
Also on tap was Dogfish Hellhound On My Ale, and at 10% ABV this also was a force to be reckoned with. With a great hop characteristic of Centennial Hops and some great citrus notes, this one is also a great beer that has a little more drink-ability then the 120 due to the lower ABV.
Sheffield's had many other great brews on tap as well but we were there for the 120 and after a few brews and some much needed water we headed out. Another great release from one of Chicago's great beer bars.