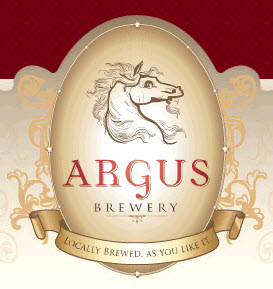 In 18 short months Argus Brewery has made quite the name for itself. The father/son team has been at just about every local beer fest and last week started the 1st in a series of Private Reserve Events in the northwest burbs at The Ballydoyle Irish Pub. Ballydoyle Owner Phil Cullen has the proud distinction of being the only pub in the country to sell Argus' McCaffrey's Irish Creme Ale. The pub's kitchen offered samples of ribeye on french bread w/ bleu cheese, scallops w/ lemon zest and other goodies to compliment the 3 Argus brews being offered. Pegasus IPA, California Steam & Summer Rye.
There are very few breweries that make the California Steam style beer, its a technique that uses a special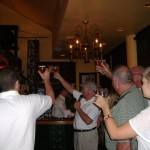 strain of lager yeast, a method very popular around the time of the gold rush in cali around 1850. CBG associates in attendance were quite impressed with all 3, especially the Summer Rye but gave the nod to California Steam as best in show for the evening.
The Private Reserve series is a little different from your typical beer tasting event. Owner Bob Jensen is very engaging and invites personal feedback regarding his brews, reports are that moments after meeting him you feel like a longtime friend. It was a welcomed approach that was viewed by some in attendance as a private party..and a really fun gourmet focus group of sorts. Jarrett Payton: Former NFL Player and son of Chicago Bears Legend Walter Payton was in attendance as a guest speaker. Payton is a motivational tweeter, a craft beer fan and friend of Bob and Patrick Jensen. Jarrett's sister and co host of Chicagos Best Britney Payton made a brief appearance as well. The Argus Brewing crew plans on having these events weekly in the future.
–nkosio
-all photos courtesy of Facebook
–@ILGirlsPintOut was a contributor to this story