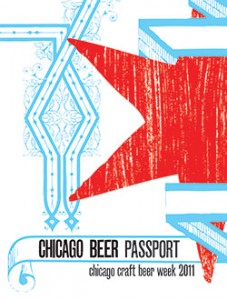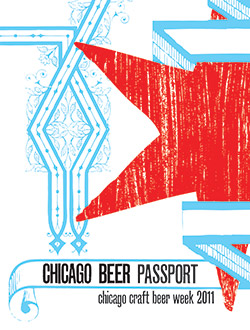 "In Chicago we drink for a reason..and we are really really good at finding a reason"
–Pete Crowley
With more bars per capita than NY or LA and more golf courses than any other U.S city, we tend to work hard and play even harder. We gather in large crowds, pack our favorite venues, exchange laughs and party our ass off. This week is about the City of Big Shoulders celebrating the art of craft beer that in many ways we helped define. With over 30 restaurants offering custom beer/food pairings and 70 venues serving the most delicious beer in the nation. Its also a chance for us to rediscover this town from an angle we wouldnt normally to explore it. This is the 2nd Annual Chicago Craft Beer Week, here are some of the events we attended.
Opening Ceremony @ Garfield Conservatory: Beer Under Glass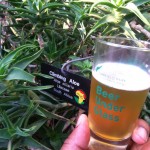 One of the largest structures in the world dedicated to natural landscapes, this 4.5 acre gem served as the host to opening night.   Soldout crowd with 1100 tickets purchased, 25 breweries and a host of restaurants in attendance.  Easily one of the most unique backdrops to host any event, there are 7 different climates each showcasing vaulted ceilings and an array of spectatular plants that really felt more like an art gallery than a garden.  Guests were treated to a tap list that  included instant classics like Mathias from Haymarket & 5Lizard from 5 Rabbit Cerveceria  it was hard to not have an amazing time at this event.  Beer Under Glass represented the 1st we have had a noteworthy beer fest on the west side of town in over a year. The house band greeted patrons with tunes while the line for the Marion Street Cheese Market samples grew out of control. One of the stars for me on a day like this was ice cream stand with samples of sorbert made w/ Half Acre Ambrosia (American Pale Ale),  Freedom 78 (Pure Guava IPA)  and strawberries.
Revolution managing partner Josh Deth hinted at a potential 'Revolution Walk'  that would begin at the brewpub and make its way all the way to U.S. Cellular Field on June 25th the weekend the White Sox host the Washington Senators..stay tuned!
Best In Show:
Dos Osos -Revolution Brewing
Birthday Cake- Rock Bottom Warrenville
Mathias IPA-Haymarket
Apple Pie-Hamburger Marys
Ginger Twin-Half Acre
Beerfly Alleyfight @ The Drinking & Writing Theatre:  Haymarket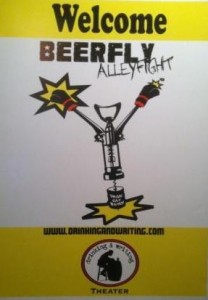 A homebrew & food pairing / live art performance  competiton where the audience picks from the best combination of the three. Each team presented their interpretation of a Belgian Style IPA .Beer and Food have a marriage better than most of us ever will, this was evident from the 1st sample I tried.  It was fun to see how many different types of food paired perfectly with this beer style. Everything from choclate crepe cake  to pork tenderloin to belgian smores was presented as a duet with a beer prepared specifally for that dish. Heres the description from one of the  best entries I tried this day by Brewer Karl Elvin.

Beer: A Spell of Riot, Belgian IPA
Belgian Pilsner Mat, Carapils, Munich, Warrior & Centennial Hops, Belgian Candied Syrups & Belgian Yeast.
Food: The Angry Duck
Duck Vindaloo on Pilsner Malt Parathas w paprika yoghurt & chopped cilantro garnish . Fresh Mango Chutney on Papadom. Warrior Hopped Mango Lassi w/ Belgian Candied Syrup and Bombay Sapphire. Tranlastion: It was duck curry served on flatbread w/ an delicious mango & Bombay Gin blended smoothie as dessert!
The Drinking and Writing Theatre at Haymarket was playfully crashed  by CBG pal John Laffler from G.I who brought his "Belgian IPA"  which tasted more like a raspberry sour ale ( a very tasty one)  Complete with a bourbon barrel to share beverages on, John's station paired his beer very nicely with samples of  gin & tonic w/ wildberries.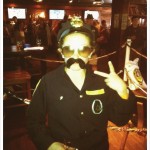 Aside from the abundance of libations there was art, really good art in all forms as each of the 8 teams had a live performer who played for the crowd. Team 1 got things started with an ode to Ningasi – The Sumerian Beer Goddess widely credited with serving an intoxicating beverage that was later recognized as one of the worlds earliest known beer recipes. This poem set the tone for an afternoon of live theatre that was both eye opening and wildly entertaining.
Dogfish Head,  Half Acre, 3 Floyds Collaboration Event: Bridgeport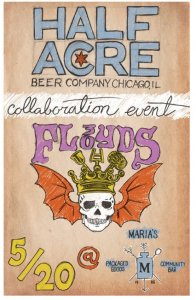 Just blocks away from White Sox Park this tap list was too big for just 1 location. Things started at Marias Packaged Goods & Community Bar & ended a short walk away at a cultural center/art studio known as  The Sphere.  Just for the record Half Acre Brewery really brought their A game to these events.
Best In Show
Hellhound On My Ale-Dogfish Brewery
Evil Power-3 Floyds
Brandy Barrel Aged Ambrosia-Half Acre
Marty Stouffer's Wild American Barleywine-Half Acre
My favorite beer from the Half Acre Beer Company is Long Thai Rainbow Rye, its a saison made with thai peppercorn. Its the oddest of beverages, light & clean, pours like champagne almost but its got this mild spicy note that tickles you for second when you sip it. I had it at Belgian Fest last year, the guy who served it to me was here at the Sphere.  A fellow who's business card reads ' Bohemian Troubador/ Brewer' we chatted for a few then shares with me a that a batch of this beer was recently put in hand number bottles for the summer. A version made with belgian yeast and aged in wine barrels with raspberries & honey!! WTF!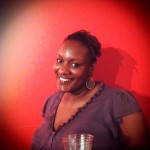 The Sphere featured an art exhibit celebrating Mexican Ranch Culture in Indiana. On display were  photography, videos and paintings from a family that lives in Chicago and maintains a family ranch over the border in the Hoosier State.  This space was experimental and kinda fuckin weird, the basement stylistically was a complete 360 from the main floor.  The bass heavy tracks and black flourescent lighting made the basement level feel like an entirely different festival.In a neighborhood where lowriders and '64 Chevy Impalas made the block vibrate when riding by, you ran across people from every walk of life, a melting pot of styles and colors that was cool as hell to see all under one roof.
–nkosi