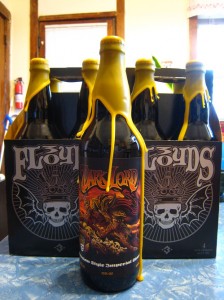 It was one of  the most the sought after tickets of the year w/ prices peaking around 300$ each on stub hub last month (30 times the face value)  it's part beer geek picnic, part festival & concert . It's the one day of the year where fans travel from across the country bringing the best items from their cellar to share with total strangers. Its the most celebrated beer the midwest has ever produced, last year drawing 12,000 fans to northwest Indiana.  It is the Dark Lord Russian Imperial Stout from Three Floyds Brewery.
By now you know the drill,  Dark Lord Day is the only day of the year you can purchase a beer that since it's debut back in 2004 has been consistently rated one the top imperial stouts in the world. Your golden ticket allowed you to purchase 4 bottles of the 2011 vintage, with a twist different from years past. The tickets had a scratch off on them and if yours revealed the winning logo you won the rite to purchase 1 of 4 variations Brandy Barrel Aged Dark Lord,  Brandy Barrel Aged Vanilla Dark Lord, Dark Lord aged in 23 yr old Pappy Van Winkle Barrels or Dark Lord De Muerte (barrel aged w/ ancho and guajillo peppers)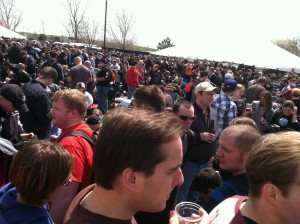 This beer is the goods..16% abv it's  chocolate, indian dessert sugar,  Intelligensia Black Cat expresso, an insane blend w/ a fierce, diabolical character on the bottle label.  When I last had one on Christmas Day last  it kinda reminded me of a gourmet fudge cake.  CBG arrived at 8am to a line that could have easily been 1700 people. With a dozen donuts and a cooler of rare brews we got acquainted with our neighbors and sipped on treats worthy of the occasion like '07 Three Floyds Behemoth. The Chicago Beer Geeks team has the good fortune of having  a presense  at the last 4 Dark Lord Days. Gone all the glory days where you didn't even need a ticket to purchase a bottle.  No signs of the chaotic 3 lines converging into 1 for your allotment. What's left is a well planned event that efficiently used the brewery space to make the experience pleasant for every one in attendance.
A big draw every year are the guest taps and of course the different variations of Dark Lord available only at the brew pub. Guest taps are all located outside (Goose Island Bourbon County Stout Rare was gone  in 5 mins)  Unlike years past we took the day to just enjoycatching up with folks in the beer community that weve met over the past fews years and celebrate this beer culture we love so much.
People who enjoy well crafted beers are typically really cool people. Instead of a making a mad dash to the pub, we enjoyed a perfect spring day while friends and acquaintances brought us samples of Vanilla DL, Brandy Barrel aged DL,  DL '11 and grilled tacos w/ Dark Lord salsa. It was a day in the sun that for many people marks the official start of the Chicago festival season.  It was a treat seeing staff from Lush Wine & Spirts, 5 Rabbit Cerveza, Chicago Foodies, Hopcast, Goose Island all in attendance not in a promotional capacity, just as faces in the crowd at a kick ass festival. There may be stouts you for some reason prefer over the Dark Lord in taste alone, but this is still the undisputed rock star of the beer world.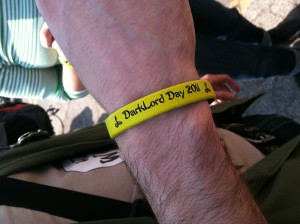 cheers!
–nkosi