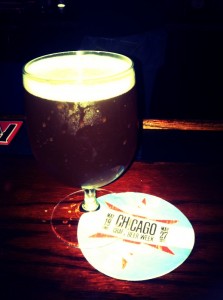 Honestly this may as well have been Christmas week they way we anticipated this celebration. In part 2 we were caught a bit of guard when ran into Chicago legend John Hall at one of our favorite spots on the Near West Side. Would we be corny and discuss Anheuser Busch in a way that overlooks the fact his crew are still the premier innovators in this industry? (wouldnt that be like focusing on Mayor Daley most unpopular moments and not discussing milestones that transformed our city?) If youre honest with yourself leaving Chicago more economically viable than you found it is the goal of every business owner.  If Goose Island sold their interests to JP Morgan would we care ??  Much in the way the Millenium Park converted 24 acres of exposed railroad tracks into a world class outdoor theatre and green space, I wouldnt be suprised if this deal ultimately left a similar imprint on our town.
Goose Island Presents Twisted Goose @ Twisted Spoke
The story goes that bars like Lush Wine & Spirits and Twisted Spoke were some of the 1st to support the upstart Goose Island Beer Company back in the early '90s.  As a result traditionally the rarest of G.I. beer events often take place at these 2 bars. Brewmaster Greg Hall would arrive at this place nearly 20yrs ago with a then unknown Bourbon County Stout and insisted the owner sell it from a snifter. It took some time for the idea to catch on but needless to say things eventually worked out, now breweries from coast to coast all have a barrel aged offering in their lineup. What brought us to Spoke tonight were the variations of this brew that were bottled last year – Bourbon County Vanilla ( now retired ) and Bourbon County Brand Coffee Stout.
The tap list included a new addition to the BCS Coffee lineup- Honey Badger. Made from the Intelligensia expresso blend that includes coffee beans from Brazil & Kenya, this batch has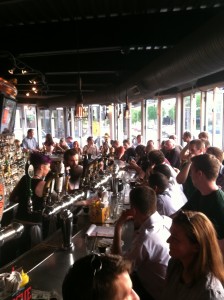 a "heavy doses of citrus, cane sugar sweetness and black currant"  that you notice immediately if you were a fan of the original.   Aside from Honey Badger there was the dangerously smooth Lazurus ( the 2nd runnings of BCS dry hopped)   it was 9 %  and unbelieveably drinkable.  A random question posed to a Goose Island advertising exec led to a few introductions and a round of drinks with these gents, one of which happen to be the founder of the brewery hosting the event. A conversation ensued that took us on a whimsical ride through the history of this iconic brand.  Stories about the single batch of BCS aged in 20 yr old barrels that was never released to the public. Tales about how what later became G.I started as a term paper he wrote in college about a bar he wanted to open called  'The Library'  or how Chicago with its central location and youthful trendsetting citizens offered a backdrop that resonated with the surrounding areas, which allows for the cult following they have today. John dreams of having a local  million dollar eco friendly brewery that "would be the envy of the world"
Cult favorites like Marisol- a Belgian Ale ale collaboration with Chef Rick Bayless will be in bottles soon.  Scully – the strawberry saison is also set for production, with a bit of a twist. There are renamimg this brew to Gillian. In honor of Xfiles star and former Goose employee Gillian Anderson.
The Origin Of The Rabbit-5 Rabbit Brewery @ The National Museum Of Mexican Art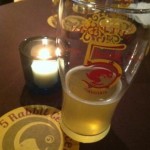 Americas 1st latin craft brewery, 5 Rabbit made quite the impression during CCBW. Debuting in stores late June '10 this south side cerveceria hosted a very well executed food and beer symphony that for me was from a taste perspective the jewel of the entire week.  This event was filled with "the  energy, passion and amazing richness of Latin culture"   Guacamole sprinkled with pomegranate and queso cotija, chicken empenadas, flan topped w chocolate cake with 7 dishes total during their food harmonization were paired with three 5 Rabbit beers.  To learn more about that 5 Rabbit story and its founding members check out this review from @traveljosh  http://trib.in/iV5EC8