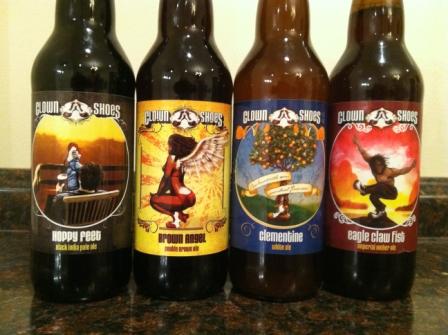 Last week Clown Shoes Beer made their debut in the Chicago market. The craft brew makers from Massachusetts (30 miles north of Boston) Invaded chi city with truck loads of their offerings taking up prime real estate in some of our favorite retail stores. The company is barely a year old, but there was a fair amount of buzz  on the streets about their arrival so we had to sample a few. It's hard not to like these guys; they did a great job on packaging and price point w/ these bottles. Much like Southern Tier brewing out of western new york, it's a good low budget alternative to some of the local choices we have without sacrificing quality.
Best in show for me was the Clementine, very much on the summer ale side of the taste spectrum: light, clean, sweet orange notes. It's like a Blue Moon for real beer drinkers. Smooth, lots of flavor, not too heavy, more importantly no one flavor dominates the other.. it's a damn good beer. The name Clown Shoes plays off of the company mission that they "produce beers without pretension while being free..and a little crazy." Their story is one that reminds us of the spirit of entrepreneurialism and how quick a hobby can turn into a profit. A group of guys who owned a liquor store and really enjoyed the beers they were ordering, decided to make a series of their own beers as a side project. A year later the brand is distributing in some the country's biggest markets.
The Brown Angel described as a double brown ale, isn't your traditional brown ale at all. The flavor is more American style than English w/ too many hops for this beer geek. It's a 5 star label, a 3 star beverage. Hoppy Feet (black IPA) and the Eagle Claw Fist (red amber ale) were both a welcomed break from the usual brews I would normally pick up. If you find yourself in the mood for a treat w/ a nice ABV that is easy on the wallet…you should totally do the same.
cheers!
–nkosi