One thing we've learned w/ certainty these past couple weeks is that the state of Michigan owns craft beer for the month of January. The Double Trouble release from Founders handled business last week as the opening act for the insanely delicious, highly anticipated, wildly popular cult favourite..Hopslam from Bells Brewery. You could argue that this is the best beer on the entire market. Chicago Beer Geeks attended 2 righteous launch parties- a vertical tasting of '10 & '11 hopslam goodness on tap at Sheffield's then on the south side at the Binnys Tasting Room for a rare treat…. Hopslam on cask.
On tap @Sheffield's the brew has a refreshing bouquet w/ hints of fresh fruit and loads of simcoe hops. No one does hops quite like Bells Brewery (except maybe Floyds) its the type of beer that converts mixed well drink lovers into fans of the good stuff. My assessment is this brew is so awesome that if you don't like it..you are probably a terrorist.. Served in a tulip it was fresh & smooth w/ slight pineapple & grapefruit notes going down, well carbonated nice bitter hop profile to compliment the citrus flavor perfectly. Some think its easy to just shove hops and honey in a bottle then slap a label on it, I had a new appreciation for this beer after the vertical tasting. Last years edition was a bit lighter in color resembling a golden lager, it was my favourite beer of the night. The hops? ..nearly all gone. Whats left is this sweet caramel like aroma & fun alcohol presence that blended oh so nicely w/ the honey. After 12 months Hopslam has the mouthfeel and maltiness of a nice american barleywine..a complexity that really caught me off guard.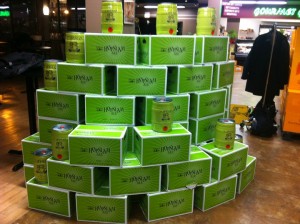 At Binnys we waited near an hr for the Bells rep to show up to tap the only firkin of Hopslam in the city (geek side note: draft beers are typically kept at cold temps.. gases like cO2 & nitrogen are used to force beer out of the keg into your glass…casks or firkin are served at more of a room temp & uses only gravity to release the beer. its a much more natural way to enjoy your drink..got it ? ok good) The cask version is dangerously smooth very little head, luscious and very aromatic, big flavor,  a bittersweet harmony of epic proportions..the temp difference really lets you enjoy those creamsicle like undertones.. it was so good I wanted to leap across the bar & hug the dude who filled my glass…an amazing beverage. The firkin (about 128 glasses worth) was gone in 40 mins..as a result the Binnys affair escalated quickly into us sampling the Hopslam minikeg version we purchased & sharing w/ our neighbors- a group of techies from a nearby bank..who in appreciation sent us a round of tequila shots. The place was loud, the crowd was festive, the Bells rep arrived in a suit w/ mallet to tap the cask.  Hopslam week 2011 was a hit.. is it the best imperial IPA of all time? That's for you to decide, but very few beers bring out the masses like this.. one of the best weeks ive had in this town in a long time.