All day long we would hear things that really made us smile. "It's a great day to be at Kincade's!" or "Things like this never happen here!" With the help of our friends from In The City TV we were able to create craft beer moments that people wont soon forget. The Bears Bash is concept is pretty simple- invite people to rediscover accessible,  world-class beers, film a TV show live, and host a rare beer raffle all during the Chicago Bears game. This was our 1st party of the year (co-hosts), the logical choice for us was to feature one of our favorite breweries – The Goose Island Beer Company.
Kincade's is a location that has 312 and Green Line on tap, but mostly caters to macro beer drinkers (1$ Bud Light Wednesdays for example) It's America you can drink whatever you want. We decided to offer beer drinkers samples from a pair of Goose Island classics – Matilda and Goose Island IPA..first two rounds compliments of The Chicago Beer Geeks!  Our philosophy is that if this wonderful world of ours is to grow in a way that we can all appreciate, we need less snobbery and more geekery. We met the casual beer drinker at their neighborhood bar and threw a party introducing them to beers they typically don't see on tap at that bar…it was magical!
I've always said that places like Kincade's are the most important bars in town. They do a great job catering to the macro beer drinker,but always have craft options on tap. It is those places were conversations that lead to the growth of craft beer begin. In addition to beer samples there was an optional beer raffle (15$) where you could win some insane prizes for that price point.
Here is the complete of Bears Bash Raffle Prizes.
-Boogoop Three Floyds/ Mikkeller limited edition Wheatwine collaboration
-A bottle of 2011 Three Floyds Dark Lord Russian Imperial Stout!
– Goose Island Classics including Lolita, Juliet & 2012 Bourbon County Stout!
-Chicago Brew Bus Tickets($120 value)
-2 Tickets to The Lager Jam Craft Beer Festival at Mahoney's Pub & Grille ($50 value)
-Gift Cards ($90 value)
Frank-n-Dawgs
Wrigleyville Sports
Twisted Lizard    
-Chicago Beer Geeks Homebrew Experience Featuring Powell Brewhouse
-Chicago Beer Geeks T-Shirts
-Kincade's T-Shirts
-Goose Island T Shirts
-Chicago White Sox Tickets
-Party for 20 at Kincades   
-Brunch at Odonovan's Bar & Grill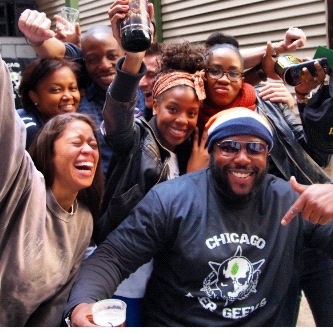 This event was so nice..we have got to do it twice. A special thanks to our pals at Goose Island and Kincade's Bar & Grill for their support. Enjoy the photo reel below. The In the City TV crew did a rockstar job as party hostess, we couldn't imagine working with a more awesome team.
If you missed Bears Bash we are at it again for the Bears vs Jacksonville game on October 7th.  We will be spotlighting Chicago's Original Craft Beer- Baderbräu at The Garage Bar and Sandwiches. The Chicago Brew Bus will be providing bus shuttles from the Jefferson Park Blue Line. There will also be a beer pong presentation from our friends over at Chippewa Five. …dont miss it!
–Nkosi