Wisconsin isn't just the home of Happy Days, Summerfest and serial killers. On the otherside of the cheddar curtain is a beer and coffee culture that rivals any in the Midwest.
The latest import from Milwaukee is Colectivo Coffee. This crew is 23 years old, about 6 years ago they made the decision to add beer production to compliment their bakery and scratch kitchen offerings.
In Central America it's not uncommon for an entrepreneur to buy a school bus and drive people around to work on the various farms in different towns. These buses are called colectivos. This idea of bringing everyone along with them on their ride is something the founders value and that's why they chose it as the name.
This summer we sat down for a patio chat with 10-year company veteran, Bill Suskey of Colectivo on opening day at their Lincoln Park, Chicago location. The latest space has an outdoor fire pit, serves espresso, beer and nitro cold brew on tap.
Here are some excerpts from our conversations.
CBG Nik
What's the quick skinny on this crew called Collectivo from Milwaukee? You guys are both brewers and coffee roasters?
Colectivo Bill
Coffee guys tend to be beer guys too. 23 years ago we started a roaster then started buying small coffee shops then big coffee shops. Chicago is our 17th location. We have always roasted coffee; we added a wholesale bakery about 15 yrs. ago. We make all our baked goods and scratch goods. About 6yrs ago a group of avid homebrewers within the company impressed the owners with their beer, so we started producing beer. We contract brew with 3 Sheeps Brewing up in Sheboygan, Wisconsin. We don't make giant batches, just three or four seasonal rotators with one year round tap.
Today for tasting we have our Lemongrass Pilsner. It's made with lemongrass from a coffee co-op that we buy from in Honduras. We imported some for this beer.
CBG Nik
The beer / coffee concept is at all the locations?
Colectivo Bill
It's at about half. Some of the more remote or suburban location wont have the beer. Neither will a place like State St. in Madison, WI.   The pedestrian walkway between the university and the state capital won't have it but most other locations do. There are already quite a few bars on that strip.
CBG Nik
So why Chicago?
Colectivo Bill
Essentially we do fresh roast coffee and pastries everyday. We send a truck to every store daily with those products. Chicago is the next logical market for us. Madison is a little closer but we have a lot of great products to offer. Chicago in my perspective is stuck between a place like ours and a very sophisticated coffee bar that does coffee and not much else.
CBG Nik
That sounds like the Intelligentsia bar I enjoy in Logan.
Colectivo Bill
There's been great coffee in Chicago for years. We've been looking for quite some time for a Chicago location. This is a place we fell in love with.
CBG Nik
What other beers are we trying today?
Colectivo Bill
We have One Tun Pale Ale, it borders on an IPA and Cortado Coffee Stout w milk sugars. We have a drink here- The Cortado, it's half espresso, half milk. This is the beer expression of that drink.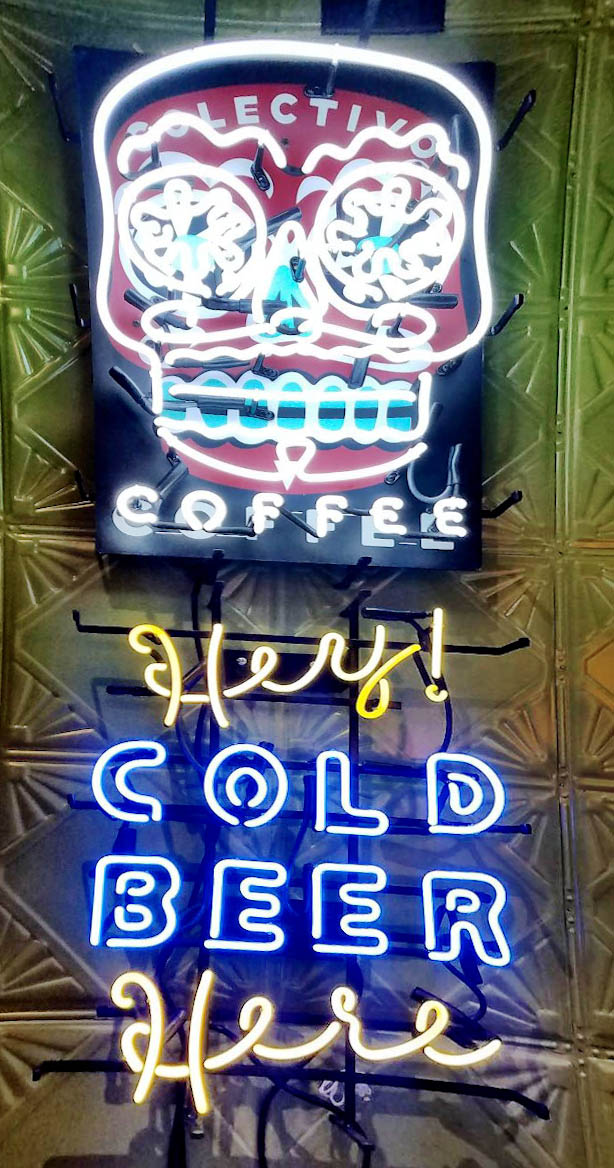 CBG Nik
I dig how forward the lemongrass is in your pilsner. We had pineapple wheat ale across the street and it was fruit forward in aroma only, you couldn't taste it.
Colectivo Bill
I never say this but our lemongrass pilsner is actually good on ice too.
CBG Nik
So lets talk about coffee. We typically have one or two non-drinking days for beer but coffee is something we drink all the time. I'd like to know more about your relationship with coffee before it arrives at your facility for roasting? Like how important is it for you to know the farmers you import from?
Colectivo Bill
It's one of the largest import/ export commodities in the world only second to oil. Coffee is big business; every country has an exporter for coffee. We have an importer in America who works with an exporter who buys it from a farmer.
If you don't go directly to farmers to see what's going on you are left with trusting all these middlemen to tell you about quality. We as a company send groups of 5 or 6 people to different growing regions to taste coffees.   We'd like to know what's going on at these farms. If we don't know the conditions it's all just hearsay. Our coffee buyer is part of the group that goes out quarterly, so are café managers, roasters and bakers.
CBG Nik
I've had some local roasters tell me in so many words that we are doing it all wrong if we don't prefer single origin coffees? That view seemed a bit restrictive; I wanted to know your thoughts on blends vs. single origins.
Colectivo Bill
Our most popular selling coffees are blends. Single origin is a funny term because our Colombian coffee is single origin, it all comes from Columbia but it's not from one farmer. It's probably from 20 different farmers and that's what we offer from Colombia for the year.
We have a series called Featured Farms. It's a specialty coffee where all the beans are from one farm. So we bring in a 'micro lot' of 12 bags, each bag is 100 kilos and this will last at our cafes for about a week.
When we find an exceptional coffee from our farmers we will buy it as a lot. The farmers profit more when it's done that way. When we blend, we pay a little less. It's easier for the mills to process a blended coffee because it doesn't have to be isolated.
CBG Nik
It sounds like single origin is more of preference. Is it fair to say?
Colectivo Bill
Agreed. Most people will likely enjoy blended coffees more popular because single origins are going to give you some great notes, some notes that are just ok. With a blend you can highlight all the great notes and minimize the rest. There are people that can do a blind taste and identify the single origin vs. blended coffees, we employ many of them. I've been here for 10 years and have seen my fair share of blind tasting competitions.
CBG Nik
It sounds like wine production where this barrel is higher in acidity and this barrel is higher in tannins so you blend both for a pleasing experience.
Colectivo Bill
Exactly.
CBG Nik
I have a friend who is a general snob about everything in life. She thinks the coffee grinder that pulverizes is a better solution than those with propeller blade grinders because the end result is lower in acidity. What are your thoughts?
Colectivo Bill
So what comes out of the blade grinder isn't very consistent. Some pieces are big and others are fine and powdery. This uneven grinding process leads to equally uneven flavors during extraction. The Burr grinder is basically a pair of cones with a gap in the middle. This method produces a more consistent grind. For 70$ you can find a pretty good Burr grinder.
CBG Nik
Tell me about the 3 Sheeps partnership.
Colectivo Bill
Sheybogan is pretty damn close to Milwaukee. Once we decided we wanted to make beer we reached out to a few local brewers, one was in Madison. He had a really hard time keeping up with production. The 3 Sheeps Brewmaster is good friends with our Head Roaster. They were working together on a different project, the 3 Sheeps coffee beer. After that everything fell into place. The brewery has grown a lot since our relationship began. So now they are doing other things for us like our nitro cold brewed coffee. We roast and grind fresh coffee, drive it 30 minutes up to Sheboygan, it goes into a fermenter with cold water, it sits for days, it settles out then gets nitronated and kegged by Grant Pauly (3 Sheeps Brewmaster) so that we can pour it on a beer tap here.
A lot of people, when they do this make a cold brewed coffee in a bucket. Next they put it in a corny keg and shake it, hit the nitro on it and shake it again. I'm going through 100 corny kegs a month in the summer, that's a bit much for us. We take coffee to Grant and he handles the rest of that process.
CBG Nik
It's fantastic when worlds collide like this and we get to learn more about other beverages we enjoy.
Colectivo Bill
Yep. We are working with Grant on a way to bottle this nitro coffee product. He uses an inline nitrogenator?
CBG Nik
What the hell is that?
Colectivo Bill
It's basically a soapstone bubbler. You pump beer through it and it foams nitrogen into the beer as it's pushing through. They are selling small versions of it for the coffee market now. You just make a cold brew in a corny keg and this thing nitronates it as you tap it. He's using something similar but on a larger scale.
CBG Nik
What's the shelf life on a product like this?
Colectivo Bill
It's kegged at a brewery so it's clean and sanitized. We keep it under refrigeration for 90 days, that's our shelf life. Beer kegged for 90 days is not unreasonable in any way since its done there in a controlled environment. If I were doing it myself and made it in a bucket then dumped it into a corny keg that have both been exposed to air it would not be the same product.
CBG Nik
What other brewers do you enjoy in Wisconsin?
Colectivo Bill
I live in Central Wisconsin about 10 miles from Amherst, Central Waters Brewing is there. Every year they release a big 13% IPA called Illumination. At the brewery when its young there's so much hoppy fruit character but after you drink one, you can't taste anything else. That's a fun brewery if you're driving around Wisconsin. It's a big steel building that is all solar powered.
CBG Nik
Now you guys are up to 17 locations. Is this a Midwest thing? Are most locations in Wisconsin?
Colectivo Bill
Three guys in Milwaukee started Colectivo, the same guys that run it today are the guys that started the company 23 years ago. The founders pick the locations and designs they are very hands on. We are a Milwaukee company essentially. We've branched out a bit to Madison and Chicago but there are no plans for global domination.
Milwaukee is a funny town when it comes to coffee. You have a bunch of really good independent roasters. We are the bigger of them, but not a huge roaster compared to Starbucks. . You've got us, Anodyne Coffee, Stone Creek Coffee, Valentine Coffee. We're all good roasters. Starbucks up there isn't like it is in down here in Chicago, you'd have to drive five miles to get to the next one. For a town like Milwaukee with 1.5M people that's a far distance. It's not that there are less coffee shops, just less of those.
CBG Nik
You're making me want to get up there to check out this scene.
Colectivo Bill
We have a café on Lincoln Memorial drive if you ever get up there right on the lakefront. It's the best patio in Milwaukee. We have about 250 seats. On Thursday nights we do live music. We host the Florentine Opera Company one week, collaborate with the Marquette University's Latin Arts program the next week.
CBG Nik
Speaking of collaboration. Colectivo employees create beer recipes correct?
Colectivo Bill
Correct, in house brewers go up to 3 Sheeps to work with Grant on recipes that will work.
CBG Nik
What's an average week like for you these days?
Colectivo Bill
Part of my role is dealing with contractors, licensing and permitting for new locations. Chicago has been a learning curve for us as a company.
CBG Nik
This café has a vibe that's different from everything within this two-mile radius.
Colectivo Bill
I hate to use the European café analogy but its sorta true. Food is an afterthought at so many coffee shops..not the case here. There's a lot that goes into the food here.
CBG Nik
You guys open at 6am, does the beer go on at that time?
Colectivo Bill
The beer goes on at 11a here in Chicago. You can serve beer at 7am in Wisconsin.
The cutoff is 2a and 3a on weekends. The early start time is for the third shifters. Milwaukee is very industrial; those factories are running three shifts with many workers getting off at 7am.
CBG Nik
I dig it. Who wants to just go home and hop in the bed at 7a?
One more thing before we wrap. What type of coffee setup do you have at home?
Colectivo Bill
I have a Burr grinder, it's probably nicer than what I need. I also have a very nice drip coffee maker, it's the Technivorm from Finland. It gets so hot so fast that the lights dim in your kitchen.
If I just want a cup of coffee I use a pour over and I'm done..that's how I drink coffee. If people are coming over and want coffee I use the Technivorm.
Either way I recommend a scale to help find that magic ratio (grind setting, coffee and water). I have mine written down, it's taped to drawer that I keep the coffee in.
–Nkosi
Other Notes:
-Projects in the hopper for Colectivo + 3 Sheeps include Tea Sodas: an herbal ginger tea with a little bit of honey and acid carbonated.
-Beers sampled on the patio included- One Tun Pale Ale 5%
Cortado Imperial Coffee Stout 8% and Lemongrass Pilsener 5.7%