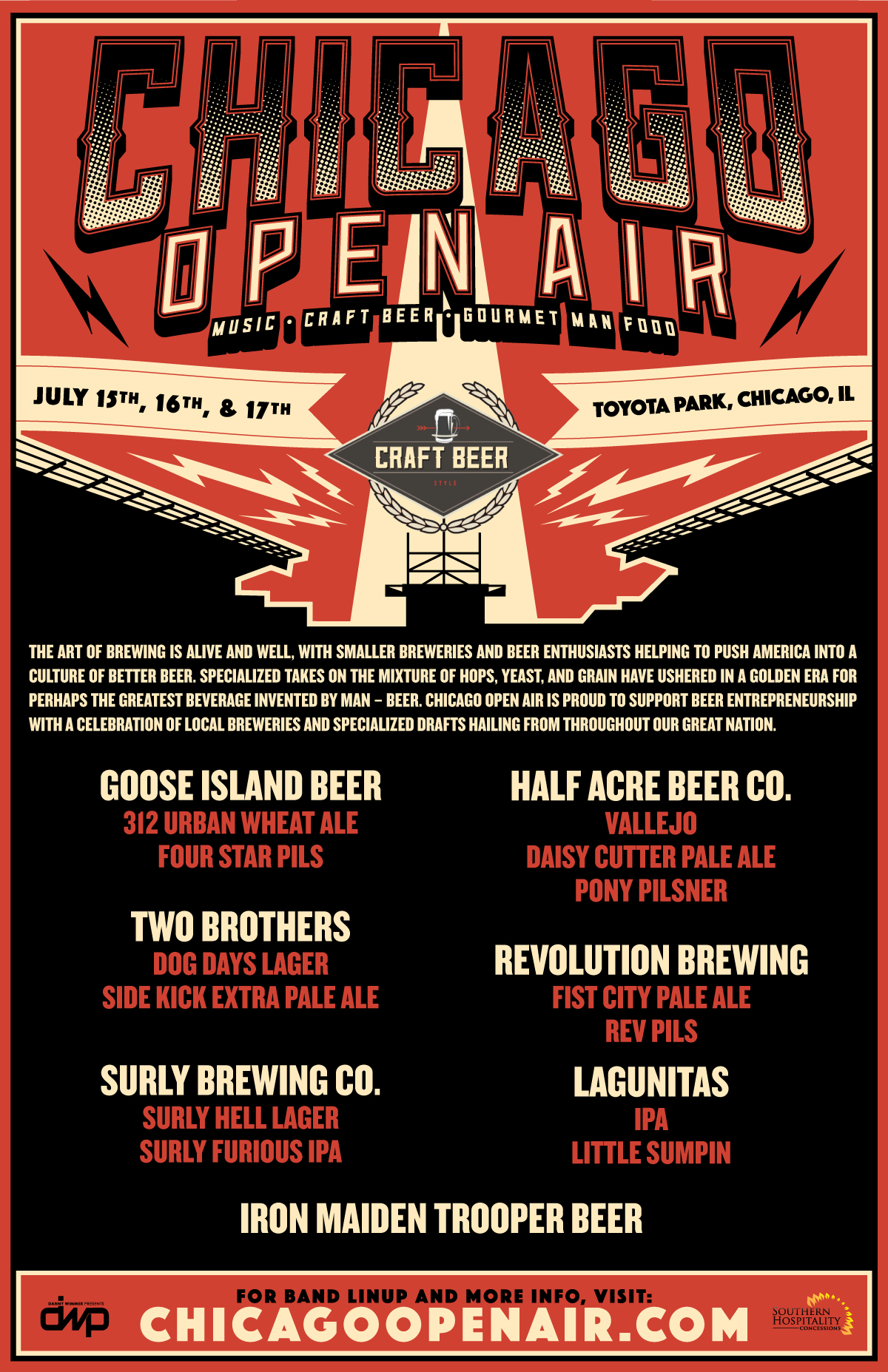 The art of brewing is alive and well, with smaller breweries and beer enthusiasts helping to push America into a culture of better beer. Specialized takes on the mixture of hops, yeast, and grain have ushered in a golden era for perhaps the greatest beverage invented by man – BEER. Chicago Open Air is proud to support beer entrepreneurship with a celebration of local breweries and specialized drafts hailing from throughout our great nation.Not to mention, there's nothing that makes a shot of Jack go down smoother than a good ol' craft-brewed oat soda.
Chicago, IL
Goose Island Beer Co.
Founded in Chicago in 1988, Goose Island is one of the most successful craft breweries in the Midwest and produces some of the most popular, award winning beers in the U.S. Since 1989, Goose Island beers have won a variety of awards at acclaimed beer events including the World Beer Championships, World Beer Cup, World Expo of Beer and the Great American Beer Festival (GABF).
Featured Beers
Chicago, IL
Half Acre Beer Company
We brew purposefully rough, American micro beers that push for raw intensity through the careful selection of plush hops, grains and yeast strains. Built in 2008, the Lincoln brewery is the original. It houses a retail shop, tap room and brewhouse.
Stockport, U.K.
Iron Maiden Trooper Beer
Real ale fan and history aficionado Bruce Dickinson, Maiden's vocalist, played a major role in developing the unique flavour of the beer, entailing ongoing visits to Robinson's brewery in Stockport. "I'm a lifelong fan of traditional English ale; I thought I'd died and gone to heaven when we were asked to create our own beer. I have to say that I was very nervous: Robinsons are the only people I have had to audition for in 30 years. Their magic has been to create the alchemical wedding of flavour and texture that is TROOPER. I love it."
Petaluma, CA & Chicago, IL
Lagunitas Brewing
From points distant and beyond we all converged on Petaluma in 1993 and '94 with an unenunciated desire to be more than we were before. The core of Lagunitas came from Chicago, St Louis, Memphis, Walker Creek, and the highlands of Quincy.
Featured Beer
Chicago, IL
Revolution Brewing
Revolution Brew Pub produces about 50 different beer styles a year. We've got session beers like Workinman Mild, Hop-bombs like Double Fist and more bourbon barrel aged beers then you can shake a stave at.
Featured Beer
Minneapolis, MN
Surly Brewing Co.
Omar, an obsessed homebrewer is looking through a homebrew catalog, sees a three barrel brewing system and decides he wants to be in the business of beer. He proposes the idea of converting the family abrasives business to the owners (his parents) and they all say, "Go For it!" Omar starts learning about the brewery business, forms the plan and hires an accomplished local brewer, Todd Haug, to join him in converting an abrasives factory into a brewery.
Featured Beer
Warrenville, IL
Two Brothers Brewing
Two Brothers Brewing Company was founded by brothers Jim and Jason Ebel in 1996. Over the past nineteen years, Two Brothers has grown from a local beer supply store to a 40,000 square foot brewery in Warrenville, IL. Two Brothers Artisan Brewing offers seven year-round beers, including the award winning Domaine DuPage French Country Ale, Cane and Ebel Red Rye Ale and Wobble IPA, plus a variety of seasonal and artisanal craft beers sold throughout 11 states. Brewing artisan beer with equal parts craftsmanship, creativity and conscience, Two Brothers Brewing Company remains 100% family owned and staunchly independent.
Featured Beer