Ten Ninety Brewing is a North Shore destination for craft beer.
After contract brewing for three years in Zion, Brian Schafer and co-owners Jamie Hoban and Andy Smith decided to relocate closer to the city. With its youthful atmosphere and utter absence of breweries (the closest is Temperance, seven miles away), Glenview is a prime location for Ten Ninety's brewery and taproom. The facility will be open to the public within a few short weeks.
Last weekend, Chicago Beer Geeks went to Ten Ninety's soft opening.  It was an informal event – friends and family gathered around the bar, choosing from a list of 12 beers. We sampled their beers, toured the facility, and experienced the full effect of the brewery. We were able to chat with fellow beer lovers, get some great information, and also take a lot of photos.
The Basics
Ten Ninety is located near the corner of Waukegan and Glenview roads, a pivotal intersection within walking distance of the Metra and downtown Glenview. Every detail of the taproom was handpicked with care – each aspect reflects the image of the beer: simple yet refined. The outdoor façade is inspired by the classic image of a British pub. Exposed Edison bulbs adorn the industrial fixture above the bar; hand crafted African hardwood tables fill the room with warm sophistication. The windows behind the bar allow for a full view of the brewery, where their system is equipped to produce 8,000 barrels a year. Fellow beer geeks will agree – there's nothing better than drinking beer in full view of the tanks.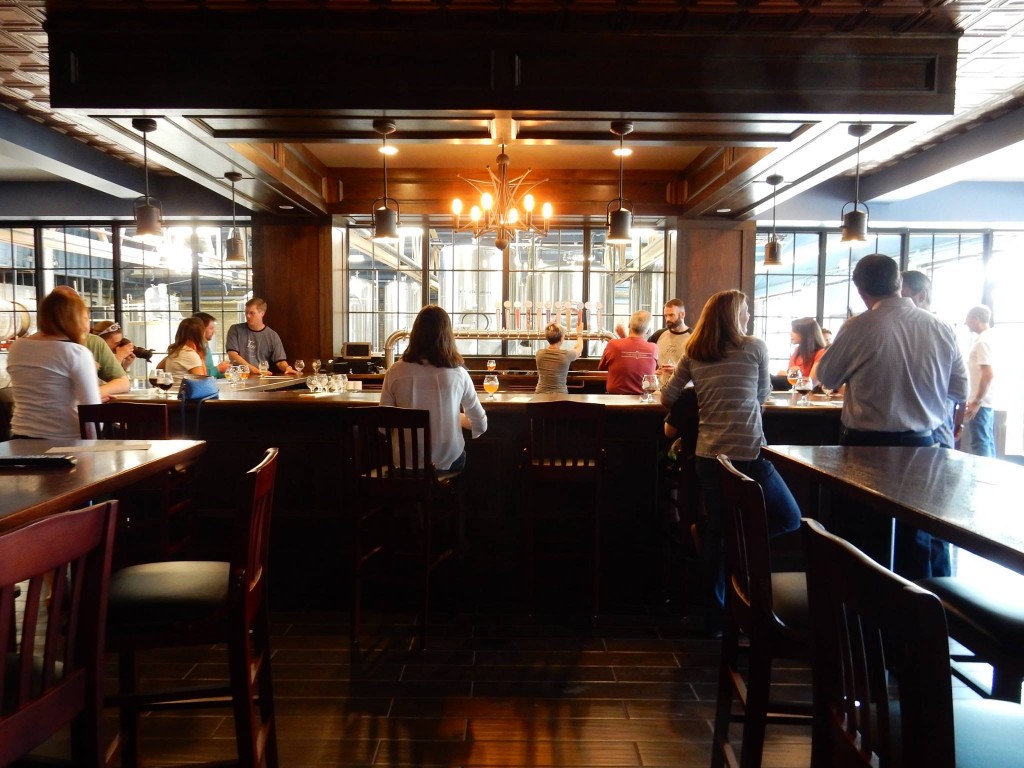 Ten Ninety's slogan "craft beer elevated" is reflected at the center of Schafer's recipe formation. He brews with a spirit of experimentation. He'll take a standard recipe and jazz it up, focusing on food flavors to produce a beer that is both comforting and surprising. The Zen, an American pale ale, is brewed with green tea and lemongrass. The MPH, an imperial porter, unexpectedly kicks with cayenne smoothed over with pomegranate. Both the Saint Jaggery and the Bourbon Barrel-aged Saint Jaggery (Belgium tripel) use jaggery sugar, made from Indian date palm trees. My personal favorite brew of theirs is The Closer, a deliciously aromatic 10.8% imperial black saison.
Anyone with a fondness for beers with high ABVs will feel Ten Ninety's allure. Actually, Ten Ninety was named after the initial gravity of their staple beers, 1.090, which refers to the beer's potential alcohol content (ABV). Since this number is relatively high, many of their beers could be referred to as "imperials," meaning stronger, bolder versions of standard beer styles.
The History
Ten Ninety began as a small contract brewing adventure in Zion in 2013, but we learned that their story began much earlier. While touring the brewery and taproom, Schafer and Hoban explained to me how they met as software consultants after both graduating from Indiana University. For fun, they started home brewing, and they practiced this as a hobby until Schafer entered the Beerfly Alley Fight in 2007. Essentially a beer competition, this contest takes it a step further by pairing homebrews, homemade food, and original art. It is one of the highlights of Chicago's annual Craft Beer Week. To his surprise, Schafer won best beer and best overall combination of food, beer, and art. So, he entered for a second time in 2008, and he won again. His talent for brewing was publicly validated, and he gained more confidence in his goal of opening a brewery.
At age 32, Schafer's plans deviated slightly when he found himself as CFO of a scrap metal company, but his dreams of having his own brewery never faded. He started a fund, and by 2013 the team was ready. After mulling over their options – start small or go all in? – Schafer, Hoban, and Smith decided to minimize their risk: they began contract brewing, remembering that both 5 Rabbit and Half Acre got their start by contract brewing. Ten Ninety brewed, bottled, and distributed from their Zion location for three years.
The Brewery
Ten Ninety's new Glenview location is the result of years of teamwork and friendship between Schafer, his co-founders Hoban and Smith, head brewer Gibbs Lippai, Director of Operations Tom Inghram, and the rest of the team. It's a comforting and friendly place where families and friends will gather year round. Ten Ninety will soon host tours and private events in the brewery. Summertime will bring an outdoor patio and, during the winter, you can cozy up by the fireplace. While the taproom doesn't have a kitchen, you can bring in your own food, or order from their dedicated food truck (coming soon!). Aside from the taproom, you can find their beers at select Mariano's, Trader Joe's, Binny's, Hienan's, and Whole Foods.
As a resident of the North Shore, I have certainly pushed Ten Ninety to the top of my list of go-to breweries. And for you city folk, this new brewery is worth the short trip to the suburbs. There's ample parking, and the Metra is only a short walk away. It is clear the owners are proud of this place, and their labor of love really shines through what they've created here. I'm excited to see what Ten Ninety Brewing can do for Glenview and the craft beer community.
Thanks for reading!
-CBG Ali