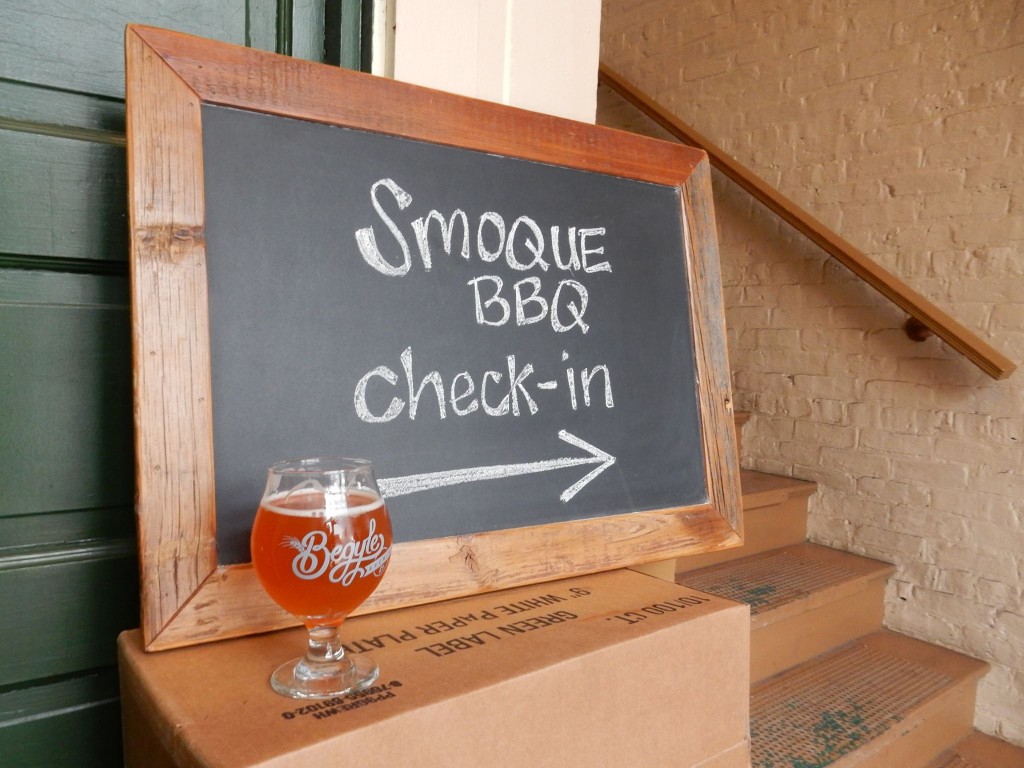 Pop-up dinners are among the fastest growing trends in the food and beverage industry, having 82% growth in 2014, according to Event Brite.  These events appeal to the "experiential diner," one who "craves not just an amazing meal, but a new and exciting dining experience." Restaurants and nontraditional venues collaborate on giving diners a casual place to connect with friends where they can develop a communal relationship between food, drink, and location. On the business side, pop-up dinners are a unique way to create partnerships between companies, providing opportunities to foster new and lucrative relationships.
In this case, a mutual love for beer and BBQ brought Smoque and Begyle Brewing together. On March 31, Begyle hosted a pop-up meal with Smoque BBQ in the event space on the 2nd floor, a spacious room with large windows overlooking Ravenswood's manufacturing corridor. Tickets sold out very quickly. Begyle started with a 50-person cap, but extended it to 75, then to 110 as more and more people requested tickets.
After we checked in, received our wristbands, and purchased our beverages downstairs, we headed upstairs to grab our grub. The menu featured Smoque's famously meaty St. Louis ribs, spicy Texas sausages, semi-sweet Memphis sauce, accompanied by traditional sides of coleslaw and cornbread. We got in line and waited eagerly as other guests filled their plates and joined one another at communal tables to eat and drink. While food and drink pairings weren't overtly suggested, I chose the Change of Saison, itself a collaboration between Begyle and Fountainhead's Chef Cleetus Friedman. Featuring "all the berries," this peppery 6.5% saison provided a nice balance to the tangy spiciness of the Texas sausages. The event seemed to be a total success, and owner Brendan Blume along with partners Matt Richie and Kevin Carey are confidant Begyle will host many events such as this in the future.
A Little about Begyle Brewing
Begyle Brewing began as the brainchild of Blume, Richie, and Carey, all of whom previously toiled in the worlds of accounting and finance. Blume suggested a business model where beers are delivered via bicycle, sort of like a beer courier service (Brendan is also part owner of Blume Brother's Pedicabs, a company he co-owns with his older brother, Christian.) The brewery conversation continued – Why not make the beers we deliver? The three made the decision to leave corporate America behind, and seek freedom in finding their own destiny through brewing.
Their goal was not only to create a brewery, but also to create a local identity: a cozy, familiar spot to enjoy beers with friends. Begyle is indeed that. It offers patrons a non-intimidating, interactive atmosphere replete with skeeball lanes and direct views of brewing equipment, tanks, and barrels. Being a local himself, Brendan who hails from Lincoln Square and attended St. Pat's high school, wanted to foster a neighborhood-vibe with Begyle. A Ravenswood location made a lot of sense.
Begyle is known for its Community Supported Brewery program, or CSB. This program allows for a member discount, and is loosely based on the community supported agriculture model, or CSA, where customers receive a box of fruits and veggies produced by local farms each week at prices lower than the going market rate. Begyle is also hosts a popular Skeeball league, which meets on Tuesday and Wednesday evening, and is comprised of about 15 teams.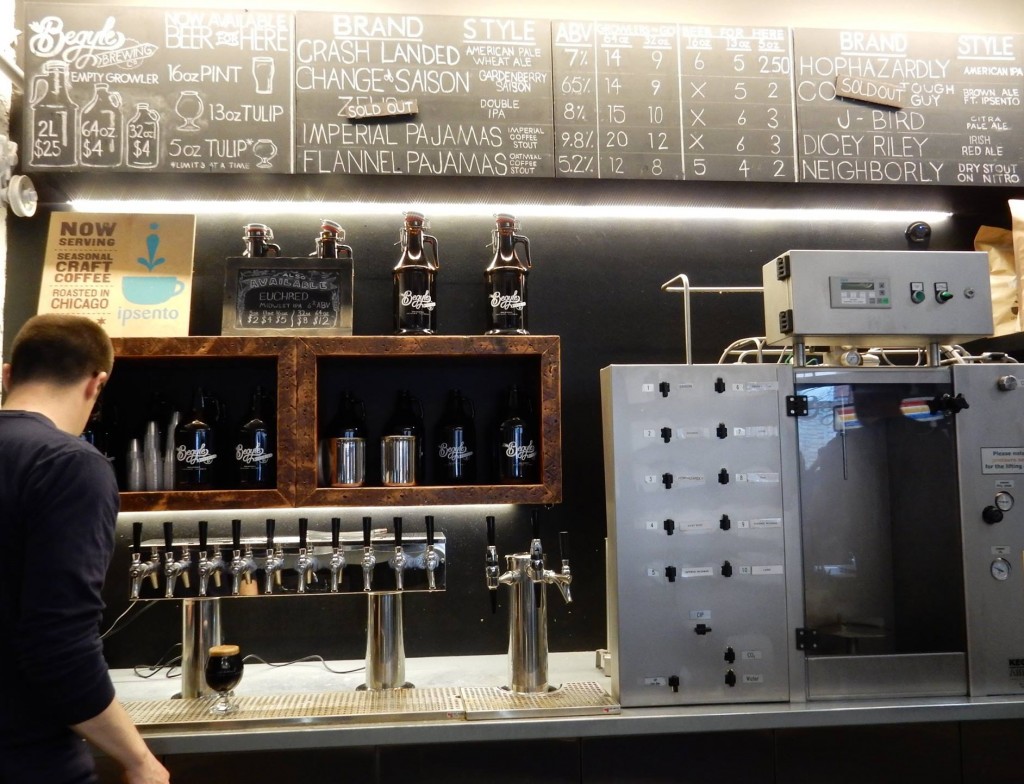 I had a chance to chat with Blume last week about his goals concerning Begyle. He explained that he would like everyone to appreciate craft beer as well as the craft brewery experience. Even though Chicago is second only to Portland in total number of breweries, Blume doesn't consider other craft establishments to be competition. Instead, it's "Craft Breweries against Big Beer," such as Coors and Busch. He aims to produce great beer and sell everything Begyle produces by crafting unique recipes that appeal to the changing tastes of beer lovers. Contrary to the current trend towards session beers, Blume is confident that Begyle's high ABV brews will continue to retain their market appeal. Some of their more popular brews range from J- Bird, a citra-hopped pale ale clocking in at 5.6% to Imperial Pajamas, a 9.8% imperial coffee stout.
Blume is firm in his belief that Begyle continue collaborating with local business like Smoque to bring people closer to the craft brewery experience. Recently, the brewery participated in Lincoln Square's Winter Brew, and served libations at UIC's Good Food Fest. On Sundays, Begyle also hosts Yoga on Tap, and on most weekends, food trucks such as Bruges Brothers and DönerMen tempt drinkers from the outside. For coffee lovers, Begyle recently acquired an espresso machine and has began serving Ipsento Coffee, in addition to adding it to their brews such as Imperial Pajamas, which features Wildfire Espresso. And, finally, with summer approaching, Begyle will soon offer patio seating. This is certainly where you'll find me come July, sipping my Crash Landed al fresco.
Thanks for reading!
– CBG Ali