This downtown Chicago brewery hiding in plain sight is just 2 blocks from the Magnificent Mile. La Birreria is the brewery and taproom at the largest Italian marketplace in the world – Eataly. Currently, New York and Chicago are the only American outposts. Raise your hand if you knew there were nearly 30 Eataly locations worldwide, or that the Chicago La Birreria is cranking out three batches a week at their location?
I was last at Eataly during the soft opening back in November 2013. A small group of invitees,  Michael Roper (Hopleaf), Chris Quinn (The Beer Temple), Tony Smith (Timothy O'toole's) and others quietly entered through the rear, as the front doors weren't installed yet. The moment kinda reminded you of that Goodfellas scene where Henry takes Karen on their first date -the side door route to his seats at the Copacabana that night included a vivacious walk through the kitchen.
When we arrived on to the second level for a sneak peek that night, Sam Calagione was there to greet us. The Dogfish Head Brewery founder shared that the NY La Birreria is the top account for his beers outside of the Dogfish brewpub in Rehoboth Beach, Delaware.
La Birreria is a collaboration between Dogfish and Birrificio Le Baladin. The iconic Italian brewery is led by one of the patriarchs of craft brewing in Italy, Teo Musso. The concept includes partnering with local breweries at each store. In Chicago, Revolution, Half Acre and Three Floyds are highlighted. In New York City, Peekskill, Allagash, Captain Lawrence and Victory are the local partners.
Chicago Head Brewer, Tyler Prokop, sat down with us recently for a chat at his pub. After a stint as assistant brewer at the New York store in 2010, Tyler made the move to the Chicago location. Both NY & Chicago started with the same core beers, but Tyler has gone in a different direction since then.
The Pittsburgh native and his 3-person crew were brewing a Belgian Strong Ale when we arrived, some of that batch will age in Journeyman Distillery whiskey barrels.
We tried a pair of his latest offerings including a pretty kick ass Gose brewed with grapefruit peel and coriander with a lactic kettle souring.
"We brewed a 100% unblended version a few months ago that was pretty sour. It worked well as a Berliner Weisse because we added syrup to it." Tyler shared, "this time we double batched it. We soured half of it, didn't sour the other half, and then blended it together."
This version of his Gose gives a tart refreshing profile without being too puckering.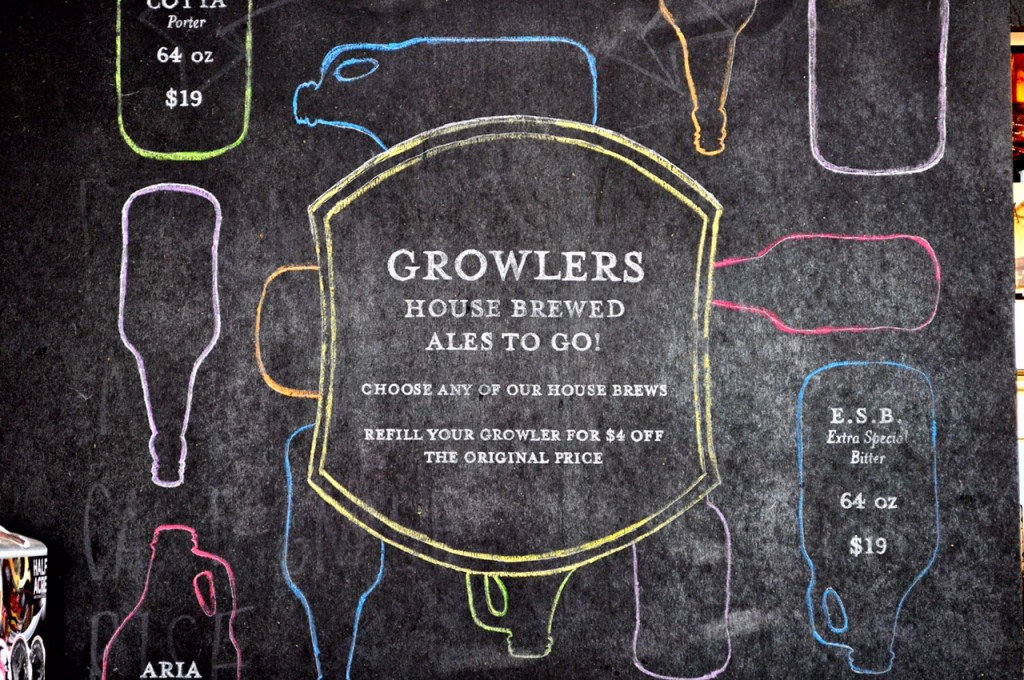 Tyler's Mandarina IPA showcases the German Mandarina Bavaria hop. This 'new world' variety grown in Hüll, Germany was released in 2012 and is descended from Cascade hops. They could be described as the German answer to wildly popular hops like Citra and Galaxy. The beer is near 8% abv with a fearless invasion of citrus on the nose and a delightful piney bitterness on the palate.
Over sips of the Mandarina, Tyler explained how the New York store serves all cask beers and the idea behind the rumored Pasta IPA he was working on.
"One of our former brewers came up with the idea. The brewpub in NY doesn't serve pasta. The entire menu is Northern Italian, people would ask all the time why don't they sell pasta." Tyler explained.
To be fair, Eataly is home to 12 restaurant concepts, some of which have pasta items, La Birreria does not.
"He brewed an IPA with pasta grains in the mash. It was this tongue-in-cheek way to say, hey look we finally have pasta on the menu!! It can be confusing to people who want pasta because it's 'Italian'. The mission is for customers to see that not all Italian food is pasta. We try to sell foods that compliment beer and show that there is more to Italian food than just pasta. "
The recipe for Giuseppina Pasta IPA can be found in their 1-gallon home brew kit for sale at both locations.
Outside of the core partners, only a handful recognizable Italian lagers can be found at the Chicago location.
"I was really surprised that so many people are into Peroni, Moretti, and Menabrea. There's definitely a following here for those brands that I didn't see at the New York store." Tyler explains.
In addition to takeovers and happy hour flight specials in mini-snifter glasses, the pub hosts a series of beer-centric dinners. The recent Half Acre dinner was a preview of what you can expect from their new brewpub concept in Lincoln Square.
The brewhouse at LaBirreria is a 5.5 hectoliters system from Spadoni in central Italy.  Six of the restaurants in Eataly sell growlers and have kegerators that serve the house beers.
"Wine does some pretty big numbers at this location.  As far as percentages, Chicago is more of a beer-drinking town than the New York store. A lot of that has to do with the local beer movement here."
–Nkosi