*CBG Nik here, I'd like to introduce you to a friend of mine. Tim Sarrantonio is host of the Timtacular, as well as a board member of  The Neo Futurists. Those guys threw a stellar craft beer festival for the 3rd consecutive year known as The Neoccasion. An event we featured  right here on our website.  Our coverage of the Sour Beer Symposium is told through his eyes. Enjoy!*
While the Festival of Barrel Aged Beers got the majority of the attention last weekend, there was a smaller yet rewarding event held at Bottom Lounge on Friday, November 15.  The Sour Beer Symposium was put on by New Belgium Brewing and was one of the most inspiring beer events that I've personally attended.  I wouldn't be surprised if this event is the one that launches a thousand unique beers.
Sour beers as a style have become more prevalent in the United States, especially given the work that New Belgium has been putting into developing this type of beer since the 1990s.  The tradition of creating beers purposefully "contaminated" dates back to Belgium in the Middle Ages, most notably in the Flanders region.  As Chicago's own Jeff Sparrow relates in his excellent book
Wild Brews: Beer Beyond the Influence of Brewer's Yeast
, "American brewers enjoy categorizing beers into styles, particularly for the sake of competitions. Belgian brewers aren't terrible obsessed with the concept of style."  This approach heavily influences the work being done at New Belgium and this session of around 50 folks encapsulated that.
New Belgium has been experimenting with sour beers for nearly twenty years, after Head Brewer Peter Bouckaert came aboard and brought years of experience working at Flemish Red producer Rodenbach.  Led by Eric and Lauren Salazar, who both came up the ranks in the early days of New Belgium and became brewer and sensory specialist respectively, the Sour Beer Symposium gave attendees not only an overview of New Belgium's sour beer program but the history and science of creating this unique and exciting type of beer.
The session itself was divided into two main parts – an explanation of how they make beers like their flagship sour
La Folie
(or The Folly due to the original taste and smell of "burning goat" that Lauren and others experienced when starting the program) and then an active blending session for participants.
The instructional portion of the evening was a fascinating history of barrel aging, science of "contaminating" barrels with microorganisms like Lactobacillus and Saccharomyces, and the process of blending.  New Belgium starts their own beers by creating two distinct lagers named Oscar and Felix.  Oscar is a darker and more "moody" beer while Felix is a lighter lager that is the base of beers like La Terrior.  The interesting part of their process is that they fully ferment the beers to ensure that once its put into the massive foeder (or Big Barrel) it will be ready to acidify at once.  The sheer size of the foed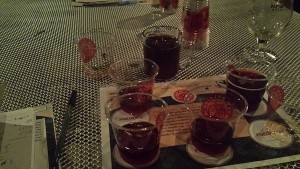 er is something that struck me personally and in a conversation with Eric after the presentation he had mentioned that moving a couch and tables into one of the barrels would be a fun way to showcase just how big these containment vessels are.  These oak barrels were directly shipped from French wineries and reassembled onsite at New Belgium.  Eric and Lauren also showcased the old school tools used to keep the barrels intact, including their usage of garlic and chalk to make paste to keep it from leaking.
The process of blending the beers themselves is covered and while nearly all of New Belgium itself has upgraded the technology for automated pumping for beers like Fat Tire and Ranger, the sour program itself is generally more traditional and uses tubes, valves, and gravity to get things moving.  Furthermore, they have 34 foeders that are consistently filled with beer and make it impossible to mark a date.  When Lauren is asked how old beer is in a barrel, she simply says "1998" because that's how old the bacteria living in the walls of the barrel is and hence the beer takes on that character.
While Eric is the main brewer, Lauren provides the sensory part of the process for their blending.  Instead of using lab technology for dictating what foeders are used  to create the blends of their beers, they do a daily cycle of tasting and decide which barrels to draw on.  No science, just good ol' fashioned "This is ready."  She keeps detailed notes going back to the beginnings of the process and even showed the attendees slides of her notebook (such as marking that one foeder's beer tasted "poop-like" in her estimation).  Sometimes they experimented with different parts of the process, such as dry hopping the beer.  Eric relayed a story that when Lauren first suggested they dry hop the beer with Amarillo hops, he thought she was crazy.  Now that dry hopped beer has become
La Terrior
and one of their most celebrated beers.
The second part of the session was the blending itself.  Lauren, Eric, and other coordinators of the event came around and gave each attendee a healthy 8oz pour from four foeders at New Belgium and also La Folie.  Then each attendee was encouraged to create their own blend from each of the foeders.  The lower numbered foeders (1 and 5) were of older stock and had a more mellow and pleasant flavor, while the higher numbered foeders (16 and 26) were more tart and young.  By blending these different beers together anyone attending created their own unique version of a New Belgium sour beer.
Overall, the event was a wonderful kick off to a weekend that really showcases the power of the craft beer industry in the United States.  The most exciting thing to hear is that New Belgium will be doubling their capacity of the sour program in the coming year.  We have some great barrel aging going on here in Chicago and it'll be interesting to see our own versions of what New Belgium is doing right in our backyard.
Tim,
–Tim Sarrantonio was a Guest Correspondent on this story